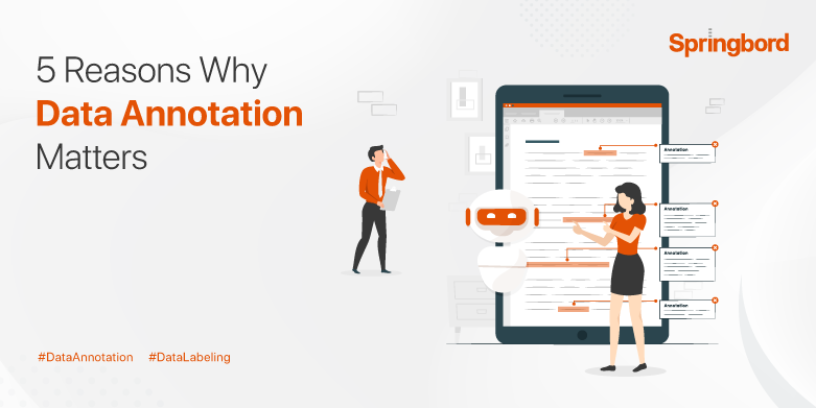 Read time

2

min
Artificial intelligence (AI) and machine learning are here to stay. They have changed the way we live and experience the world around us. These technologies throw up some amazing opportunities that can help drive the global economy. Be it music, banking, or medical care, you will find machine learning and algorithms powering the latest innovations.
In order to enable the machines to do their jobs well, they require quick and easy access to the right kind of data. This data has to be first annotated accurately and in a structured manner. Here are the top reasons why data annotation services are important.
Saves Time
Data preparation is one of the essential tasks in AI projects and requires a great deal of time and effort. By getting third-party providers to annotate the data, you can make it use more quickly and dedicate resources to more important tasks. Data annotation by an outside entity also helps eliminate detrimental biases in AI. When a large and diverse team of human annotators handles the data, it brings about better demographic distribution for projects.
Enhanced User Experience
With data annotation, AI models can simplify things for users and enhance their experience. It enables users to enjoy a seamless experience wherein their queries are answered, problems resolved, and tasks executed with ease. This is especially useful in AI channels such as chatbots, search engines, and automation.
Bad Data Can Prove Costly
If you do not use accurate and relevant data, it can lead to negative experiences and thus, mean a dwindling customer base. When the data annotation is not done properly, there is the possibility of AI misunderstanding the intent.
Take, for instance, a chatbot used for flight travel reservations that encounter the phrase "cancellation fee". If a customer is asking about the fee charged for cancellations and the chatbot mistakes it as a request for cancellation, the reservation could be canceled. Here, it would cost the airline business and leave the customer with a negative experience.
Ensures Effective Results
AI models can be called successful when they provide efficient results. When the data is aptly annotated, there is no scope for mistakes and AI models will deliver effective and precise results.
Server Error
503
Service Temporarily Unavailable
The server is temporarily unable to service your request due to maintenance downtime or capacity problems. Please try again later.
---
That's what you can do