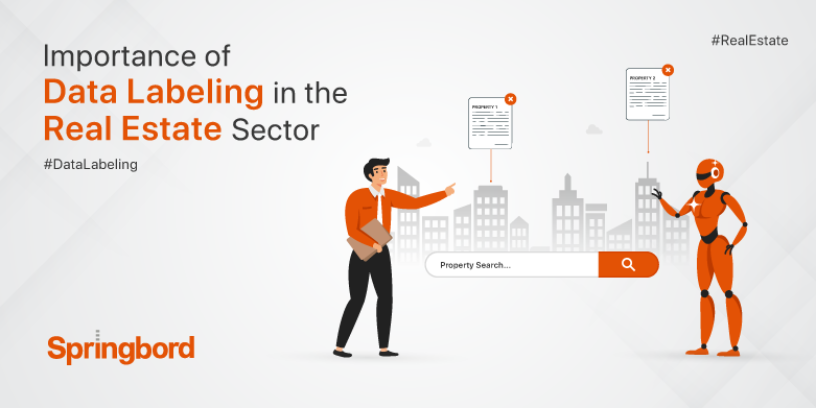 Read time

2

min
Data labeling makes the work of ML programs much easier and more accurate. That is why it is crucial in supervised machine learning. For any business that depends too much on data, Machine Learning (ML) provides a new and different approach, which gives a neatly and precisely annotated dataset to train the models. The process of labeling data, which can then be used for machine learning, is termed data annotation. We know that both data labeling and data annotation find their use in various fields such as agriculture, automobile, E-Commerce, logistics, etc. But did you know that data annotation is helping the real estate industry too? Yes, read below to know how the RE sector is getting befitted from data annotation and data labeling services.
Eases property search
Searching for property online has been made quick and easy. This is possible because of data labeling and Artificial Intelligence (AI). People looking for property or homes focus on key aspects like location, square footage rented or leased, price, number of bedrooms, and so on. The search can be streamlined with the help of filters by avoiding the ones that don't match your search. But still, hundreds and thousands of homes are presented on screen in front of the buyer. This is when data labeling and data annotation come into play! With the help of data, AI and ML models study the search trend and throw results as accurately as possible. Another way to get precise results is to analyze the search pattern of other similar buyers and display a list of properties that were searched by a maximum number of people while also meeting the requirements.
Helps identify clients
Data labeling and AI aid agents in identifying and contacting clients. There are multiple programs available that evaluate a high percentage of clients looking for brokers and agents. These programs usher in finding leads for agents and providing solutions to possible problems. Thus, AI and machine learning are undoubtedly the most powerful tool for the real estate industry.
Streamlines the transaction process
Data Labeling, data annotation, and machine learning work together to fine-tune the transaction process used in RE. The primary objective of this transaction process is to help agents in offering a smooth experience for their clients. Process refinement has numerous benefits – reduced overhead costs, quick closure, and smarter mobile applications, to name a few. The task of buying and selling properties is simplified for both the brokers and teams.
Smart real estate management
For the real estate sector, real estate management is the most crucial thing to look at. It requires advanced tools and software to track and maintain important information. AI combines with data labeling to keep tabs on property rentals, maintenance requests, tenant applications, etc. The results obtained from this can help in finding major problems like tenant characteristics and their preferences, maintenance issues, property availability, and the price range in a specific location. All these data, when put together in the most efficient and organized manner, will make real estate management a lot easier.
Conclusion
Data labeling, artificial intelligence, and data annotation offer valuable insights into real estate and help predict the property value, which influences buying decisions. Predicting rental info and price are the important parameters that will make brokers and agents stand apart from others while also helping businesses grow. Real estate data can be efficiently managed using AI and data labeling. Springbord is the one-stop solution for all your real estate needs which utilizes the latest tools and is equipped with the best annotators. Connect with us today to know more about us!