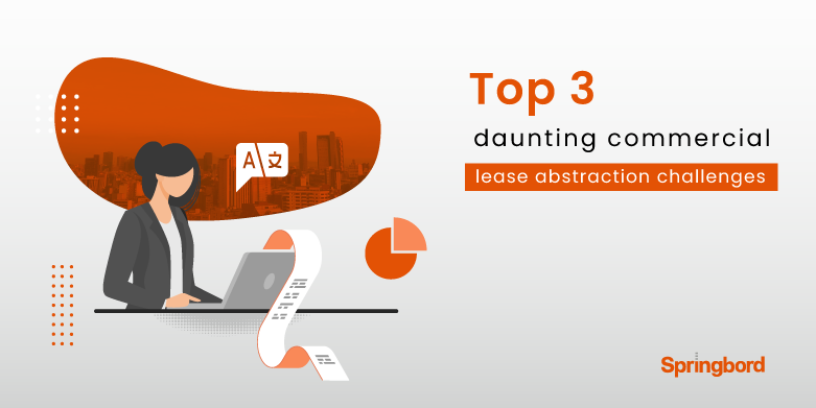 Read time

2

min
Commercial lease abstraction is a fundamental and a critical part of the real estate industry. Accurate, timely and concise lease abstraction helps manage a variety of processes and operations efficiently. Plus, efficient lease abstraction means effective lease data management that helps gain a lot of timely insights that support strategic and profitable business decision making.
It, therefore, comes as no surprise that the demand for lease abstraction is rising exponentially. However, despite its criticality, real estate players often struggle to streamline the process of lease abstraction due to numerous challenges they face in effectively managing lease abstractions. Let's take a look at some of the most arduous challenges.
Lease volume and complexity
This is the most fundamental issue facing every organization. Extensive volumes and broad scope and complex terms of commercial leases can pose daunting challenge in managing the abstraction efficiently. The issue is further compounded by stringent timelines, largely manual processes and mounds of paperwork and several iterations of the lease contract.
While there are software solutions for lease document management, players largely rely on traditional ways, which is a mix of manual and technology based document management system. This adds to the woes of property managers as they need to gather information from a decentralized system and complex paper trail, making it a herculean task to abstract every critical information within a set timeline. Plus, managing and updating new lease information and modification to continually update lease database while ensuring high information quality is a lofty demand that requires specialized skills and right tools.
The new lease accounting standards
The new lease accounting standard ASC 842 issued by Financial Accounting Standards Board (FASB) presents not just accounting challenges but significant lease data management problems. In order to comply with this new requirement, organizations are scrambling to manage their lease data.
However, siloed lease information, complex, arduous, and tedious manual processes, ineffective data management systems and controls, and others make it increasingly challenging to meet the new stringent and meticulous lease data management requirements. Lack of resources and ability to abstract lease information and categorize them as per the new accounting standard can have significant negative impact on business.
Lease in foreign languages
This is yet another major challenge facing global commercial real estate players. Multilingual lease abstraction is absolutely key to profitably and efficiently managing lease portfolio, however, it is an area that most companies struggle to streamline. Multilingual lease abstraction requires not just linguistic knowledge but also an in-depth understanding of the lease contract.
Because of lack of specialized skill most companies end up with poorly done abstraction rife with errors and misinterpretation that often result in severe consequences. It is huge undertaking and requires professional expertise.
Springbord has been a partner of choice in offering lease abstraction services. We can help you address these challenges and meet every other lease data management requirement within your budget and timelines. Talk to us to find out how we can help you with commercial lease abstraction of any volume and type and to get a quote.