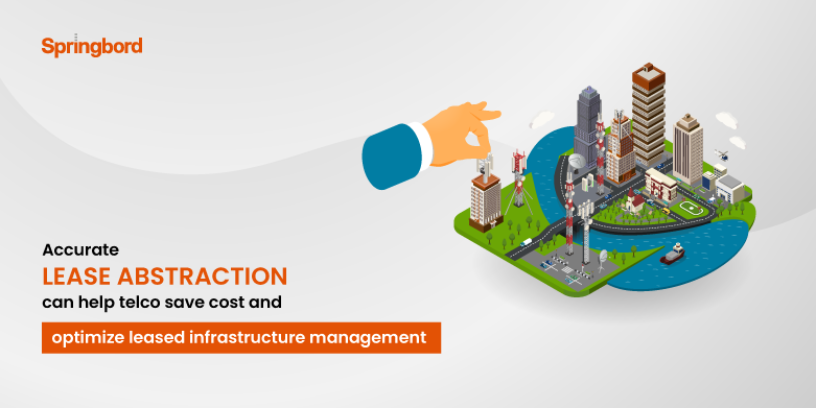 Read time

2

min
The telecom industry is evolving at an unprecedented speed. This continuous disruption underpinned by network upgrades, technology innovations, and ever escalating demand for data is putting telecom companies under immense pressure to keep pace in order to meet new market demands. As businesses strive to stay competitive in this dynamic landscape, and scale their network, they are increasingly grappling to manage the additional resource cost and scaling tower lease portfolios.
These challenges are further compounded due to growing demand for seamless service fulfillment and seamless connectivity at all times. In a marketspace such as this, efficient management of cell-towers, building, equipment, and vehicles on lease is critical, and it all starts with accurate lease abstraction.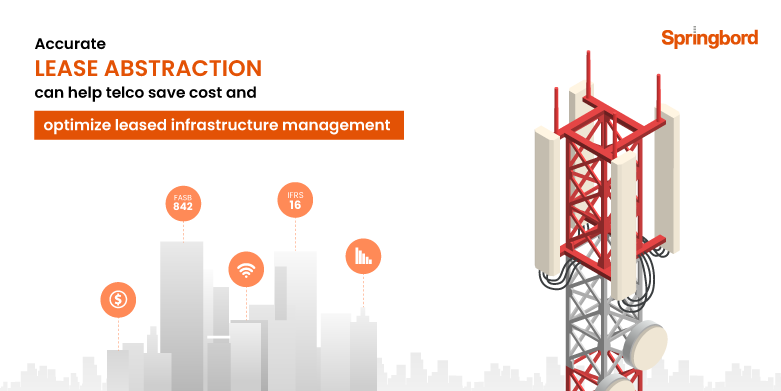 Boost agility through efficient portfolio management
As service provider or network operator having access to critical information across thousands of leases in your portfolio is indispensable to manage and scale your lease infrastructure. Lease abstraction helps extract critical data points from across the lease portfolio enabling businesses to get access to key information quickly and make better-informed decisions related to tower infrastructure.
From financial details, key business data, tenant and landlord obligations, critical dates, to legal information, an accurate and comprehensive lease abstraction can help capture all the key details from the lease portfolio. Access to such information not only allows you to manage your site operations better but also seamlessly integrate lease information to your sites, enabling you to understand and improve operations and provisioning.
Improve compliance with new and strict regulatory mandates
The new accounting standards (FASB 842 & IFRS 16) mandate that all lease portfolios need to be meticulously tracked and scrutinized to identify and account for every lease component. Data management has emerged to be critical in complying with the new standards. This means telecom companies need to have efficient lease abstraction capabilities in order to capture all the key and relevant details across their lease portfolio in order to ensure compliance.
Besides, a well-managed lease abstraction helps improve lease data management helping you in turn manage data requirements needed adhere to other financial reporting mandates. In addition, access to sensitive data that can impact business helps ensure better governance and risk management while eliminating any risk of non-compliance and related cost overruns.
Make smarter portfolio decision and drive cost savings
It is not just about data but also how it is presented allows stakeholders to make well-informed and strategic decision. Efficient and timely lease abstraction and data visualization can help decision makers interpret and understand critical lease data quickly and gain valuable insight. Abstracted lease data provides telcos' every information they need to identify issues within their lease portfolios and efficiently manage to optimize associated time and cost savings.
Lease abstraction done using advanced tools and automated solutions is key to optimizing telecom lease portfolio performance. You should have access to vital lease data whenever you need it to manage, scale, and improve your service capabilities and deliver greater efficiencies to your end-customers.
Springbord has been helping companies, for years, optimize portfolio performance and boost bottom line through comprehensive, timely and accurate lease abstraction services. Talk to us today to find out how our dedicated team can help optimize lease portfolio performance and management.