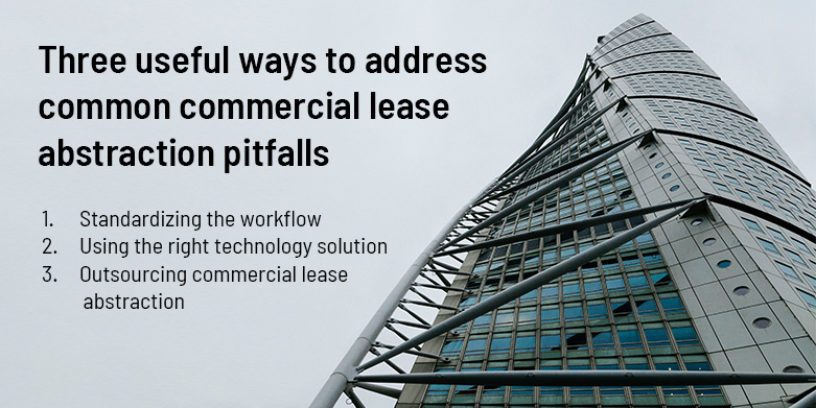 Read time

2

min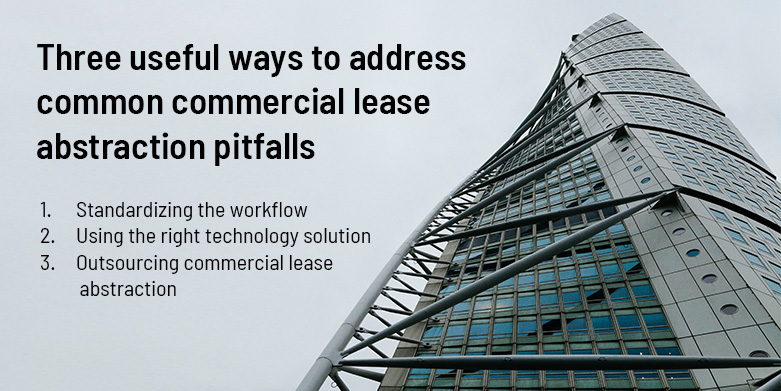 Lease abstraction is one of the key and fundamental part of commercial real estate industry. As you are aware, lease abstracts are summary of most important details of a lease presented in an easy-to-read format. It allows commercial real estate property owners to stay on top of key data points across their lease portfolio – including rent amounts, maintenance, lease expirations, amendments, critical dates, amongst others.
However, despite its rapidly growing importance, property owners/managers face various challenges in managing abstraction efficiently primarily due to:
Extensive paperwork and legal language involved that makes the process complex and time-consuming.
Disparate systems and lack of consistent process often create confusion and make it more difficult for the abstractors.
Dearth of in-house talent or even time to manage bulky commercial leases.
Understanding and keeping pace with new lease accounting requirements.
In order to ensure accuracy and efficiency, it is imperative to recognize and overcome these common challenges associated with commercial lease abstraction process. We have listed 3 practical ways that you can follow to address these pitfalls.
Standardizing the workflow
The best place to start would be to create a template and consistent workflow to eliminate any disparity in the way data is abstracted and presented and bring in structure across the abstraction process. It is also recommended that you use the same workflow to create training modules, so that new abstractors are well-versed with the process and the workflow before they get started on the job. Consistent process and workflows also help effectively monitor the process and ensure accuracy and quality performance.
Using the right technology solution
While standard workflow can help streamline the process to a certain extent, it would still be challenging to manage abstraction efficiently using excel based templates. Standardized processes along with the right software solutions can really help transform the process. There are several off-the-shelf abstraction platforms available, but to get the desired results it is very important that you choose the right software solution that fits your business requirements and specifications. It is also critical to ensure that the technology that you implement for commercial lease abstraction is advanced and always current. Therefore, it is advisable to engage technology vendor/s for regular updates, feature upgrades and training as and when needed.
Outsourcing commercial lease abstraction
There is no contest that the first two options demand heavy investment in terms of time, money and effort. That is why, many commercial real estate companies are now increasingly opting to outsource lease abstraction services to third party vendors. It provides easy access to talent, technology and industry best practices while saving both time and money. Experienced and specialized vendors bring in-depth industry knowledge and have a skilled team who are well trained in identifying and abstracting critical lease information. And since the core focus and functionality of these vendors is lease abstraction and management services, they not only ensure that their teams are up-to-date but also their systems and technology.
Third party vendors are also abreast with latest industry trends and accounting standards, making it easy for them to keep pace with the changing market requirements. Moreover, since they work with various clients, they are adept in abstracting leases across variety of templates as per clients' business specific requirements.
Whichever option you choose to address abstraction challenges, remember that accurate and efficient lease abstraction is key to creating and maintaining a sustainable growth for the future.
Whether you want a reliable vendor to outsource your commercial lease abstraction or simply consult about lease management practices, just get in touch with us and we will be happy to guide you through.