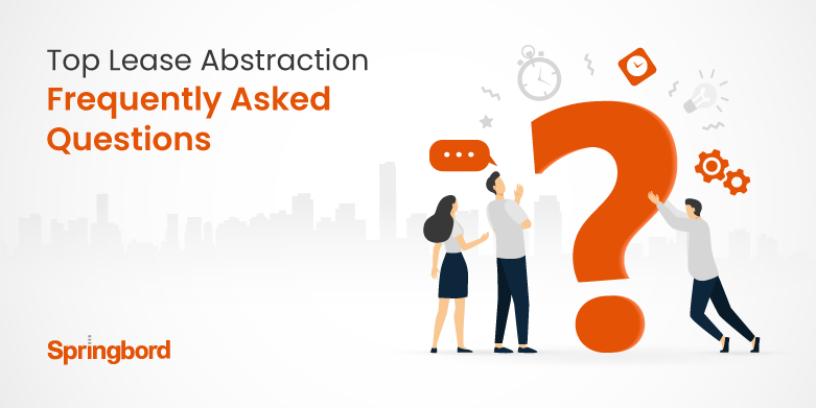 Read time

2

min
Lease abstraction is gaining immense popularity, and for good reason. It helps access every basic and critical lease information quickly that offers better visibility into the portfolio, enables informed decision making, and time management and administration of leases. It also allows timely compliance and accounting, thus greatly reducing any legal/financial risk. Lease abstraction, when done efficiently can help significantly enhance lease portfolio operational and management efficiency.
With quick access to the most up-to-date lease data that is correctly interpreted, it facilitates better collaboration and transparency, simplifying lease management, minimizing errors and redundant tasks, saving time and effort. To help better understand the role of lease abstracts, we have shortlisted and answered some of the FAQs.
What is lease abstraction?
The process entails extracting key terms and provisions from lease contacts and summarizing them in a user-friendly format for easy access to lease data and critical information.
Why is lease abstraction important?
Lease abstracts help you save a significant amount of time through quick and easy access to important lease information. Besides saving man-hours, it also enables you to stay on top of your lease portfolio, manage it efficiently, and drive better performance.
Why do you need abstraction?
From managing operations to lease accounting to handling mergers & acquisitions to asset and property management to ensuring FASB/IASB compliance, lease abstracts help gain complete visibility into the lease portfolio and manage them efficiently.
What is a lease abstract template?
A template is a framework, it should be designed to considering these factors:
Should capture every critical and important provision within the lease documents including any addendum/amendments
Should include right interpretation of lease provisions
Should have up-to-date lease information from across lease documents
Should contain important, relevant, and applicable legal language along with the provisions (wherever needed)
What are fundamental items included in a lease abstract?
Every basic and key lease terms and information should be included in a lease abstract, some of these include (but are not limited to):
Termination and renewal dates and terms
Area, location address, lessor, and lessee details
Common area maintenance (CAM) break up/terms/expenses, property insurance and taxes
Usable are, its restrictions and special provisions, terms related to relocation/improvements/extensions, any right of first refusal (ROFR)
Deposits, lease guarantees, liabilities pertaining to maintenance, security, et al.
What are the key provisions or terms that should be included in a lease abstract?
Apart from basic lease information, it would depend on the landlords, REITS, buyer what other legal/contractual/property management terms they would want to be included. While a templatized lease abstraction can save money but it hardly serves the purpose. By outsourcing lease abstraction to a specialized service provider, you can ensure that every critical provision/term is extracted that can help you better focus on areas based on business/operation/administration specific requirements.
At Springbord we have been helping real estate clients from across the globe make informed decisions confidently, conduct lease operations efficiently, and execute mergers and acquisitions based on meticulous due diligence, to ensure maximum ROI. To know more about our lease abstraction services, connect with us today!