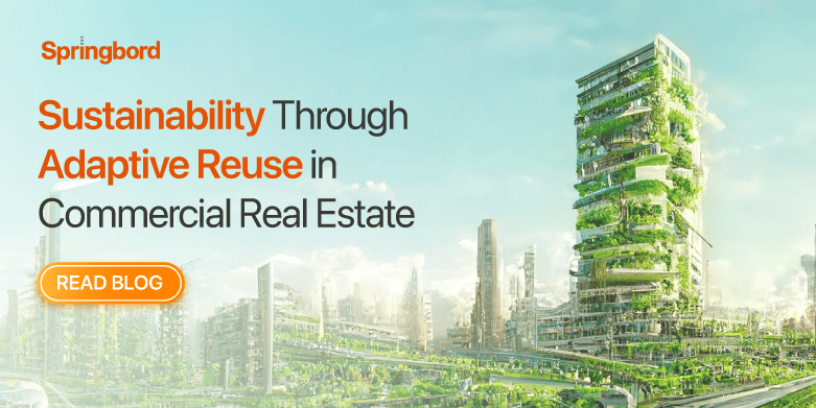 Read time

3

min
Sustainability Through Adaptive Reuse in Commercial Real Estate
Adaptive reuse is transforming how we think about and utilize existing structures. From converting old warehouses or factories into trendy office spaces, co-working hubs, or tech incubators, to turning historic schools or churches into community centers, event venues, or boutique hotels, the possibilities seem endless.
This revolution is driven by several key factors: sustainability, cost-effectiveness, historic preservation, neighborhood revitalization, and market demand. In this blog post, we will delve into adaptive reusing and explore its potential to breathe new life into existing structures. We'll examine innovative strategies, creative design solutions, and the economic opportunities associated with repurposing and revitalizing commercial spaces.
Sustainability: A Driving Force Behind Adaptive Reuse in Real Estate
One of the cornerstones of this is sustainability. Repurposing existing structures is inherently eco-friendly. By recycling buildings, we reduce the need for new construction, saving energy and raw materials.
This eco-conscious approach minimizes waste and significantly lowers the carbon footprint of development. It aligns with global efforts to combat climate change and reduce carbon emissions, fulfilling a vital aspect of the Environmental, Social, and Governance (ESG) principles.
Cost-Effectiveness: Making the Most of Existing Resources
Adaptive reuse projects are often more cost-effective than ground-up construction. The existing infrastructure, framework, and character of a building can provide a solid foundation, saving both time and resources. Instead of demolishing and starting from scratch, developers can use what's already there as a canvas for transformation.
This economic advantage not only benefits investors and developers but also supports the Governance aspect of ESG by promoting efficient resource allocation.
Historic Preservation: Nurturing Cultural Heritage
Preserving the architectural and historical significance of older buildings is a paramount aspect of this process. These structures often have stories to tell, embodying the spirit of bygone eras.
By repurposing rather than demolishing, we ensure that these narratives continue to enrich our urban landscapes. This focus on heritage and cultural preservation is closely aligned with the Social aspect of ESG, promoting cultural identity and community engagement.
Revitalization of Neighborhoods: Breathing New Life into Communities
Adaptive reuse projects frequently bring new life to neighborhoods and urban areas. Neglected industrial sites are transformed into vibrant mixed-use developments, bustling with residential spaces, offices, and recreational facilities. Forgotten downtown districts are revitalized into bustling commercial hubs with unique character and charm.
This not only enhances the social fabric of communities but also adds economic opportunities to the local economy. Adaptive reuse in real estate resonates strongly with the Social component of ESG by creating value beyond profits.
Market Demand: Meeting Modern Needs
Changing consumer habits and urbanization trends are driving the demand for adaptable and multi-purpose spaces. In a world where versatility is key, adaptive reuse answers the call. What was once an old warehouse can become a trendy co-working space, catering to the needs of modern professionals.
A historic church can be transformed into an elegant event venue, capitalizing on the demand for unique and memorable spaces. Meeting the market's evolving requirements is an essential aspect of adaptive reuse and is in harmony with the Social and Governance elements of ESG.
Innovative Strategies and Creative Design Solutions
Adaptive reuse projects call for innovative strategies and creative design solutions. Developers and architects must consider the structural integrity of the existing building, its potential for transformation, and the needs of the target audience.
This often involves a delicate balance between preserving the historical elements and introducing modern functionality. It's about finding the sweet spot where history meets innovation, aligning perfectly with the principles of ESG.
Economic Opportunities: A Win-Win for All
Adaptive reuse projects are not only sustainable but also economically viable. The reduced construction costs, faster project timelines, and the ability to meet market demand all contribute to the economic advantages. Investors, developers, and communities all stand to gain from these ventures.
Furthermore, the economic aspect of adaptive reuse supports the Governance pillar of ESG by promoting sound financial practices and resource management.
Adaptive reuse in commercial real estate is a testament to the transformative power of combining sustainability with economic viability, historic preservation, community revitalization, and market adaptability. It represents a holistic approach to commercial real estate that aligns seamlessly with the Environmental, Social, and Governance principles of ESG.
It showcases the potential to breathe new life into existing structures and reimagine the urban landscape. The benefits are multifaceted, providing economic opportunities, preserving cultural heritage, and promoting sustainability.