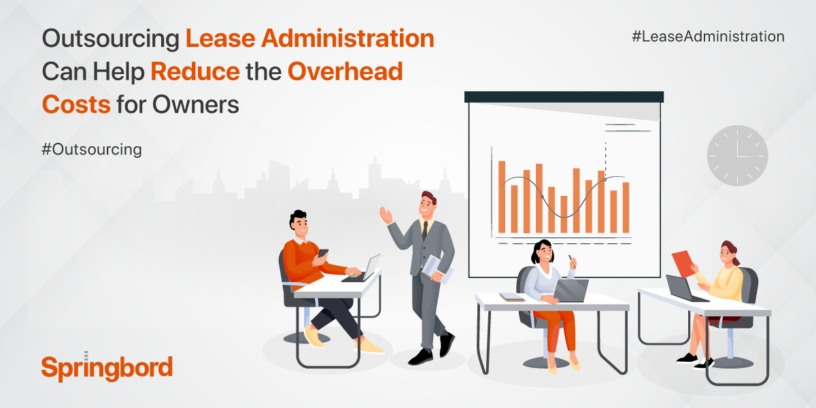 Read time

3

min
Pandemic has completely changed how the world revolves. Many firms found the work-from-home option to be viable, which allowed them to focus on goals despite all odds. But for real estate firms, working away from the office made it quite difficult to stay ahead of the competition. Working from home through many challenges to employees in efficiently handling everyday property accounting tasks, which ended up in the transaction backlog.
One simple and effective way to avoid this problem is to outsource lease administration services to an agency, which specializes in handling end-to-end lease services, optimizing the time, cost, and effort it takes. When you outsource lease services, you can concentrate on other important tasks that matter the most to you and achieve financial and operational success. Lease administrators work with the property management team and act as a coordinator to both operating and accounting teams to perform various tasks. This comes with years of expertise and integrated approaches that act as a catalyst in processing a multitude of tasks. By doing so, you end up reducing overall costs and increasing revenues.
By using the latest and advanced real estate administration software to centralize leasing data, you can find cost-saving opportunities in lease collections, recover security deposits, and critical data management as well. Outsourcing lease administration services will be the key to reducing the overall costs. Now let us see below some of the advantages of outsourcing lease services:
Leverage
Real estate firms are looking to be faster and more strategic. This can be made possible when you have the right service provider who can help strengthen your internal team. This agency, whom you depend on for your day-to-day operations, not only works on a tactical level but also takes strategic commands of the execution. The agency can help you with your productivity, price leveraging, and access to resources that can make your business more effective, and performances more predictable.
The exceptional outcome with expertise
An organization can achieve better results by concentrating on core tasks and by partnering with an outstanding service provider. This method was trending during the IT outsourcing revolution, where IT employees moved on to employers offering them best-in-class training, excellent supervision, and great career opportunities. This working model came to life in the real estate industry in a much more sophisticated way.
Effective risk management
Various business models and structures help in the continuity and survival of many real estate firms. Meanwhile, the compliance environment is trying to speed up. Both regulatory and contractual compliance requirements have seen many changes. These regulations and requirements have posed challenges for many MNCs. RE management software can give insights that are related to productivity, capital asset planning, and sustainability.
How data is captured and reported to see occupancy utilization, service requests, equipment faults, and actual energy consumption plays a vital role in decision-making and performance. To tackle these elements, MNCs join hands with a service provider who can help them stay ahead in the competition and manage costs. These tiresome and time-consuming tasks can cost you an arm and a leg if done in-house and also consumes a lot of your valuable time in training the members. The probability of success, which includes on-time delivery and precision, can be of doubt.
This is where exactly outsourcing comes into the picture! Outsourcing lease administration services let you focus on other operational tasks and cuts-down overhead costs, while also being scalable and versatile. This way, you can also avoid the complexity of recruitment and training. RE invoices from accounts aid you in finding out billing errors and discrepancies.
Many case studies have proved that regular reviews of rent charges against contract terms help in saving one-half to a one full basis point. Also, firms have achieved approximately 2 to 4% cost reductions of the total amount spent, thanks to lease administration software and centralization of functions.
Conclusion
With businesses facing troubles in controlling operational costs and increased lead times in finalizing the reports and decision-making, it is the best choice to seek the help of a professional who can help stabilize your business like never before and optimize overall financial costs. Reach out to us to know more about our expertise and how we have helped our clients achieve expected outcomes.