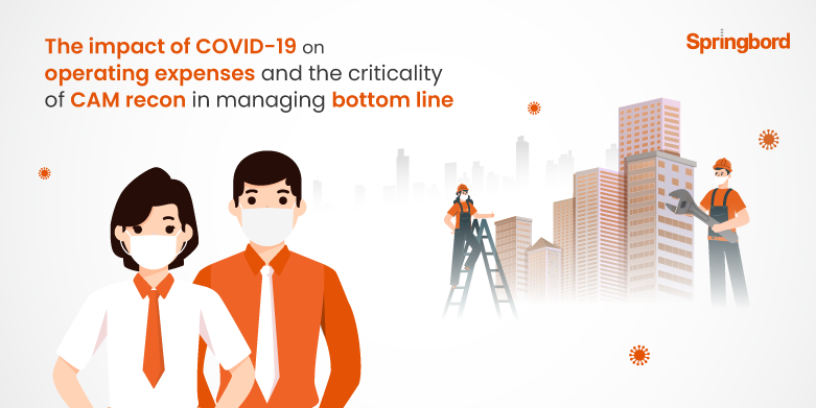 Read time

2

min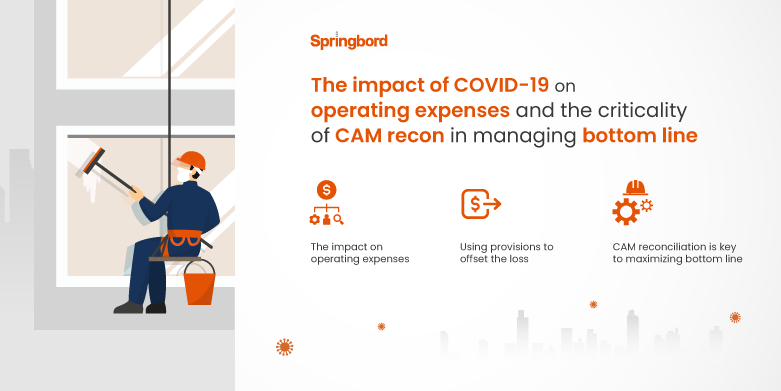 The Covid-19 pandemic has had a disruptive impact across every industry sector but hardly in the way, it has impacted the real estate sector. The commercial leasing business especially has been severely impacted with businesses largely adopting the work-from-home approach, most commercial buildings have remained mostly unoccupied since March 2020. While the sector is starting to revive slowly, the long-term effect of the pandemic on demand for commercial spaces remains unpredictable as of now.
Even though business have continued to pay for the rented space as per the lease term, this sudden change in demand and occupation have left the commercial spaces mostly underutilized.
The impact on operating expenses
Unutilized/underutilized spaces would obviously incur drastically lower administration, janitorial, security, and utility costs during this time. Which means common area maintenance (CAM) expenses would be a lot lower than what it would have been during full occupancy.
While the regular operating expenses might have been lower, landlords have had to incur additional costs due to the pandemic. These include regular sanitization of the building, establishing safety protocols like implementing sanitizing stations, ensuring physical distancing, upgrading air filtration systems, and other such expenses.
Using provisions to offset the loss
One way to offset this is to use the gross-up provision. And landlords are reviewing their commercial leases to identify gross-up terms in order to normalize the operating expenses. But CAM calculations are complex, to begin with, and if you are applying provisions, you need to really pay close attention to exemptions, exclusions, and caps.
When using the gross-up provisions, landlords need to know what expenses can be included regardless of the level of occupancy and what requires 100% occupancy. Reconciling CAM expenses carefully can help maximize your return on investment (ROI) especially at a time when commercial real estate is undergoing financial pressure. However, any mistake in the calculation would only compound the challenge by manifolds and further add to the cost pressures while impacting your relationship with tenants. So, landlords need to avoid faulty CAM reconciliation at any cost and ensure their team is meticulous in calculating and reconciling CAM expenses.
CAM reconciliation is key to maximizing the bottom line
CAM reconciliation under normal situations has been a challenge for most property managers. Given the unprecedented circumstances due to the pandemic, the process has become even more tedious, due in part to the various adjustments and application of provisions. However, seeing as how critical CAM reconciliation is to maximizing the bottom line, it is imperative for landlords to manage CAM expenses carefully and efficiently. The central idea is to optimize the value of your asset and in turn the ROI.
Outsourcing CAM reconciliation services can help not just ensure accurate calculation and reconciliation it helps contain cost and maximize income through property. A well-managed CAM account by professional service providers can not only increase your collection in legitimate ways but ensure that you are fully compliant with the lease terms, thereby maintaining a positive landlord-tenant relationship.
If you do not like doing CAM reconciliation in-house or are facing challenges, we can help you. At Springbord we are squarely focused on delivering optimum value to our clients through process efficiency. Talk to us today to find out how we can help you better manage your CAM reconciliation and maximize the value of your asset. We would be happy to discuss a custom engagement package based on your business requirements.