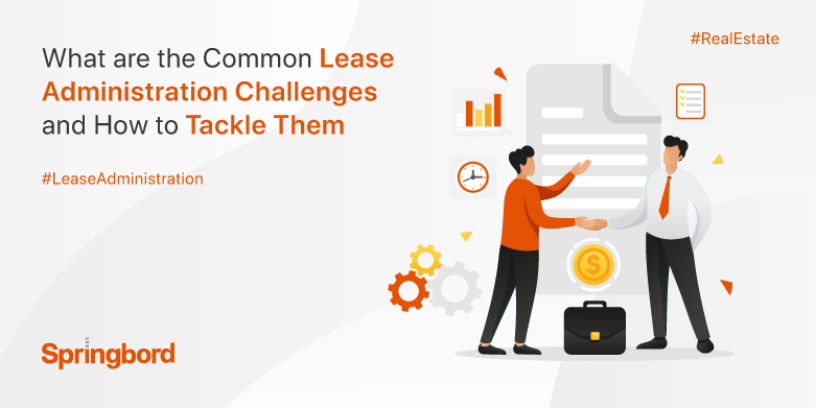 Read time

2

min
Lease administration is one of the key processes in real estate, and it constitutes various lease-related activities. Lease administration ensures the lease portfolio is up-to-date, and the Return on Investment (ROI) on the leases is higher for the tenants. So, what does an end-to-end lease administration service include? Right from lease portfolio maintenance and management, notice processing, and CAM audit to abstracting new leases, checking amendments, and conducting lease audits, the lease administration process covers everything. For many companies, the lease administration is a daunting task and poses a few challenges to them. In this blog, let us see the challenges in detail and how to effectively overcome them.
Cost-efficiency
Undoubtedly, lease administration is a crucial function of the business, and it involves a significant amount of cost to get it done. Many companies rely on their in-house resources to carry out lease administration. But the fact is that hiring an experienced resource can actually double the expenses as they need to provide training and other benefits to the employees.
Also, hiring lease administrators acts as an obstacle to scalability, meaning your resources remain idle after processes like CAM reconciliation, lease data migration, and major acquisitions and mergers are over. Recruiting experienced and highly-skilled resources is not only expensive but also grueling. In addition to this, finding someone for a temporary task or on contract to work at a reasonable rate compounds the challenge further.
Meeting deadlines
Generally, lease administration tasks such as critical date monitoring and CAM reconciliation are timebound. Having limited in-house lease administrators can create extra stress for companies as they will not be in a position to complete the tasks on time. So, what can be the best way to overcome the aforesaid problems? Outsourcing can prove to be an effective solution to address these challenges. Outsourcing lease administration tasks to a trusted partner allow you to reduce overhead costs and stay ahead of the competition. Also, the service vendors make sure that they complete the task before the deadline without any delays or backlogs, so you can stop bothering about deadlines.
Scalability
Scalability is another challenge in lease administration. No matter, even if you are short-staffed. You can use the in-house team for other core operations and prefer to outsource lease administration tasks to a vendor. This is because the vendors are always equipped with a pool of talented administrators who can work even on a large portfolio of leases. They also ensure to deliver the work on time without compromising on quality. In contrast, the in-house team may find it difficult to meet stringent deadlines, especially if the project is a huge one.
Conclusion
Lease administration is the core process in any real estate company, so it has to be dealt with carefully with accuracy and precision. Though it throws multiple challenges, there are many ways to overcome them. And one such solution is outsourcing. Outsourcing lease administration tasks to service vendors offer innumerable benefits like reducing costs, access to the latest tools and techniques, et al. The vendors consist of experienced professionals who have domain expertise and are aware of the latest market trends. If you wish to outsource to a specialized agency like Springbord, you can get in touch with us. We are adept at handling various types of leases and offer comprehensive services that meet your requirements and fit your budget.