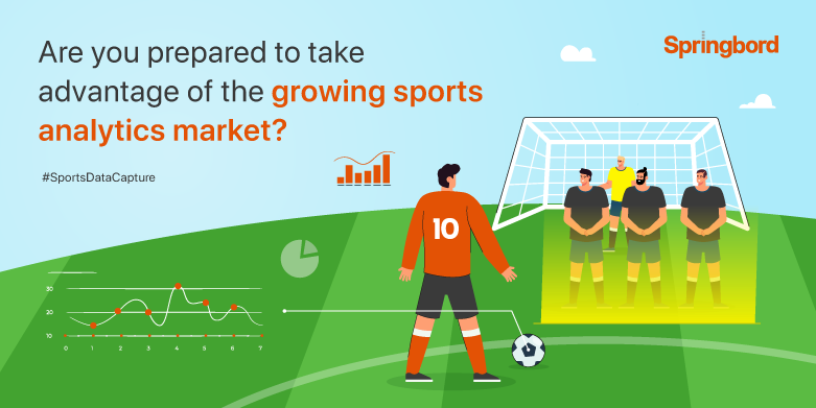 Read time

2

min
According to a recent report, the sports analytics market is estimated to grow at a CAGR of over 40% from 2019 to 2026, reaching a mark of $6.376 billion by 2026. Today almost in every professional sport, sports analytics is being employed to optimize performance as well as viewership and fan engagement.
As the demand for better and predictive analytics continues to rise, sports organizations are striving hard to capture near real-time, high-quality data. Seeing as how the changing sports landscape and fans evolving preferences are fueling the growth of the sports analytics market, establishing a strong sports data capture capability is invaluable.
However, given the data influx, emerging regulations, and need for streamlined collection and monetization of sports data, sports data capture is becoming increasingly challenging for industry players. Often lack of the right resources and tools restrict the ability to improve sports data collection practices and their efficiency.
The growing gaming and sports betting industry
The rise of sports betting and gaming industries has taken the use of sports data to another dimension. Considering the rapid adoption of analytical data and the key role of sports data in the success of this industry is fueling the need for better processes and practices that can help improve sports data capture.
Leading industry players are entering the sports analytics business
From SAP SE, SAS institute, to Oracle and IBM, all the leading industry players are increasingly leveraging their data analytics expertise to capture a market share of the sports data analytics while there are newer entrants making the space highly competitive. This trend is reflective of the fact that the sports data analytics market is intensifying with industry layers vying to develop and introduce advanced solutions. As the market continues to expand and the global sporting ecosystem continues to grow, the only way to survive and thrive in this market would be to improve sports data capture capabilities.
Partnering with a data management company
At Springbord we can help you capture, process, clean, standardize, and integrate sports data from any source to the data warehouse of your choice in a secure manner. Our team of sports enthusiasts and experts is trained and experienced in capturing action across a variety of sports.
Talk to us today to find out about our custom services that would be designed to fit your sports data capture requirements and budget.