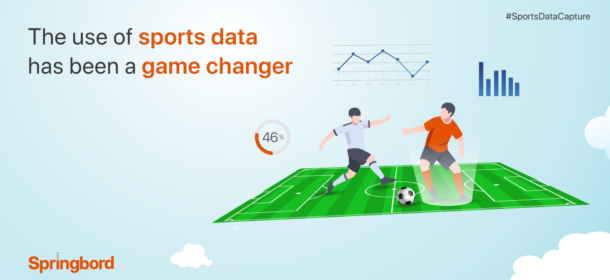 Read time

2

min
Big data is transforming the business of sports. From individual to team performance to athletes' health to predicting scores and moves, the increasingly innovative use of data within sports is helping businesses drive deeper engagement with fans and stay ahead of the competition.
Tracking and measuring team or individual performance over time may promise to deliver detailed and useful insights that could not only help the team with their present performance but also strategize for future success.
With the explosion of data, there's a whole range and influx of sports data that could be analyzed to continually achieve better sports and business outcomes and stay ahead in an aggressively competitive landscape. Let's look at top benefits that the sports industry is deriving through meaningful sports analytics.
Changed state of play
Sports such as football and cricket have started using technology to track and analyze every movement with laser precision. This has completely transformed the state of play. Better clarity through minute details that are captured on the pitch not only ensures fair game but also provides a wealth of data for later use that can be leveraged to understand strategies and train better.
The Access to real-time information
Today sports betting and sports analytics companies are on rise as the demand for both continue to soar. It is not just the team or the franchise that want the visibility into their team's performance, fans are also continually looking for data related to their favorite sports person or teams. Sports data capture and analytics allows companies to track and store metrics related to team and individual performance that offers useful insights into the game and its outcome. Teams/players can now change their tactics based on real time field information gathered that helps understand the pitch and opponents game play. This is also very advantageous for gaming companies, who can offer real time and accurate game statistics and thereby an outstanding fan/user experience.
Outsourcing sports data capture
Whether you wish to improve field strategies, update betting apps, improve fand engagement, identify, train, and prepare the next star performer, beat the competition – accurate and real time information is indispensable. Outsourcing sports data capture can help easily achieve these objectives. Considering the volume and complexity of big data, sports companies are increasingly partnering with professional data management service providers to gather and use relevant sports data. This helps them get access to real-time, clean, standardized, and accurate sports data that can be used to gain a competitive edge.
At Springbord, our team of sports enthusiast and experts are trained and experienced in capturing action across variety of sports. Talk to us today to find out about our sports data capture services that can be designed to fit your business specific requirements and budget.