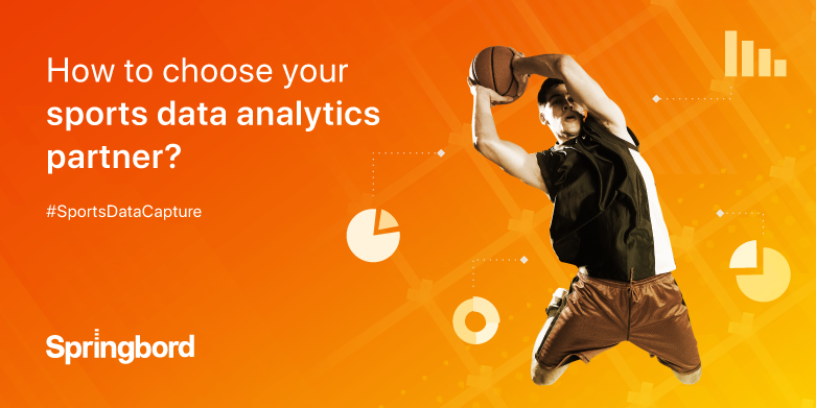 Read time

3

min
What are sports data analytics?
Sports data analytics is a practice of mathematical and statistical principles being applied to sports for better performance, to predict the probabilities, and to establish parameters for calculations. Sports data analyst collect their data like any other analyst and then curate and optimize them in order to improve the accuracy and usability of the results. Apart from other significant calculations that are beneficial for sports, sports data analytics is also used on the field, for team management, and for recruitment.
Why is sports data analytics important?
The world is at its most competitive level, in the currents times training and working hard is not enough. Smart planning with updated strategies is what brings the results required as they provide a more practical approach. This is where analytics walks into the world of sports where the competition is the whole and upfront purpose for its existence. Sports data analytics has become a key ingredient in managing sports teams and athletes, here are some of the points why it's as important as it seems
For monitoring and improving performance
For performance tracking and analysis
For measuring winning probabilities
For calculating chances
For picking top performers
For fact-based decision making
For overall better preparation
For fan engagement
Now that we have understood why it's necessary, it's also important to know that crude data cannot be utilized without software and analysts to interpret them into usable sources. The market may offer a good team of analysts and software for sports data but how do you filter them and come across what you need! So, in the next coming up paragraphs let's look into the points to know whom to bring into your team.
Data accuracy
Accuracy of data plays a vital role in this field as it helps in all the decision-making. The technology that your partner uses determines the precision of the data collected for the facts that will be used. Accuracy in different areas, for instance, finding out if they provide exact live data and leads to making better decisions right away. This task requires a high-end technology that comes with top sports data analytics tools, hence, that should be one of the questions one must ask while narrowing down on partners apart from if it collects data and gives correct results.
Customization
Customization of tools in the software will always be required because every team, sports, and athletes' needs vary and so does the updates with every upcoming season. A flexible team of experts and tools is what makes a partner long-term reliable and fit for business. Compatibility helps in the long run for all kinds of partnerships, this also means your budget must align with the partner you choose because keeping it pocket-friendly while still enjoying top-notch benefits is important. There is always a better option if you keep looking without cutting a hole in your pockets.
Features
Sports data analytics isn't just one tool that captures data and generates results. It has other departments that help it become the sole application to carry out the calculations and measurements. Your partner must have a knowledge of predictive analytics and data management, these features might not be something new to software as such but the point of learning about its quality will help you land the right one.
In-depth data
Without true in-depth, there should be no questions asked, move ahead and find a different option. In-depth data helps to analyze all the good bits that really matter. With in-depth data the hard-right decisions are made as it's the core of sports data analytics, it's used by the top teams in the sports world to maintain their outstanding performance in the field with true smart vision.
Having discussed the above points, one should be able to choose their sports data analytics partner with a specific idea. Springbord brings you the perfect sports data capture with an excellent data analytics tool that keeps you ahead of the game with accurate data. Our technology captures high-end sports data and our team of analysts provides help all around, we customize our services as per every client's requirement by even adjusting the budget, we also provide media service pushing you forward at all times. Find out why Springbord is what you are looking for in your sports data analytics partner by contacting us directly today.