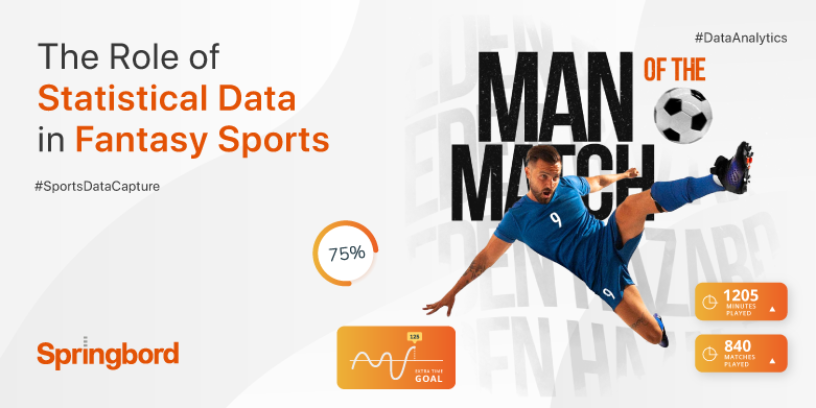 Read time

3

min
Let's examine the effect that data has had on fantasy sports enthusiasts.
Successful fantasy sports fans base their roster selections on factors like players' recent form, record against the opponent, record at the venue, etc. In contrast to an opinion based on facts, a "gut feeling" is an instinctive feeling, according to Collins Dictionary. Some fantasy sports fans just have a hunch about which player is going to rack up the most points this season. While intuition plays a larger role, statistical analysis is also important in making the final decision.
A thorough examination of any statistics can yield important new understandings. To succeed in fantasy sports, one must be able to process large amounts of data and turn them into actionable intelligence. They put in a lot of hours poring over statistics concerning players, teams, venues, etc. Every member of your fantasy cricket or football team was selected with a sound strategy in mind. One of the main reasons top fantasy sports players keep winning is that they do extensive research. By uncovering previously undiscovered information, researchers are bringing the previously impossible closer to being a reality.
The Captain and Vice Captain
The captain and vice-captain of a fantasy sports team are its beating heart and soul; they earn double points and 1.5x, respectively. When choosing a captain and vice-captain for a fantasy sports team, a regular player would never go with their gut. Before naming a "C" and "VC," it is important to conduct extensive player research.
Choosing Psychological Apes
There is always one player in a fantasy sports match who consistently scores a lot of points. Such mentally terrifying monsters are essential additions to any fantasy team. It's difficult to overlook the mental monsters in fantasy games when there is so much statistical data available on players from every sport.
There are numerous providers of sports data feeds on the market. Despite this, it is essential to single out those data providers whose feeds are tailored to accommodate fantasy sports software and to account for any delays that may occur while collecting data in real time. The final data quality is severely compromised by even a few seconds of delay, making further analysis of these numbers economically unfeasible. Not good for business in general. In addition, the price of fantasy games varies widely because they are driven by various types of complex algorithms.
Fantasy sports, contrary to popular belief, are a game of skill rather than chance. Researchers have found that while billions of people around the world participate in fantasy sports for the excitement of potentially winning big, only about 10% of participants ever win any given season. The reasoning is straightforward. They take initiative to educate themselves and then use that education to guide the team to victory. While the odds improve in proportion to the quality of the user interface. It still relies heavily on external data sources –
Outsourcing your fantasy data feeds to Springbord guarantees you'll get accurate information from a reliable source thanks to their team of skilled data collectors, data scientists, and sports experts. Pre-game, in-game, and post-game data feeds for fantasy football, soccer, baseball, basketball, cricket, golf, tennis, etc. are all captured.
We gather player statistics such as his injuries, his value card, and game projections based on his current performance to use in our pre-game data feeds. We collect and disseminate play-by-play data from live games, including player statistics and the current game situation (whether favorable or not). After the game, we compile all of the data collected both before and during the event and use that data to create a building-block report based on the metrics specified by the relevant organization or organizations. How does this contribute to the game's popularity and sales?
One, it keeps everyone who cares about a player's progress and success on the same page. 
Second, Predictive Analytics aids in predicting player worth and influences choices to build a championship squad.
Third, it allows for mid-game adjustments to be made to improve the odds of victory.
Many groups are making investments in sports data analytics in light of the industry's rapid development. The profits they make are enormous. When it comes to data analytics, Springbord is one company that has the manpower and expertise to produce results. Give us a call right now and we'll help you claim the victory as your own.