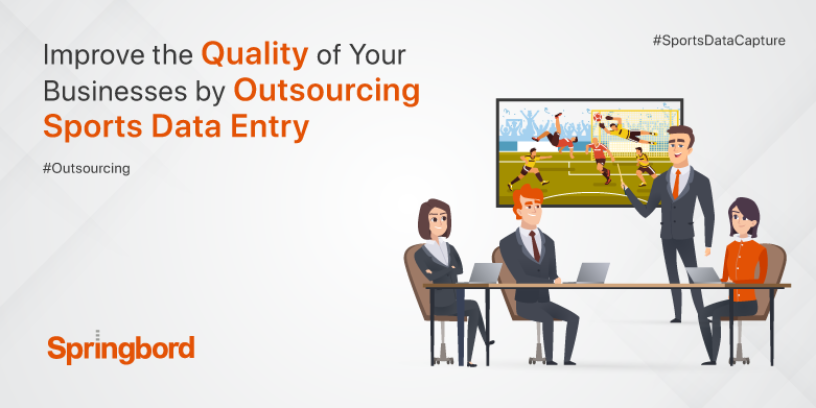 Read time

2

min
Sports and gaming industries revolve around apposite and crucial data. Gathering and organizing information precisely with minute-by-minute updates is imperative to keep fans hooked to your website. But this isn't as easy and as simple as you think. In order to give the best experience for all sports enthusiasts, it is necessary to provide updates every minute. This can be managed easily with the help of outsourcing agencies that are equipped with talented and skilled adepts. These companies enter, manage and digitize sports-related information and game statistics in the most accurate way possible without any delays.
Outsourcing benefits
Outsourcing simplifies the task and shoulders the burden. Having this said, let us now look at the benefits of outsourcing sports data entry. The first and foremost benefit of outsourcing is you get the high-quality output without spending too much of your valuable money. Outsourcing agencies have a pool of qualified and experienced professionals who can handle the task better. They acquire the skills the job demands and help you achieve desired outcomes. They keep your site up-to-date with live scores and schedules of the teams, making your clients glued to your website.
Another benefit of outsourcing is the agencies will have access to the latest tools that will distinguish you from your competitors. The professionals can access data anytime, anywhere through various online and offline sources which cannot be done by in-house employees. They are also capable of providing data in various formats such as Access, CSV, Excel, etc. These tools and technologies will help in getting the latest and precise numbers without compromising on quality.
Operational cost can play a vital role in sports data as it requires trained employees, software, and other resources. Did you know you can reduce overhead costs by outsourcing sports data to an agency? Yes, outsourcing firms hire trained personnel who are highly efficient and scalable, so when there is a surge, you can rely on them without worrying about deadlines or quality. You can also save a lot of your time and effort searching for relevant documents and cut down document storage costs.
We know you have security concerns when it comes to data. That is why outsourcing companies process all the information in a secured working environment. The workers at these agencies create individual IDs and passwords that let them work directly on your website. The professionals consider all the factors that can affect security and takes measures to keep security breaches at bay. They ensure that the information is completely confidential and that privacy is maintained to the highest standards.
Conclusion
Sports data entry requires individual focus as it involves updating scores in real-time. Outsourcing companies are responsible for delivering error-free, quality output on time without any deviations. This way, you can focus on other important tasks that can help your business grow. With a lot of outsourcing companies available in the market, it is of prime importance to choose the one that will make you stay profitable and fit your budget. Partner with Springbord today, which can handle even large-sized data entry projects. We offer other services like web researching, data mining, data abstraction, etc. Our experts manage game statistics well and aid you in standing out from the crowd.