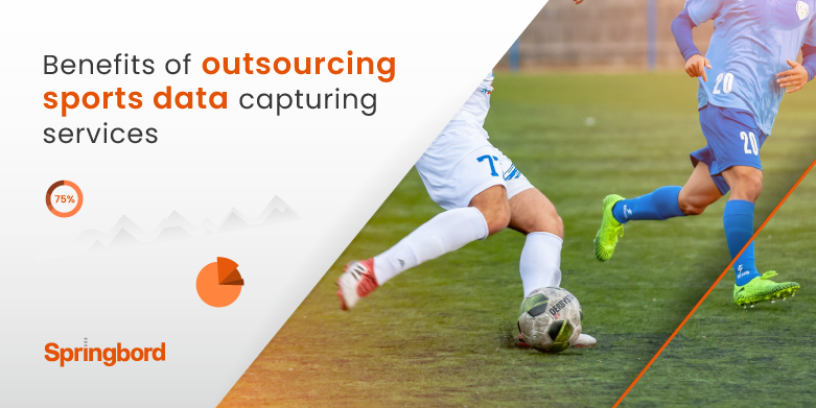 Read time

3

min
Sports tech is changing the way athletes perform and compete. It is helping their managers generate analytics in real time and redefine the future of the game. It is also enabling fans to consume sports in ways never imagined before. Today, e-sports has makes it possible for teams, trainers, enthusiasts, fans and others to leverage tech to create new possibilities. It is a billion dollar industry that is becoming a global phenomenon embraced by iconic sports brands, telecasters and sports administrators of many countries.
Although there is a surplus of sports tech tools and applications available, a growing number of sports bodies and associations are outsourcing the task of tracking and capturing sports data to professional entities. This helps them to focus on their core strength: the game. In addition, the benefits of outsourcing sports data capturing are many and a few of the major ones are listed here.
Performance tracking and analytics
Sports tech has become an accepted part of any game. It helps in strategic decision-making—right from scouting the right talent and deploying players on the field. It also helps selectors and teams to identify the opponent team's game plan along with key statistics on players. Sports data analytics provides cutting edge information, for example, on the number of passes and ball possession in a football match, to establish a framework or to camouflage a trend.
The growing need for accurate, granular, and up-to-date data
The need for robust lease data management has been now underscored by the pandemic and the industry continues to adapt and respond to the shifting imperatives. However, despite the criticality of lease data management, many retailers still face significant challenges in managing essential lease information efficiently, restricting their ability to have access to important data and use it to their advantage.
Comprehensive lease data management can help improve data control and access, streamline accounting and administration resulting in improved collaboration and lease negotiations/restructuring. It also enables both tenants and landlords to gain meaningful insights and improve risk management, optimize profitability, and effectively evaluate liabilities, helping them make informed and viable decisions.
Providing a valuable reference point
Today's sports tech comes with AI-driven advanced metrics that are truly a value addition. This does not stop the stakeholders from outsourcing sports data capturing services to external agencies with specialised tools and expertise. These agencies are playing an important role in critiquing a play or performance. For instance, in a football or hockey match, they list metrics such as expected assists, expected passes, and possession cycle among other data all of which provide valuable points of reference to analyse a game or player performance.
Elevating fan engagement and experience
That sports tech plays an equally important role off the ground is no mere gainsay. There is a growing market for people to engage with the data models and focus on building their game. Sports tech has made interaction with the game more proactive, nurturing talent and performance across many games. Just imagine the intelligence generated from tracking data from thousands of games utilizing computer vision techniques, including video monitoring and stream monitoring! The fans and enthusiasts out there would directly benefit from this data minefield and it would also enable them to gain visibility in the scouting circuit.
Predicting teams' behaviour in matches
In-play sports data capture can also help in predicting the opponent team's stratagem. For instance, in a football match, one can find out the specific areas of a ground where the opposition players dominate and limit the passing of ball. Sports tech helps in predicting this behavior and even enabling you to measure the metrics.
Focusing on player education and training
With real-time data capture of a sporting event, the team managers can create playlists of a particular shot or moment for each of the players in one or many games. For instance, a playlist of a penalty shot in the box area. The manager can share the playlist with the team members to enable them to identify a trend or weakness, thereby helping them to change the course of action in other matches.
Sports data capture services and sports data analytics are critical steps in managing team performance and improving players' show. The collection of relevant data in real time provides the necessary impetus to out-perform the competition. For players, team managers, and fans, tracking player movements and performance is vital to ensure that a team has an advantage over their opponents.
With a growing number of professional leagues and events, video and data analysis of sports is gaining acceptance among all stakeholders. Sports tech has transformed from a mere data capturing service to supporting in-play decision making. Springbord provides data capture and data analytics services with team, player and game information for 12 of the world's major professional sports. Its data capture facility, with the strong dedicated team, is uniquely positioned to cover all sporting events across all time zones, providing reliable information that is both cost-effective and accurate.
For more information about our sports data capturing services, get in touch with us..