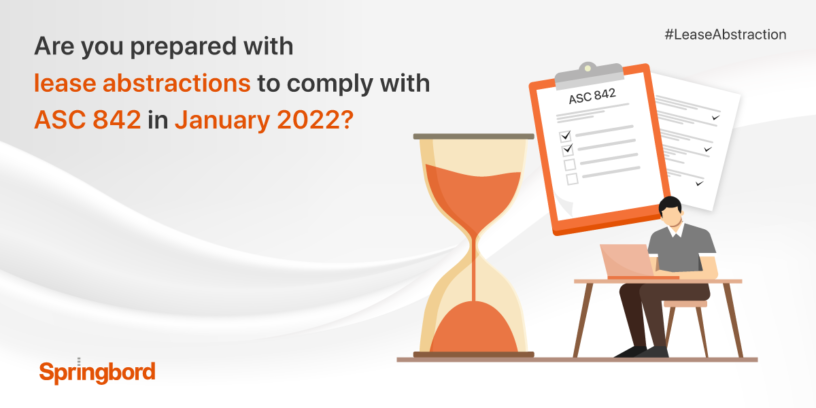 Read time

2

min
Private companies are fast approaching the deadline of January 2022 for implementing the process to comply with the new lease accounting standard ACS 842. The intention behind this standard is to bring every operating expense on to the balance sheet that were previously off balance sheet.
What this essentially means is filling in all the important and critical and necessary lease data on to the accounting system to ensure compliance. It requires abstracting leases and populating required fields accurately and timely. Also, this is not a one-time effort so, companies need to have a process in place to ensure lease abstraction on an ongoing basis.
Understanding the effort involved
For starters lease abstraction is a complex and a tedious method. With in-house resources already stretched thin in almost every organization, managing large volumes of leases, within the stipulated timeline pose significant challenge. Typically, real estate leases are lengthy with several addendums and complicated terminologies and clauses. Some of these include rent concessions, special obligations, CAM charges, tenant allowances, and such. Sifting through 100s and 1000s of leases and extracting the right information demands proficiency and attention to details. It requires establishing a process, allocating skilled and dedicated resources, and using right tools.
The process of lease abstraction should include a thorough quality assurance as well for every abstract to undergo a review process. This is crucial as you can imagine any wrong, inaccurate, or missed information on the lease accounting system can result in serious accounting errors which could lead to significant risk and may be difficult to rectify at a later time. To meet such demanding requirements most organizations are increasingly partnering with specialized service providers to get their lease abstraction done within the timeline.
Managing the task within the stringent timeline
As mentioned, lease abstraction is a time-consuming process but one of the most critical aspect of complying with the new accounting standard. It would be detrimental to underplay the requirement of and effort involved in lease abstraction.
Whether you decide to outsource lease abstraction, implement a software, or ramp up in-house resources, irrespective of what approach you choose, time is the key factor. With ASC 842 just couple of months away from going live, navigating every process and aspect with efficiency is critical. Private companies need to act now and get their lease portfolio abstracted so that they can successfully populate every important and required information on the accounting system timely and efficiently.
At Springbord we have been helping companies manage their lease portfolio efficiently, minimize risk, ensure compliance, integrate with other platforms, and improve lease data management. To know more about our Lease abstraction services, connect with us today!