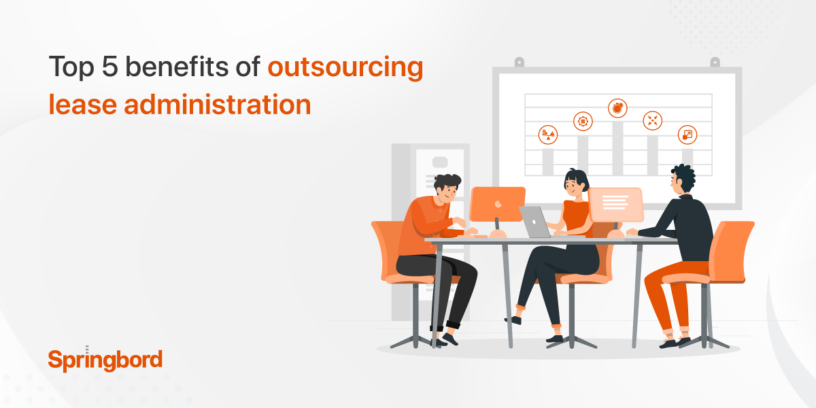 Read time

3

min
Lease administration plays a key role in huge cost savings and also drives better control and strategic planning of lease portfolios. A proactive approach in lease administration can help to your better manage risks, recoveries, execution of lease terms, and accounting.
However, even though lease administration is an administrative task, it is quite a complex and tedious that demands dedicated focus and resources. And as organizations continue to grow, their lease portfolio also scales making it further challenging to manage it efficiently. Considering the critical role lease administration plays in business growth and strategic management, it is imperative to invest in resources to batter manage lease. This is why outsourcing lease administration services is increasingly becoming popular for its given benefits vis-à-vis cost investment. Let's look at key benefits of outsourcing lease administration services to a specialized partner.
Minimize operational risk and ensure cost saving
Given the multitude of risks involved, if lease portfolio is not managed properly, it can be really damaging in terms of cost and operations for any organization. Missed payments or recoveries, missed critical dates, wrong CAM information, inaccurate lese abstraction can all result in challenges and risks that may have a lasting effect. A lease document is more than just a legal contract, it is a lengthy document that forms the basis for good lease management. Administration of lease entails a host of tasks, when managed well can help streamline lease operations and ensure you meet every lease obligation as per the terms and on time.
Facilitate better lease data management
Having a dedicated lease administration team with access to right software ensure better lease information management that is well organized and easily accessible. With an outsourcing vendor you can rest assured that the lease information is abstracted, stored, managed timely and accurately. Efficient lease data management not just helps streamline and optimize operations and portfolio management but also makes lease data available for further analysis through enrichment and standardization processes. This makes it easier to not only glean information but also analyze and gain business insights.
Timely manage common area maintenance (CAM) expenses and costs
Whether you are a lessor or a lessee, CAM expenses form a major chunk of lese costs for both the parties. However, it remains one of the most challenging aspects in lease management often leading to disputes, missed payment, or overcharges. You can avoid all of this by outsourcing lease administration where they meticulously handle, review/audit, and reconcile CAM charges. A lease administration partner can help either recover or save hundreds of thousands of dollars through efficient practices and data management processes.
Better focus on core business strategies
With an outsourcing partner managing lease administration, you can better focus on core business activities. Lease administration is a time consuming process that requires dedicated attention and time. But fact remains that it an administrative task, albeit a critical one. So, when you partner with a specialized vendor it allows you to free up your precious time, focus on growth strategies while ensuring efficient management of lease portfolio.
Improve scalability and responsiveness
With a dedicated team handling lease administration, you are not only equipped to manage business scalability requirements, but such agility also helps improve responsiveness and adaptability to better manage business demands. And the best part is that it works both ways, you have the flexibility to scale up and down. Additionally, with a partner you will access to experts at all times, who would help you resolve any issue as soon as it surfaces.
At Springbord we have been helping companies manage their lease portfolio efficiently, minimize risk, ensure compliance, integrate data with other platforms, and improve overall lease data management. To know more about our Lease administration services, connect with us today!