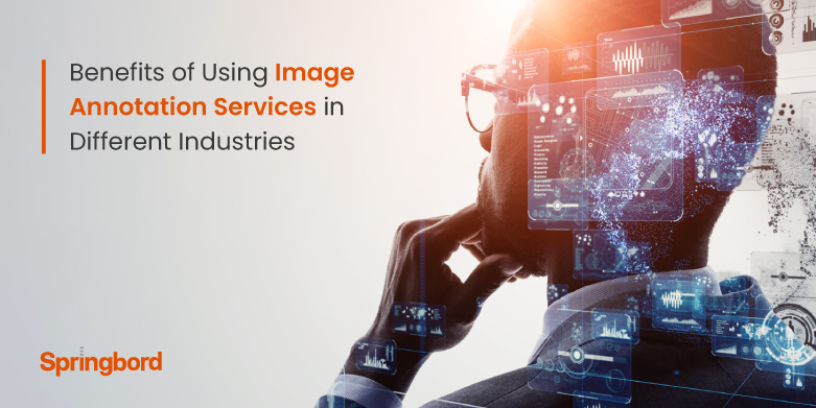 Read time

2

min
Image annotation is integral to machine learning and artificial intelligence, especially when using computer vision (CV) models. It is the process where images of a particular dataset are labeled to help train a machine learning model. Different image annotation techniques such as polygon annotations and bounding boxes can do this.
The benefits and importance of image annotation services are being realized across industries. Estimates show that the market for data solutions in AI and machine learning will touch $1.2 billion in 2023. Here's how organizations across different sectors of industry are benefiting from the use of image annotation services.
Transportation – Self-driving cars are a reality today and use CV for autonomous operation. To ensure the safety of these vehicles and to make them efficient, they must be powered by sophisticated machine learning algorithms. With image annotation, automobile manufacturers can design smart applications for these autonomous vehicles. Simultaneously, there is a thrust on boosting digitization to bring about centralized traffic control across the world. This underlines the growing importance of data annotation and labeling services in the transport sector.
Healthcare – In healthcare, CV can help enhance the accuracy of the diagnosis and improve the quality of treatment. With image annotation, CV systems can zero in on patterns and issues such as tumors or hairline fractures through CT scans, MRIs, and other diagnostic tools. This can help prevent backlogs and reduce patient wait times significantly.
Agriculture – Precision agriculture blends traditional methods of farming with the latest technology to boost sustainability, productivity, and also profits. With the help of CV systems, it is possible to analyze plant health, project crop yields, and enhance soil conditions. Drones, GPS sensors, and robots, all play an important role in agricultural activities nowadays. Image annotation is the driving force behind all these tools and techniques.
eCommerce and Retail – Image annotation can greatly enhance the user experience for customers and help them zero in on the right products. When an annotation is done right, it will have specific captions and labels for each item on the website. Annotation helps ensure appropriate categorization of the products, which brings up better search results. It is also a means of boosting visual search. For instance, if a customer forgets details about a product but has an image saved, then they can simply drag the saved image to the search bar and find the product. Offline retailers can benefit from image annotation in their inventory management and also in cashier-less checkout systems.
Image annotation is here to stay and is all about getting the best out of technology. Most AI companies opt for professional data labeling services when they require image annotation for important AI projects. This is because organizations that offer professional data labeling services such as Springbord have the qualified workforce, advanced techniques, and the latest tools to facilitate data labeling and annotation. We can customize services to suit your specific requirements while offering seamless project management, quality control, and reduced overheads.