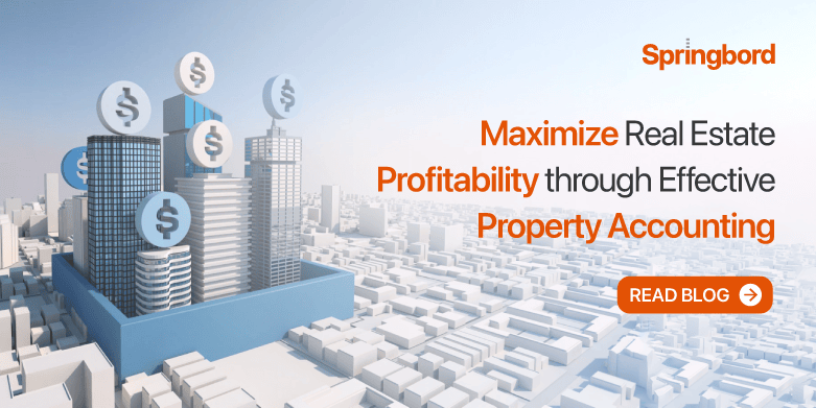 Read time

3

min
The world of real estate is undeniably alluring, promising substantial profits and wealth creation. Yet, within this promising realm lies inherent volatility and intricate operations. To thrive in the dynamic real estate market, expansion and scalability become the cornerstones of profitability and wealth generation. Real estate players often find themselves overseeing vast portfolios of properties, which continually evolve and expand.
However, managing such an extensive portfolio necessitates meticulous management and precise accounting, tasks that demand dedicated and skilled resources. In particular, the twin disciplines of bookkeeping and property accounting, especially for expansive portfolios, leave no room for error.
Any missteps in this arena can lead to severe consequences, ranging from accounting non-compliance to staggering financial losses.
The Foundation of Accuracy: Bookkeeping
At the core of any effective property accounting system resides bookkeeping—the very bedrock upon which the structure of accurate accounting is constructed. Bookkeeping, in essence, encompasses the systematic recording of a company's financial transactions. The importance of precision at this foundational stage cannot be overstated.
Even the slightest error during bookkeeping can send ripples throughout the entire accounting process, potentially culminating in severe accounting blunders and, in the most extreme cases, triggering IRS audits.
Acknowledging this paramount significance, numerous real estate entities opt to engage professionals or outsource their bookkeeping activities. This strategic approach ensures the efficient, punctual, and exact management of financial data, thus setting the stage for unwavering accuracy in accounting practices across the organization.
The Crucial Role of Visibility
High-quality and efficient property accounting extends beyond being a mere compliance requirement—it stands as an absolute imperative for optimizing asset profitability. Robust accounting practices offer more than just a ledger of financial transactions; they serve as the lens through which you can meticulously track the performance of leased portfolios and ascertain the value of individual assets.
Within the realm of lease portfolios, a meticulously managed accounting operation allows for precise monitoring of rent collection, deposit holdings, invoices, CAM (Common Area Maintenance) payments, contractual obligations, net rental income, and an array of other financial components. This precision transcends basic record-keeping; it offers comprehensive visibility into portfolio performance and its inherent market value.
This heightened visibility, in turn, empowers real estate professionals to scrutinize whether a portfolio genuinely generates the anticipated revenue and profit. It functions as a tool for evaluating asset worth, analyzing performance, and pinpointing pivotal factors influencing profitability. Armed with this data, strategic decisions can be made to optimize both asset value and performance.
Informed Decision-Making and Future Preparedness
Efficient property accounting surpasses the role of historical record-keeping or the management of present-day accounting practices. It assumes the role of a dynamic tool, equipping businesses with the capacity to make lucrative decisions grounded in data and information.
Whether it involves deliberations on purchasing or selling assets, expanding portfolios, or adapting to market fluctuations, effective property accounting ensures that every decision is firmly rooted in financial reality.
In essence, it lays the groundwork for future readiness, enabling real estate entities to navigate the ever-evolving landscape of the industry with assurance and insight.
Springbord: Your Partner in Property Accounting Excellence
Springbord stands as an illustrious exemplar in property accounting services, boasting over seven years of unwavering commitment to excellence. Having catered to a diverse clientele of over 100 global clients, we have consistently delivered results that speak volumes.
One of our crowning achievements lies in our capacity to provide clients with up to 50% cost savings in property accounting, thereby assisting them in optimizing their financial operations and elevating overall profitability. Furthermore, our unwavering commitment to top-notch data security underscores our dedication to safeguarding sensitive information, ensuring that our clients can place their utmost trust in us with their most valuable data assets.
Our seasoned expertise, extensive client base, cost-efficient solutions, and unwavering commitment to data security position us as the trusted partner in the realm of property accounting. We stand ready to empower your real estate business for enduring success.