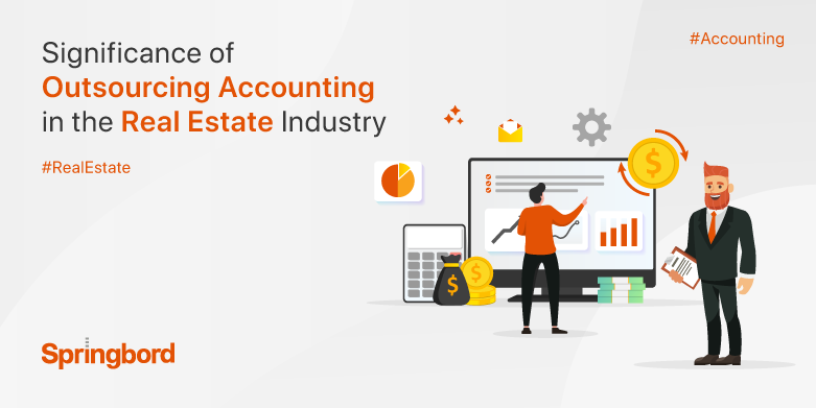 Read time

3

min
Real estate is one of the fastest-growing industries, which involves many operations, including buying/selling property, property management, accounting, lending, etc. Out of these, let us talk about accounting in today's blog.
Accounting plays a major role in every business, and real estate is no different. No company would thrive without real estate accounting. It has gained so much precedence over others. Thinking that it is over-hyped? Definitely not! Accounting helps real estate industries manage and optimize financial resources and evaluate the profit and loss made every year. From calculating expenses to estimating profit, there are various stages in accounting that have to be dealt with precisely. Only a highly-skilled, well-versed accountant can do these tasks effortlessly without any errors. So, you could also consider outsourcing accounting tasks to a specialized consultant to reduce costs and make your business flourish.
Importance of accounting in real estate
Accounting is not just dealing with finances. It acts as a backbone of a real estate business and determines the company's growth. Keep reading to know more about the significance of accounting in real estate.
Inflates revenue and cuts down expenses
One way of boosting your business's revenue is by keeping a check on expenses. Keenly monitor every work and daily transaction with contractors and others, where human errors tend to occur, and see that it is justified. By analyzing the portfolio, you can increase the rent on rentals and provide additional amenities. Though all these look simple, they cannot be accomplished in a night.
Checking on numbers and other factors is a demanding task and requires accuracy and time. You cannot sit all day, leaving other tasks aside, and keep calculating the expenses. This is where third-party experts come into the picture. They can quickly analyze the expenditure and make the calculation look simple for you. So, it is wise to hire a consultant who can take your business on the path to success.
Reduces debts
Debts in business could be intimidating and can make your organization slump. An experienced accountant will save you fortunes by meticulously assessing interest rates on credit cards and mortgages, thereby avoiding possible loss. They also help transfer your high-interest rate accounts and balance to zero interest rates, which could bring you out of falling into debt.
Determines property rates
Evaluating the current rate of your property can feel like a cakewalk. But when you actually sit down to calculate, you start experiencing the task to be an enigma. This is because transactions don't happen often, and the property stays with the same person for a longer period of time. Due to this, determining the current value of the property becomes hard and complex. Also, most real estate businesses evaluate the property rate based on estimates, making it difficult to determine the actual rate. To tackle all these issues come real estate accounting. Accounting serves as a key indicator and measures your business's growth.
Hiring an outsourcing partner can help shoulder the burden. Instead of straining yourself to compute, you can leave the task to them and focus on other aspects such as cash inflow and outflow, net worth, profit, and loss, etc. Also, they follow all the regulations and maintain the records perfectly.
Helps formulate new strategies
In order to streamline your business, you need to devise a plan strategically as it can influence the growth of your business. Real estate accounting helps plan, develop and implement new strategies for business. It also compares the growth year-over-year and identifies properties that aren't doing well. With this data, you can plan and act accordingly.
Keeps you up-to-date
Staying up to date on the property tax rates helps avoid consequences and unwanted losses. Accounting maintains a record of all the taxes and allows you to manage the overall tax returns effectively. Tax varies from property to property, so employing an accountant to deal with this task would be the best option. A skilled person will follow a professional approach and perform proper research to avoid losses in the investment.
Conclusion
Accounting plays an integral part in the real estate industry as it involves financial aspects. Real estate accounting services can help housing associations, construction firms, real estate agencies, and trust managers prosper. Although managing to account on your own can seem cost-effective, it actually is not. It is hectic, time-consuming, and expensive. To address this, you can outsource your tasks to a specialist who can handle finances. Outsourcing offers a number of benefits to your organization.
If you are on a quest for the best outsourcing agency, look no further! Springbord believes in modern-age real estate accounting and looks for ways to grow your business. Our professionals understand your company's finance and accounting needs, come up with a plan and take actions that create a great impact on your business. Partner with us today and see your business coming out in flying colors.