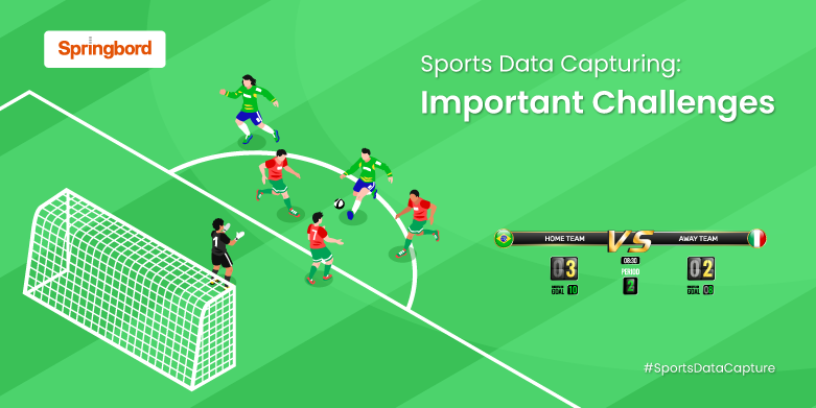 Read time

2

min
In 2020 the sports betting market generated a revenue of $1 billion in the U.S. which is estimated to increase by six times by 2023. Apart from the rapid rise of online sports betting, both individual and team sports have become aggressively competitive. Given the rapidly growing fan base, deeper engagement and extensive amount of money that fuel the sports business, it is no surprise that having access to high-quality sports data has become critical for every player/stakeholder in this game.
As technology continues to advance at warp speed disrupting every rule and way of business in its wake, team sports franchises, betting companies, and coaches are striving hard to leverage data. They want to use sports data in new and exciting ways – strengthen performance, analyze, and predict results and outsmart competition. That said, despite the growing demand for accurate information, collection/capturing of sports data poses several challenges.
The volume and diversity
Sports data is diverse, and the sources are wide ranging and extensive making the process of collection extremely complex and challenging. Thanks to technology the amount of sports data available today is huge, but the trouble is type and variety are equally diverse. Also considering the fact that even the purpose and usage of sports data differ from stakeholder to stakeholder, ensuring collection of targeted sports data becomes paramount.
The structure and quality
Another big challenge is enriching sports data. Data from different sources and networks come in different format, cleaning, standardizing, and enriching are extremely critical aspects of sports data collection. Without these processes, leveraging sports data for any use would be highly challenging.
The need for real-time update
For online sports betting apps access to real-time statistics is invaluable, the business growth hinges on real-time sports data capture. But even for other stakeholders, access to near real-time sports data is key in order to achieve desirable goals. However, capturing sports data in real-time, requires skills and tools that most stakeholders lack, making it difficult to collect any meaningful data.
Outsourcing sports data capture
Irrespective of your ultimate objective – on field strategies, grooming and preparing the next star performer, updating betting apps with accurate and real time information for better engagement – outsourcing sports data capture can help achieve these goals. Partnering with a professional data management service provider can help you gather and use relevant sports data to your competitive advantage.
At Springbord, our team of sports enthusiast and experts are trained and experienced in capturing action across variety of sports. Talk to us today to find out about our custom services that would be designed to fit your sports data capture requirements and budget.