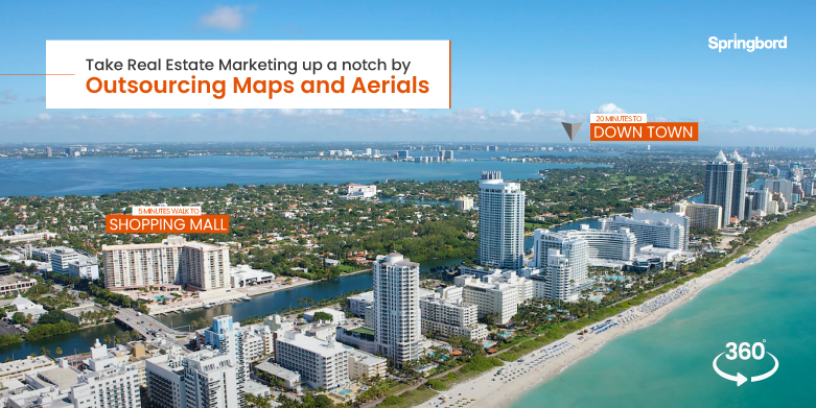 Read time

2

min
In an aggressively competitive real estate market today, companies need to pull out all the stops when it comes to real estate marketing in order gain and retain market share. Considering the key role location plays in selling any property it is only logical that industry players should have a detailed portfolio of maps and aerials in their marketing arsenal.
That said, simply showcasing what surrounds your listing on google map no longer serves the purpose when your competitors might be taking advantage of digital modern maps and aerials. The ability to show points of interest, other amenities and the surrounding area in general is priceless. And it has the potential to make a huge difference when you are selling or leasing a property. It is especially useful when prospects cannot see the property in person.
However, creating unique maps and custom aerials requires time, skill, resources, and dedicated efforts. Because of which many companies, despite their plan and intent fail to put it all together as a cohesive and compelling marketing collateral. Outsourcing maps and aerials to specialized service providers can help you create high quality graphics designed as per specifications. What more? We have listed a few top reasons why you should consider outsourcing maps and aerials.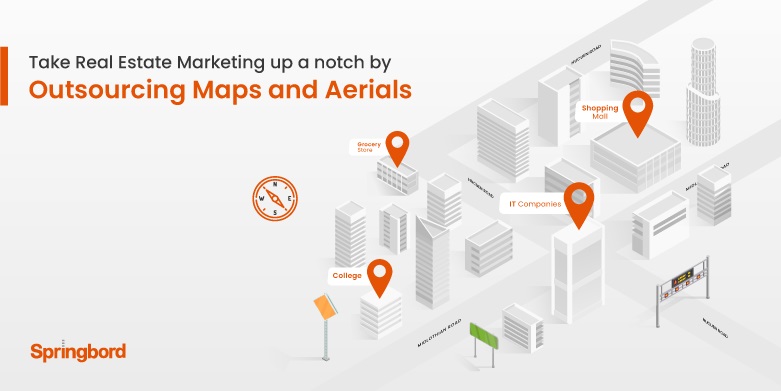 High resolution images
High resolution maps and aerials give your prospects a different angle and perspective along with the rendered images of your property. Clear view of surrounding and street views eliminate several site visits allowing your prospects get a sense of the location without traveling to the location and help you better engage and retain prospects. Insights on surrounding neighborhood, points of interest (POI) such as parks, shopping centers, closest intersection et al. provide complete information related to the listing making it easier for prospects to make an informed decision.
Scalable and customizable maps
By outsourcing maps and aerials, you gain the flexibility to create custom maps as per your marketing requirements. It could be maps of smaller area with only essential details fit to go on a flyer. Or you could get a map covering a larger surrounding area to create an emphasis on the location and highlight the landmarks and POIs along with additional information about connecting freeways and roadways. Specialized service providers can help create unique maps and aerials that can illustrate a variety of data points making them compelling and attractive. Having these within your marketing portfolio gives you an advantage of showcasing your property listing within its surroundings and also highlight the unique proposition in terms of location.
Marketing and more
In addition to the marketing advantage, professionally created maps and aerials offer precise information about the surroundings. Whether you are looking for information for engineering logistics or real estate data, a specialized service provider can showcase land use patterns within any location. Plus, these interactive designs can be integrated with any platform making it easy to share with every stakeholder involved, maximizing efficiency and productivity within a construction site.
Springbord has been a partner of choice for several global real estate companies providing a wide array of services. Talk to us today to find out how our dedicated team of graphic designers can help you create custom, high-quality, and precise maps and aerials for your listings.