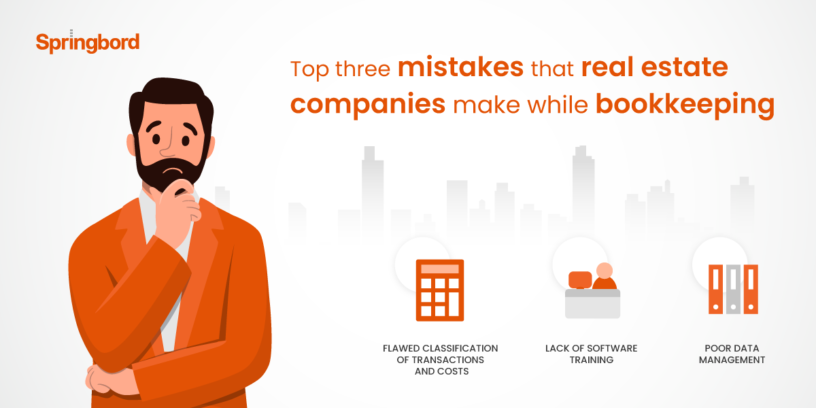 Read time

2

min
There is no other industry sector as dynamic as the real estate industry. It is characterized by varying risk factors and unique challenges, where industry players are continually striving to optimize profit while navigating the volatile market space. One of the key requirements of doing business effectively is to have complete operational control and process efficiency. As such, property accounting has emerged to be a core function that can help contain cost, maximize the bottom line, and reduce capex (capital expenditure).
However, property accounting is tedious, complex, and time-consuming making it a challenging process that is riddled with issues. Let's look at some of the top bookkeeping errors that real estate companies often run into that lead to a domino effect impacting books and financial reporting.
Flawed classification of transactions and costs
Proper control over-classification of expenses, transactions, and exemptions are essential to ensuring accurate accounting and determination of profitability. However, this remains one of the most challenging areas that are prone to human errors. Incorrect entry or categorization of wrong accounts together not just affects the books but also taxation and negatively impacts the bottom-line measurement.
Lack of software training
Most of the companies use property accounting software today. While these platforms are used to streamline the bookkeeping process, the lack of adequate personnel training often defeats the purpose. Accounting processes are complicated, to begin with, and if your in-house staff is not properly trained in handling the software it adds to their challenges. Plus, these platforms need to be continually upgraded, lack of technology training only further compounds the challenges and results in accounting errors.
Poor data management
Even today companies largely rely on paper-based processes for information management. However, this kind of data management is fraught with risks in case the paper trial is lost. Other inherent risks attached to such data management is inability to share or update information timely, inaccessibility and storage, and even chain of custody. Plus, technology provides a built-in quality control which is absent in paper-based information management making it prone to human data entry errors. Lack of data management capabilities is one of the major challenges facing real estate businesses today when it comes to preparing books for accounting.
Tackling these challenges through outsourcing
Property accounting can now be outsourced to specialized service providers who bring in-depth knowledge in managing a range of property accounting functions/transactions managed by REITs, real estate owners, private equity firms, and property management companies. You can choose to outsource accounts receivable, accounts payable, bank reconciliations and cash management, or even bookkeeping for new and existing portfolios as well as financial reporting. Outsourcing allows you to get access to skilled resources and technology capabilities, making it easy to streamline the entire process and ensure accurate accounting, organized books, and transparent information management primed for audit.
Talk to us about your challenges in managing data and preparing books for accounting and we can help overcome the hurdles while ensuring accurate bookkeeping that in turn enables you to maximize the bottom line.