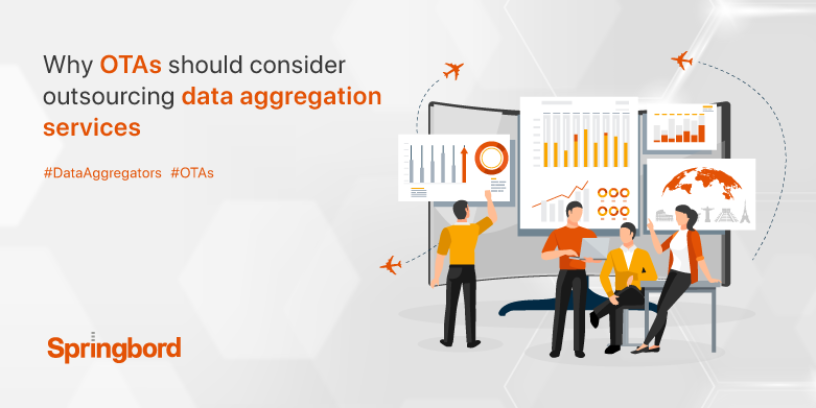 Read time

2

min
The unrestrained and rapid growth of online travel aggregators (OTAs) has resulted in a highly saturated market where competition continues to intensify. In a crowded landscape such as this, standing out and claiming market share is increasingly becoming a challenging and herculean task.
Seeing as how data aggregation is at the very heart of an OTA business, OTAs are being termed as data companies by industry experts. This means, and is quite obvious, that OTAs need to have robust data aggregation capability in order to differentiate themselves, attract travelers, drive traffic, and ultimately business growth.
Outsourcing data aggregation services to optimize the process
The need for a razor-sharp focus on managing and aggregating data cannot be overemphasized. Data management and aggregation is an ongoing process, so it is imperative to have systematics and an organized way of managing data collection, processing, and aggregation. However, that demands skilled resources, the right tools, and dedicated talent.
This is why outsourcing data aggregation services are gaining popularity for the operational and business advantages it delivers. With the travel and tourism industry grappling with the influx of data, OTAs are continually looking for ways to capture, organize, and update hotel and travel information in real-time to stay competitive and offer the best travel booking experience to their customers.
Outsourcing to a specialized partner allows OTAs to keep pace with the speed at which the information is inundated, helping them build responsiveness and offer the latest and relevant information and services. Outsourcing not only helps overcome challenges surrounding data aggregation at scale but realizes the full potential of data aggregation in maximizing traffic and conversion.
Making customer experience a competitive advantage
When it comes to any transaction online if as users/consumers we are faced with inaccurate, erroneous, and incomplete data/information, we are quick to abandon the site. And move to a competitor's website that offers up-to-date information that is easily accessible and navigable. For travelers running into an 'error page' when looking for certain search strings including flight details, hotel accommodation, location, and other such keywords is a frustrating experience. The inability to find what travelers are looking for can have a severe negative impact on any OTA business.
It is the responsiveness of a website that can return relevant search results quickly and accurately with minimal latency is that helps an OTA thrive. Outsourcing data aggregation improves the ability to provide access to the accurate and comprehensive hotel, flight, and other travel and leisure activity data. This empowers OTAs to not only offer relevant information to their visitors but also offer custom itineraries for travelers, improving customer experience, brand affinity, and loyalty.
At Springbord we bring extensive data management experience. Our travel data aggregation services are designed to help OTAs attract more travelers, offer customized deals, and improve engagement. We guarantee accurate, enriched, and updated data that enables you to deliver outstanding customer experience. To know more about our Data aggregation services, connect with us today!