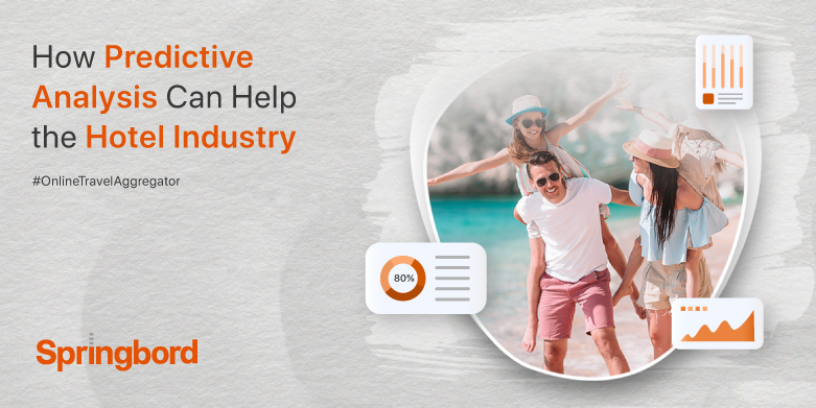 Read time

4

min
The value of predictive analysis is becoming more and more apparent to businesses throughout the world. Gaining an accurate understanding provides a leg up in a cutthroat corporate world. The hotel business is not an exception.
Marketing strategy, client loyalty, and increased productivity can all benefit greatly from data analytics in the hotel sector. It allows hotels to provide individualized service to guests, implement innovative pricing models, and attract a broader range of customers. Data analytics has improved the hospitality sector in five ways, discussed below.
The travel and hospitality industry are commonly associated with unique encounters and stunning settings. Preparing for such adventures requires extensive investigation and preparation. Isn't it more convenient to get data that has already been properly interpreted? This information is easily accessible because the hotel and hospitality business deals with millions of customers daily and keeps track of these transactions. The difference between a recurring client and a missed opportunity might be found in how well you use this data to meet guest expectations. Here are five ways predictive analysis can be used in the hotel industry.
As a Means of Providing a Unique and Customized Service
The customer's buying habits can be predicted using their historical data using a predictive analysis technique. You can extrapolate his shopping habits and other interests from this information.
When we talk about "other preferences," it's important to remember that our guests' stay doesn't end when they check out. You can consider that the starting point.
The guest's demeanor during his stay at your hotel is established after check-in.
Similarly, you can keep tabs on your hotel's clientele and tailor your offerings to their specific needs.
While some offerings will be standard, others will be tailored to each customer.
You can boost your advertising results by using data analytics
Using data analysis, the hospitality business may improve its marketing strategies and reach more potential guests.
This gives marketers a better chance at identifying certain subsets of hotel guests and other potential customers by allowing them to create more specific target groups.
If a family decides to stay at the hotel, data analytics can be used to promote the establishment's various family-friendly amenities and services.
If a guest typically visits for business, the hotel can tailor its promotional materials to appeal to their interests. In addition, you can differentiate yourself from the competition by marketing to a niche audience.
Useful for keeping tabs on the competitors and assessing the business climate
Hoteliers can't succeed in today's market without keeping an eye on the competition, and data analytics is the best method.
Finding out what your competitors are charging is as simple as running a real-time data analytics report that checks your hotel's rates against a predefined group of competitors.
This helps hotels maximize revenue by charging the appropriate rate for each available room, any time of the day or night.
The collected information can be used to get insight into the practices of your hotel sector competitors and to develop strategies for outperforming them in terms of service quality and guest satisfaction.
Helps To Deliver A Wider Range Of Services
There are many channels via which hotels can interact with their current and prospective clientele, thereby generating a wealth of information. Data collection and analysis can disclose a wealth of valuable information about the programs and the services that guests utilize.
Not only that, but proprietors of hotels can also choose which novel amenities to roll out. The hotel can use this to update its fitness center if its clients have long lamented the lack of certain pieces of equipment.
A company's decision to partner with a cab service, bar, restaurant, or travel agency can be aided by data analytics.
Data analytics is a must when it comes to maximizing output, effectiveness, and profit in the hospitality sector. Findings from data analysis show businesses where they may make improvements, whether or not certain operations need tweaking, and which tasks can be performed more effectively.
Can Be Useful For Getting The Most Out Of Social Media Channels
When it comes to reaching a global audience, social media platforms are unparalleled.
This media equipment is crucial if you want to keep up with the competition and improve your communication with guests.
Thanks to social media, hotel visitors now have more options for engaging with the establishment. People today use it to voice their wants, needs, opinions, and worries. Hotels can use these channels to provide visitors with the information they find helpful regarding their facilities and amenities.
The flip side of having a social media presence is that unhappy customers may vent their frustrations.
Conclusion
Recently, hotel owners have seen how implementing BI with data analytics may help them better serve their customers, expand their marketing reach, and ultimately increase revenue.
In addition, it can help you find information that can aid in making important business choices. By analyzing data, you may improve your product, make more informed decisions, provide more value to customers, and reduce expenses.
This information is available online through guest testimonials, guidebooks, and social media posts.
The ability to effectively utilize data is the new oil, and those who do so will gain a competitive advantage. The question then becomes, "Why to wait?" Starting to use hotel analytics right now is a smart move. Springbord has got you covered in all your data analysis and management. We provide quality and effective data management services.