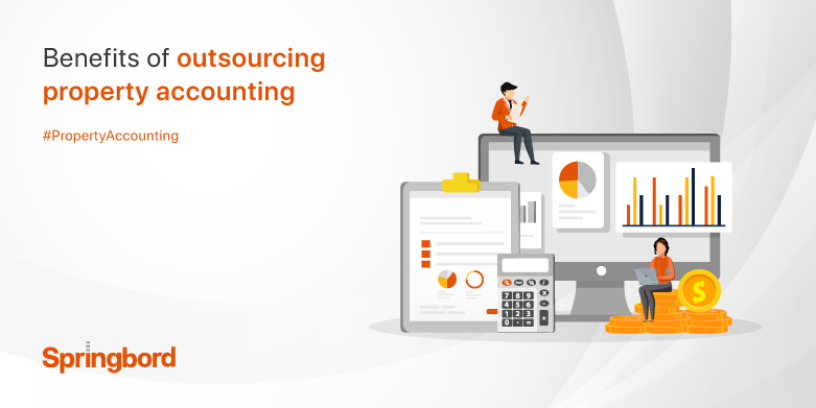 Read time

3

min
Outsourcing helps real estate businesses to cut back costs and unlock benefits that are otherwise looked over when you hire your own team in your space. In a business, it is always clever to find ways to enjoy finer things in a cost-effective way. The competition is always on the rise with all the great tools out there that bigger companies can afford and smaller businesses are left behind with the burden of work, so why not, take the smarter route by outsourcing your services.
Here are the benefits of outsourcing property accounting:
Access to experts
Hiring experienced employees is expensive and businesses have to be careful where they are spending, especially as real estate has high expenses. The quality of work that your own team will do at higher costs can be cut down by outsourcing who have specific experts for property accounting. Most companies end up fluctuating between an accountant, controller, bookkeeper, and CFO, it isn't possible to hire all of them but with outsourcing, you can find them all in one place so you can switch as you like.
Cost-effective
When you hire a greater number of employees you bear the employee expenses on your own like the salaries, employee space, work benefits, etc. This doesn't occur with outsourcing as here one only pays for the services they are hiring the company for. You get several experts looking after your accounting at a much lesser cost than otherwise you would have to spend on each employee, hence, saving is guaranteed with outsourcing.
Saves time
In a business, we have several departments that need constant attention like sales, marketing, etc. Property accounting certainly doesn't demand attention every minute but in case of a hectic schedule, the other departments will demand more attention than they usually need leading to errors and pending work. Outsourcing accounting lifts the burden off the company as the partner can take care of the entire property accounting as their main focus.
No turn-over and time off issues
In a smaller organization, the employees are expected to take care of more than one task. In such a case, if an employee takes to leave the company is burdened with an extra workload that makes it hard for everyone to manage the business. Outsourcing takes up the responsibility off the shoulder by being responsible for the accounting functions. When an employee decides to quit the turnover cost is thrown at an organization and it's certainly expensive to replace a good employee but with outsourcing, this problem never occurs as the partner will check on how to fill the gaps if anything happens in their company and your job gets done anyway.
Flexibility to do business
Real estate business owners have so much on their plate and with an inadequate number of employees, it's bound for the work to pile up and deliver unsatisfactory services. The business becomes constrained with a lot of tasks and not enough employees to manage them all and the cost begins to show while the work hangs on tight schedules. All of these can be avoided by outsourcing your accounting service so the employees can target the business' main motives and deliver better service to their own clients which automatically leads to business growth.
Business intelligence
We often underestimate business intelligence and go ahead with our plans. Business smartness is always important; having a stats report in your hand not knowing how to proceed with caution and learn smarter moves makes no sense for the report holds no power in itself. Business intelligence helps businesses to steer clear of mishaps and introduce new ways for growth which can be achieved by outsourcing. To speak specifically of property accounting a business learns how to manage the accounts and remain ahead of the competitors.
Outsourcing partner helps a business to become its better version as it's taken care with a competent manner. Springbord is one of the top property accounting service providers available in the market. At Springbord we are a home for all types and sizes of businesses who require outsourcing, our services are flexible for all kinds of business and we take under each client individually paying full attention to every company. Enjoy quality benefits with no operating costs, worry of your competitors, property managers, lease administrators, etc; here, with reliable and astute management.
Find out more about the benefits and services that Springbord provides by clicking here.