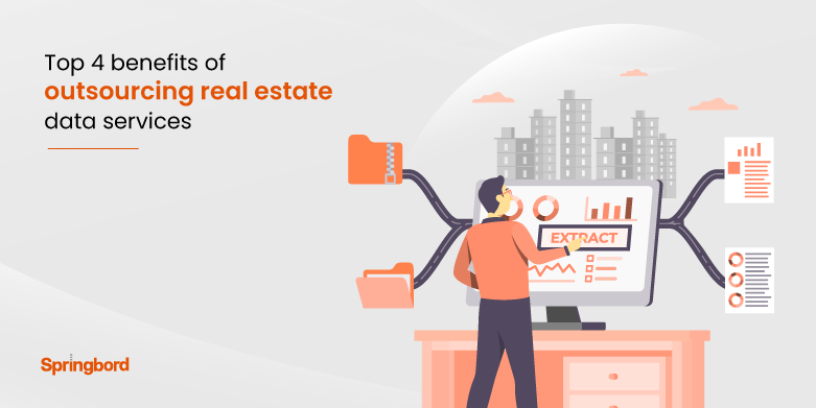 Read time

3

min
The real estate industry has historically relied on a variety of traditional and retrospective data to make business decisions. But today, thanks to the influx of structured and unstructured data, real estate players have the ability to gain greater insights into market trends, risks, and opportunities.
While demand for real estate data is constantly on the rise, organizations face mounting challenges relating to data capture, cleansing, enrichment, and data governance and interpretation. In order to exploit data to its full potential, it is increasingly important to manage and aggregate data accurately and efficiently. Given the varied data structures, diverse sources, and lack of standardization, to be able to use that data and run analytics, real estate companies need to build robust data management capabilities. That said, employing data experts in-house pose another challenge in terms of sourcing the right talent and extensive investment needed to implement agile processes and right technology tools.
It is because of this reason leading and forward looking organizations are increasingly outsourcing real estate data services to harness its potential to their advantage in a cost-effective manner. Here's a quick look at the top four benefits that you can derive by outsourcing real estate data services.
Contents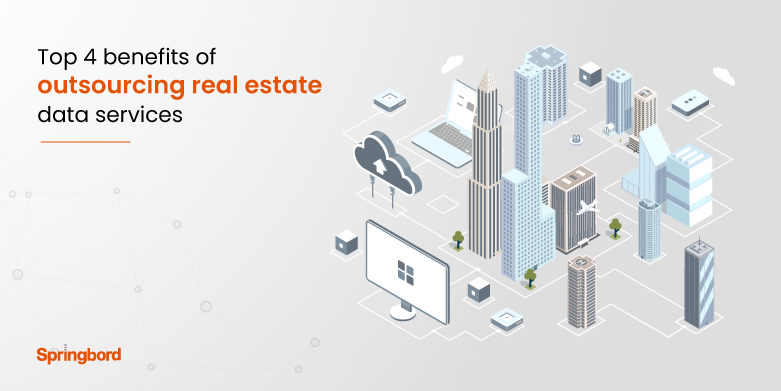 #1 Access to comprehensive information
Irrespective of the type of property data, upcoming project details, construction stages, appraisal, budget, property photos, hazard and regulatory information and more – a specialized data service provider is equipped to source and collect comprehensive information based on your business/project specific requirements. They use variety of tools and resources to source data from authoritative and reliable channels to ensure data is authentic, up-to-date, and valid. This is a critical step since the quality of data is the bedrock for any data interpretation and analytics. Outsourcing guarantees not just the comprehensiveness but the authenticity of data as well.
#2 Ability to easily digitize paper-based information
Seeing as how critical it is to not just have quick access to information but use that data in a meaningful way it is important to transform paper-based information into digital asset. But this requires right tools and resources and above all dedicated time and effort that many companies lack. By outsourcing data services, you can simplify this process and convert any volume of paper-based real estate data into digital information that is editable and searchable. This makes it easy to integrated paper-based information with any database and enrich and edit it, while ensuring you have quick access to data at any time.
#3 Enriched database with updated information
Having a comprehensive database is not enough, you need to ensure it is up-to-date with latest and detailed information. Service providers continually help enrich the database by assessing the existing information and appending extensive data points to ensure there are no missing or incomplete records. Data enrichment is key to ensuring long-term successful data strategies. Enriched information allows you to build a high-value and most accurate database with in-depth information. This in turn enables you to gain meaningful insights and significantly improve decision-making and risk management capabilities.
#4 Easy-to-follow data visualization
To be able to run data analytics and derive meaningful insights, data needs to be cleaned, normalized, and presented in a way that is comprehensible and usable. This is another great advantage of partnering with a professional data service provider. Efficient data visualization, cleansing, and standardization enable you to unlock the true value of your data. Using advanced tools service providers help parse, clean, and update your database, removing any duplicate or inaccurate items. Cleaning helps integrate data using the right tagging system, making the information easily searchable and database reliable. Data standardization helps structure and integrate data with any technology platform effortlessly. And data visualization helps represent information through rich, targeted, and custom dashboards with easy filter and drill down options that empower you to discover, understand, and analyze patterns.
Springbord offers an entire gamut of real estate data services to help clients successfully drive data-driven approach through powerful insights. Talk to us to find out how we can help you harness the power of data to your competitive advantage.