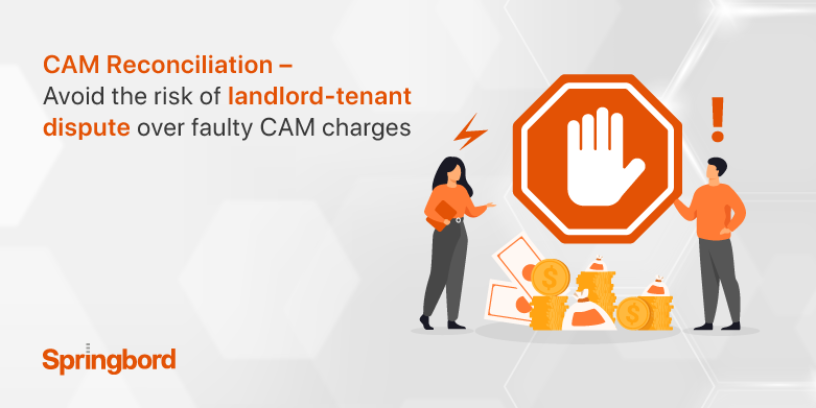 Read time

2

min
Common area maintenance (CAM) expenses are operating expenses that are shared by the tenants on a pro rata basis. CAM charges are not standard expenses, they vary greatly depending on various factors, because of this CAM reconciliation has emerged to be one of the most tedious and complex processes. Despite landlords/property managers efforts to simplify the process, they often fail to ensure efficient reconciliation. Because even the most minor issues stack up, making it a challenging and herculean process.
But faulty CAM reconciliation is one of the primary reasons behind landlord-tenant disputes, which severely impacts landlords financially as well as dent their reputation. Seeing as how grave an impact CAM reconciliation has on business and brand it is understandable that efficient and accurate CAM reconciliation is of paramount importance. Let's look at some of the fundamental steps that you can take in order to ensure accurate and timely CAM recon and in turn avoid costly disputes with tenants.
Categorizing expenses and reviewing relevant documents
This is possibly one of the most crucial steps but often overlooked due to property manager's struggle with conflicting priorities and other property management responsibilities. But seeing as how commercial portfolios are generally voluminous in nature and vary vastly from one building to another, skipping this step means you are setting yourself up for faulty and erroneous reconciliation.
This is a detail-oriented process and requires dedicated time and attention that involves, expenses categorization, verifying and tallying invoices, comparing previous reconciliation reports and other such activities that demand complete focus and attention.
Verifying the expenses and calculation of CAM charges
Besides the varying expenses across building and portfolios, every lease contract is different with differing terms negotiated during the signing of contract. In such cases, it is important to compare ad tally the CAM invoice with the individual lease contract to ensure every provision, exclusion and other related clause have been abided.
General rule of thumb for verifying CAM expenses and invoices is to recheck pro rata share, tally expenses based on the lease term, verifying the tenancy duration (months) and validating any exclusions and inclusion of capital costs (wherever applicable).
Periodic tally of actual Vs paid expenses
Since some of the CAM costs may vary over the period of a lease term it is critical for property managers to do a periodic review of the actuals against the cam expenses paid by the tenants. This review would ensure that you are on top of any excess or shortfall, you can in turn notify the tenant beforehand. This helps reconciling CAM accurately at the end of the year and also keep your tenants aware of any refunds they may get or additional amount they may owe.
At Springbord our expert accountants have been helping commercial real estate owners and property management companies ensure timely and accurate CAM reconciliation, avoid any disputes while ensuring optimum recovery of expenses. To know more about our CAM reconciliation services, connect with us today!