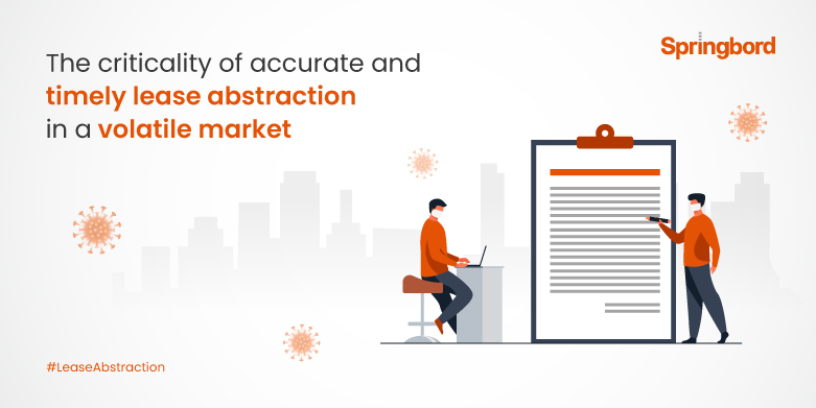 Read time

3

min
Commercial real estate is one of the worst hit industries in the wake of the pandemic. As work from home continues, with some companies opting to adopt that policy as a new way of working, many offices are actively reducing their infrastructure footprints. This is helping companies to save cost and optimize returns. According to CoStar Group report, corporate tenants lay off 42 million square feet of office space in the second and third quarters of 2020. I believe this trend will continue through 2021. Retail tenants are not doing that great either, with footfall across shopping centers and strip malls at an all-time low, retail tenants are also seeking some or other form of concessions to reduce the occupancy cost.
In a volatile market such as this, commercial landlords, property management companies as well as commercial tenants need quick access to critical lease information that is accurate and complete. Lease data is key to identifying provisions, workarounds, revenue opportunities and above all efficient lease portfolio management.
Improve risk assessment
As industries continue to strive to recover in this COVID-19 situation, it is imperative to be able to identify risks and opportunities at the right time. To manage occupancy cost and lease portfolio you need to have access to the right and critical information which is buried deep in voluminous lease documents. The sheer volume and variations of lease contracts make extracting meaningful data quite a challenging task. This issue is further compounded by changes in clause, renegotiations, concessions and so on. With professional lease abstraction services, you can gain access to crucial information that is presented in a structured and user-friendly format, simplifying the review, analysis, and decision making process.
Boost lease management efficiency
Now more than ever you need a superior grip and control over your real estate lease administration and lease portfolio management processes. This demand reviewing lease documents and gleaning over important lease information timely and continuously. Lease abstraction services can help you easily handled large volume of complex leases in various languages so that you can better manage your global lease portfolio. With quick access to accurate and complete lease data extracted by skilled resources using advanced tools, you can boost overall efficiency of lease administration and management by making smart decisions based on meaningful insights.
Gain competitive advantage
Lease abstraction when done correctly offer three fundamental business benefits that can help you not just navigate turbulent landscape but also stay ahead of the curve.
Facilitate efficient operations. Lease abstraction services provided by specialized vendors can help you integrate data with other real estate proprietary platforms that allows you to track and access important data, critical dates, relevant clauses, events and so on. Efficient lease data management and integration enables you to execute clauses on time, collect expenses, fees, and rent, timely recover maintenance costs, enact rent escalation as per terms. With lease abstraction and data integration you can better visibility and facilitate centralized management of lease portfolio.
Improve risk mitigation strategies. By being on top of your lease portfolios and its terms, you can ensure complete compliance with every aspect of our leases. It helps eliminate the risk of missed dates, not honoring tenant's/landlord's rights and/or certain contractual obligations and drastically reduce chances of poor management and mistakes. Boost strategic decision making. With lease abstracts you will have the power to leverage these critical and wide ranging lease data to make important strategic business decisions. Actionable insights can help better assess portfolio health, and make informed decisions related to expansion and diversification to create and maximize business value.
At Springbord we have been helping real estate companies manage their lease portfolio efficiently, minimize risk, identify opportunities, and save cost. To know more about our Lease abstraction services, connect with us today!