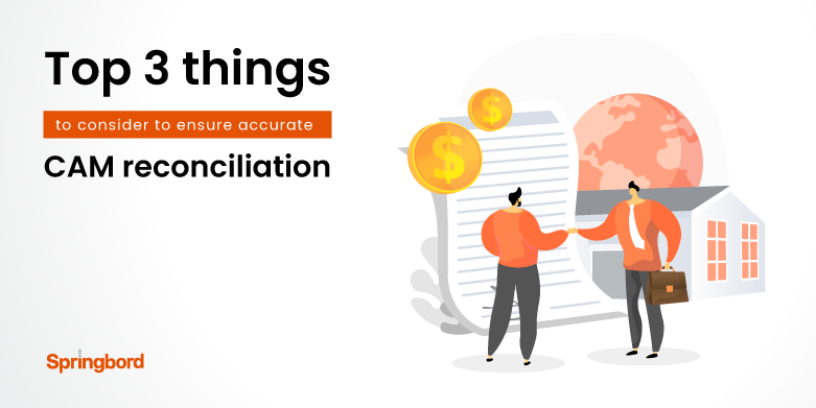 Read time

3

min
Common area maintenance (CAM) expenses are operating expenses of a building that are reconciled annually and billed to the tenants in case of a shortfall. CAM reconciliation entails adding up all expenses incurred throughout the year and tallying it against the estimated CAM charges billed to the tenants. While the processes may seem simple it is anything but. Expansive commercial portfolios, complex lease structures, numerous variable costs, and others make CAM reconciliation a tedious, labor intensive, and time consuming process. Plus, it requires an in-depth understanding of the lease terms to ensure accurate calculation and maximum returns.
More often than not property managers, owners, due to lack of time and resources suffer from sloppy or poor estimates and reconciliations. The challenge is that inaccurate CAM reconciliations result in either substantial losses or costly disputes with tenants. In either of the cases, there is substantial financial risk in terms of inadequate recovery or audit, review, and litigation costs. It also negatively impacts landlord-tenant relationships and landlords' reputations at large. Here are the top three best practices that landlords should follow in order to ensure accurate CAM reconciliations.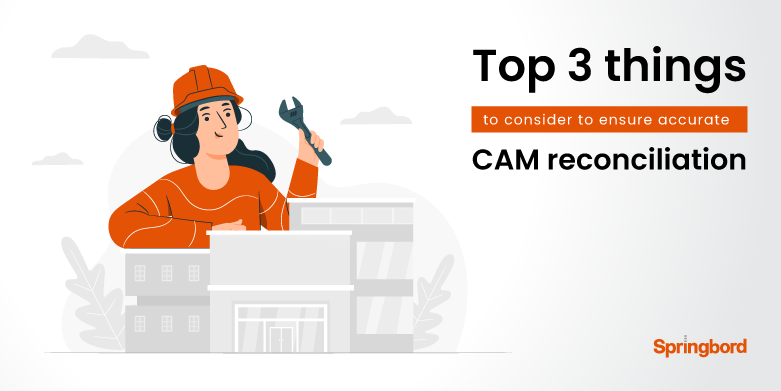 Gathering relevant documentation and accounting for every related cost
CAM expense calculation begins with reconciling all relevant charges and invoices billed to the tenants throughout the year. While close budgeting help landlords quickly reconcile expenses, variable costs that fall under CAM such as maintenance, repairs, and replacements, need to be accurately accounted for within the CAM calculations. Gathering every invoice and expense related documentation is a first step and an essential one to ensure tenants are not being over or under charged. This also requires property managers to have a precise understanding of what expenses fall under the CAM category. Lack of such comprehension is what often leads to errors and delays.
Reviewing general ledger and making the right adjustments
The importance of this process cannot be emphasized enough. Reviewing general ledger transactions with a fine tooth comb is key to ensuring every invoice has been entered under the right account and/or proper building. While this is one of the most time consuming and tedious processes, any misstep during this process would result in incorrect/inaccurate CAM reconciliation. In addition to this, tenants are always moving-in and out, therefore it is critical to track these occupancy movements and make right adjustments to CAM charges to avoid any inflationary expenses or discrepancies.
Allocating closely estimated budget
Let's take a step back here. Failing to accurately estimate and budget for CAM expenses is often one of the top reasons why landlords run into issues with tenants and end up alienating them through excessive expense pass-throughs. These often result in costly conflicts with tenants who dispute these charges, questioning whether or not CAM expenses have been properly charged. This can be avoided by closely budgeting and allocating a higher estimate. That way tenants get a chance to plan for those expenses and are saved from any kind of surprise increase in CAM cost at the end of the year, which often does not bode well. Collecting more and crediting the tenant later is a more streamlined approach that not only helps cover all the expenses but also avoid any contentions with tenants.
CAM reconciliation requires dedicated resources and time. It entails running comprehensive reports, planning, and updating data on real time. Given how property managers are up to their eyeballs, especially during the year-end, outsourcing CAM reconciliation is the most efficient approach to getting it done timely and accurately. By engaging a service provider, you are able to streamline the entire workflow, ensuring reconciliation is done right the first time while focusing on more strategic and operational priorities.
Springbord has been helping real estate companies for years reconciling CAM charges timely and accurately. We provide comprehensive support to address every CAM related issues. Talk to us today to find out how our dedicated team of accountants can help with accurate CAM reconciliation.