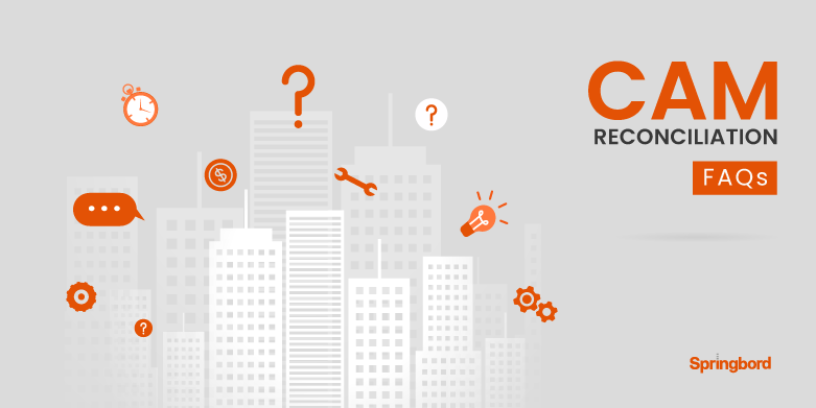 Read time

2

min
In a commercial real estate leasing common area maintenance (CAM) charges are operating expenses that play a key role in maintaining a healthy cash flow and the property. CAM reconciliation, while a straightforward process on paper, is one of the most tedious and complex tasks in practice. In this two part blog series we have shortlisted some of the frequently asked questions related to CAM reconciliation to help both property owners and tenants understand the process better.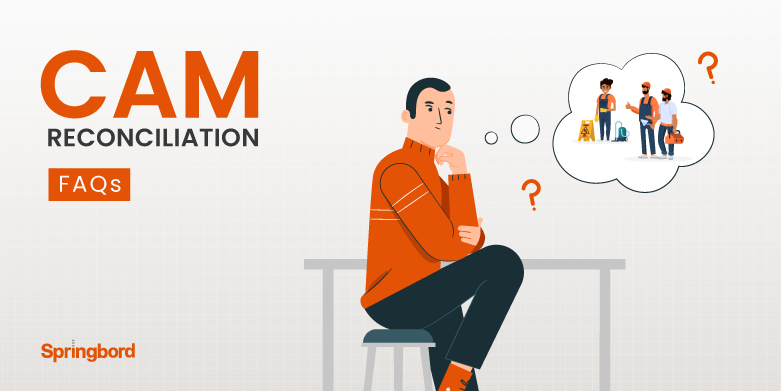 What are CAM charges?
Simply put CAM charges are operating expenses that landlords pay in order to maintain and repair the building shared by multiple tenants. CAM charges have a huge impact on the property's net operating income (NOI), cash flow and overall rent that a tenant pays for the space occupied. Common area, as the name suggests includes every common space as well as utilities shared amongst all multiple tenants of a building. To run, maintain and repair such common spaces of a building, CAM costs are included within the lease as an annual budget which is billed in small installments (monthly, quarterly, or annually) to the tenant. While what's included as CAM charges vary across lease and properties, some of the common costs include:
Electricals and water connection
Janitorial services, plumbing, and snow and trash removal
Pest control, housekeeping of common areas, and building security
Property insurance and taxes
Building administrative costs
Common area heating, ventilation, and air conditioning (HVAC), and parking lot
How are CAM charges calculated?
CAM charges based on estimates and not actuals. Property managers, based on previous few years expenses and various other market factors arrive at an annual CAM budget, at the start of every year. That estimate is then divided into small installments as monthly operating expense. Based on tenant's pro-rata share of leasable (usable) area of the building, that percentage is charged which is required to be paid in small increments throughout the year. For instance, if a tenant's leased area 2,000 square feet and the total area of the building is 100,000 square feet, the pro rata share of the tenants is 2% of usable space. This is the percentage used to allocate CAM charges.
What is CAM reconciliation?
CAM reconciliation is the year end accounting of CAM charges. Since CAM expenses are charged based on estimates, managers are required to tally and reconcile the charges paid by the tenants against the actual CAM expenses incurred throughout the year. After segregating these charges and capital improvements, incase, charges paid are more than the actuals then property managers need to send notifications of credits. On the other hand, incase charges have failed to cover the actual expense then property managers need to send invoice for the amount due based on reconciliation.
Stay tuned for the next part where we will cover few more important FAQs.
Springbord has been offering CAM reconciliation services to several global real estate players for years. Talk to us to find out how we can help you leave all the complications of reconciliation to us while you focus on more pressing issues and strategic initiatives.