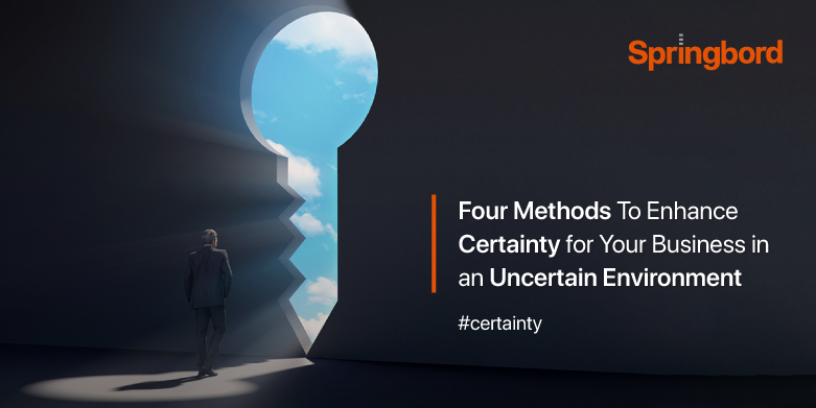 Read time

3

min
There are a plethora of obstacles, making long-term planning extremely difficult for businesses. This kind of uncertainty calls for a shift in how solutions are developed.
Uncertainty always carries some degree of danger, but it also may herald a surprising new opportunity. If managed properly, it can open up new avenues of growth for businesses. It can happen even if they are completely unrelated to their existing line of work. The crucial phrase is "managed correctly". Professionals in the corporate world need to adopt a new frame of mind if they are to successfully transform an uncertain future into one full of opportunity. To succeed, businesses need to rethink their strategy development process. Shifting their focus from what they currently do to what they are capable of achieving in the future.
Some companies will be able to weather the storm while others will fold under the pressure. There are several things that business owners can do to establish a new form of certainty in these uncertain times. This can happen whether their company is surviving, pivoting, or starting over. Undoubtedly, the way we do business now is vastly different from how it was even a decade ago. Online shopping, working from home, and Zoom meetings have largely supplanted traditional business models.
Review your business's processes and procedures. 
Your company will certainly evolve and adapt over time. The future of your company depends on the choices you make today about technology, team dynamics, and customer requirements.
Being aware of the "condition of the company" might help you make informed choices. You can collect data and gain insight into the effects of current processes on workflows, the utilization of team members' skill sets, and the efficacy of existing tools and technology. This can be done by conducting observational studies or collaborating with your team to engage in diary research. Springbord provides unparalleled quality in both performance and consistency which is unmatched and that can provide that sort of certainty.
Examine your company through the perspective of your customers. 
Our social interactions, consumer habits, and leisure pursuits have all changed, and they may never go back to how they were. Allow for interaction, whether it be because of a shift in customer expectations or a shift in how your company operates.
Thanks to feedback from satisfied customers. We can adapt as a team and grow in ways that better serve our customers. We would go out of business if we didn't have any customers. Springbord's unparalleled commitment to its customers, assurance and the promotion of excellent business outcomes sets it apart.
Team up with your coworkers. 
As they are on the front lines every day, your staff has a unique perspective on what does and does not work. The data-gathering activities are a means by which to give your staff a voice and communicate with management about the challenges they face in the course of their work.
It's common for leaders to alienate their teams by making decisions that affect their ability to do their jobs. It can be based on assumptions and generic reports, which in turn can lead to a dissatisfied and disengaged workforce. To increase confidence that the best choices are being made, it can be helpful to use a method of decision-making. It can involve all relevant parties and is grounded on experience.
Create connections and expand your social circle. 
Peer-to-peer networks are increasingly important in today's environment. And, word of mouth has gone online. To see that "ask a friend" and "Google it" are the two most reliable methods of acquiring knowledge in today's world. To be discovered by customers, it is crucial to establish connections. Check that your LinkedIn profile represents you properly in the professional world. Make sure you are posting helpful content on social media platforms. As a result, you'll have a better chance of reaching them, either directly or through the actions of others. Remember, though, that this isn't a forum for overtly promotional material. Adding value is the key, as was discussed earlier. Create 'How to guide and address concerns raised by your target audience by providing in-depth, helpful responses to their issues. You may increase your authority, broaden your influence, and reach more people with this strategy.
The goals, methods of distribution, and organizational framework of every company are different. We forget that the knowledge and experience we have gained by running our businesses provide us with everything we need to know to make the best choice for ourselves. We don't know what the next turn of the pandemic will be, but we can decide how to respond to it and how to approach the future.
Conclusion:
Businesses generate the data we need every day to break the code to certainty, which is sealed away in knowledge. Springbord has been a preferred partner for its clients, Due to its unmatched customer-centric focus and strong dedication to providing assurance and promoting superior business outcomes. The success of Springbord's clients, in their opinion, is crucial to the company's ability to grow. As a result, we put our attention on establishing and maintaining long-term relationships while putting a special emphasis on consistency, openness, and, most importantly, high-quality performance delivery.