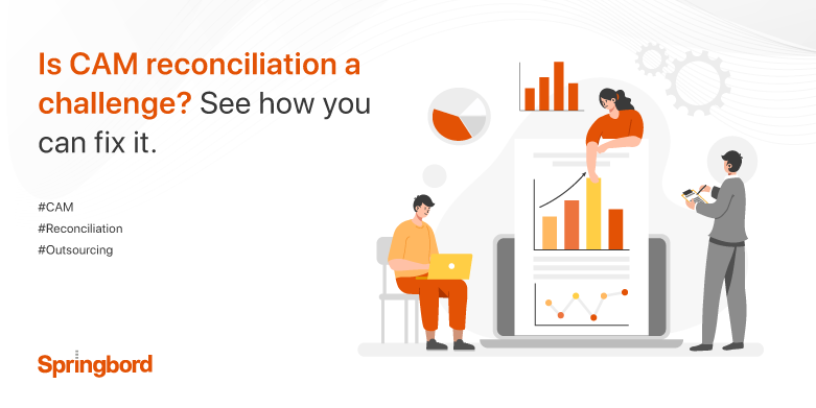 Read time

2

min
Common area maintenance (CAM) expenses are one of the most complicated yet important parts of any commercial lease agreement. CAM expenses do not have a standardized process for calculation and reconciliation which is why it often tends to be a point of contention between tenants and landlords. Lack of transparency also often tends to make tenants weary of these expenses.
It avoids such issues property managers are often under immense pressure to reconcile CAM expenses efficiently and accurately. However, given its nature and complexities, CAM reconciliation is one of the tedious and challenging processes to manage for property managers who are already under pressure to focus on and juggle conflicting priorities.
The need for dedicated resources
Given how the process requires planning, meticulous attention, and skill in order to reconcile operating expenses against the CAM charges billed throughout the year, it is important to have dedicated resources handling this task. While it may sound simple on paper, it is rather a complicated and time-consuming task that is error-prone and tedious. And seeing as how lack of accuracy in this process could be the very source of mistrust, and in some cases conflict amongst tenants, it is imperative to streamline the process on priority.
Outsourcing CAM reconciliations
To address the challenges plaguing the CAM reconciliation process, outsourcing is emerging to be a standard and a go-to approach within the industry. Outsourcing partners bring the right and necessary tools, resources, and talent trained to do the specific task. By outsourcing CAM reconciliation, you can have access to a dedicated resources pool and the right solutions needed to streamline the process. Outsourcing is also a very cost-effective approach that helps improve operational efficiency without any added cost burden.
Moreover, CAM reconciliation is a key process that helps landlords recover operating expenses and maintain profitability. Inaccurate CAM reconciliation not only impacts landlord-tenant relationships but also the bottom line of a lease portfolio. Every financial process is key to ensuring sound financial health and better business outcomes and outsourcing it to a specialized partner helps ensure that.
At Springbord we have been helping real estate companies easily and timely manage CAM reconciliation process. We guarantee accuracy and help optimize bottom line. To know more about our CAM reconciliation services, connect with us today!