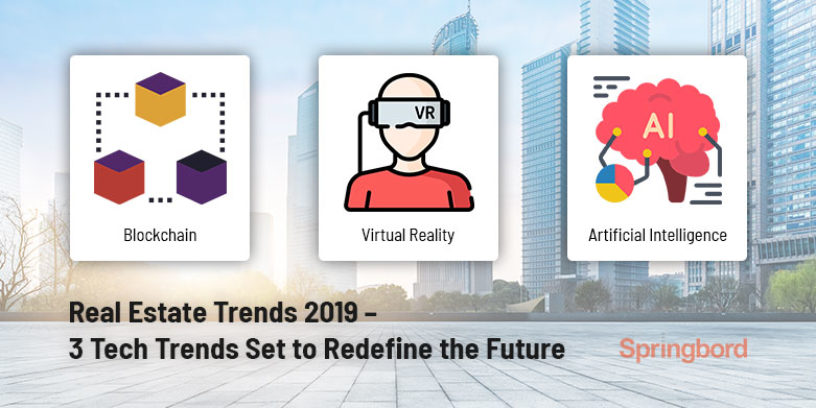 Read time

2

min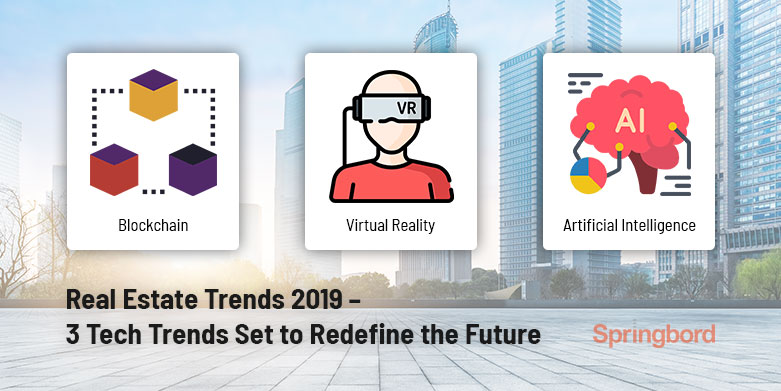 The real estate industry contributes $3.5 trillion to the US GDP. While the industry is the largest asset class sector in the world, it has been relatively slow in embracing technology. However, disruptive trends are compelling players to go beyond conventional operations and strategies to drive profitability and provide better customer service experiences.
We all know that there is not dearth of tech trends proliferating the market at a lightning speed and yet a lot of them vanish as quickly as they come. Having said that, there are few that are game changers and have a transformative effect. As a result, they become the new normal before you are even fully aware of it. That is why, we have listed 3 key real estate trends that you need to embrace and adapt to drive business forward.
#1 Blockchain
Blockchain technology is continually garnering a lot of attention and applicability across industries and real estate is one of them. The inherent capabilities of this technology to streamline transactions, establish transparency, while ensuring complete data security using cryptographic hash functions, make a compelling case. Adoption of blockchain technology can provide secure ways to store, validate, and manage property documents, eliminating the risk of fraud while improving accessibility to information. In effect, it can help democratize real estate properties, improving visibility, transaction processing as well as boost real-estate investment.
#2 Virtual Reality
Virtual reality (VR) in real estate is turning out to be a real game changer. VR has staggering potential to drive business growth and deliver next-gen services and experience. Clients need to make multiple visits to see and evaluate properties before making the buying or leasing decision. This process consumes a lot of time and sometimes distance makes it even more complex, further delaying the whole process. VR can address this challenge, helping clients virtually walkthrough the properties within the comfort of their homes or offices. The technology offers an immersive 3D experience which makes it easy for buyers to decide. In a matter of hours, potential buyers or renters can take a virtual tour of several properties across locations of their choice and make a well-informed decision.
#3 Artificial Intelligence
Given the volume and complexity of property portfolios, especially when it comes to commercial real estate, property management could be extremely demanding and a daunting task. AI and machine learning (ML) algorithms have immense potential to simplify this process. Application of AI and ML can help automate tasks such as remote property inspections and real estate evaluations. With timely alerts, property managers/owners can take proactive measures, avoid any maintenance issues and associated risks. In addition, Advanced ability to analyze data can help players optimize energy consumption and in turn contain cost. Better management of properties can help owners/managers improve tenant experience, thereby creating a better brand value.
Making smart decision at the right time
The disruptive impact of digitization is quite clear. While digital solutions offer tremendous potential to redefine your competitiveness, they also put a dent in your IT budget. It is therefore imperative to track, understand and evaluate the trends that are setting the tone in the marketplace. The trends mentioned in this post have been shortlisted based on the adoption and IT spend in these technologies and are realistic indicator of things to come. Time is ripe, make informed choices on IT spends to maximize ROI on your digitization initiatives.
No matter where you are in your digital journey, we can help streamline property administration. Springbord helps you get access to tech tools and streamline processes.