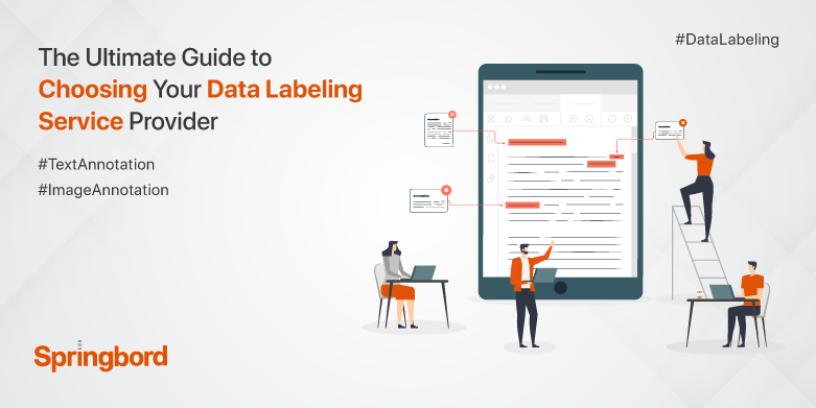 Read time

3

min
Data labeling is the key step in machine learning (ML). When a group of samples is tagged with one or more labels, it is termed labeled data. Data labeling considers a set of unlabeled data and augments it with informative tags. Labels can easily be achieved by humans who can make judgments about unlabeled data. Labeled data costs you an arm and a leg when compared to raw unlabeled data. When it comes to training an ML model to find the specified category of objects from the data, we would need to collect data samples, classify, and analyze them along with an algorithm that can handle each sample. Now let us discuss the key points in choosing a data labeling service partner.
Data quality
Data is considered high-quality only if it does the job right, be it in decision making, operations, and planning. The perspective of the data quality can differ even when the same data set is used for the same purpose. The process of data profiling to identify inconsistencies and anomalies in the data is called data quality assurance. The quality of data can be enriched by data cleansing, which includes removing outliers, missing data interpolation, etc. Data accuracy is the pillar of support for any digital enterprise, which is often measured by its trueness and precision. This is because data is not only a tool for success but also an asset. It is imperative to effectively produce data that is of high quality and accuracy.
The performance of the training data model is directly proportional to data quality. The parameters that can impact the quality of data labeling are agility, context, communication, and relationship. When more data is worked, more context is established, and a clear and better understanding of the model is derived. When data labeling is outsourced, it is important for the service partner to communicate well with labelers. This will help the internal team have a heads up on all the updates and make it easier for the team to implement the changes quickly.
When outsourcing agencies collaborate and work with the offshore team, they can manage to deliver accountability, engagement, higher levels of skill, and, most importantly, quality. Working more and more on the data will help the offshore team comprehend the data model and enhance the overall quality of output. The higher the data quality, the higher the output accuracy.
Scalability
Scalability is the foremost thing to look for while selecting an outsourcing agency. Choose a partner that is highly flexible in offering you the resources. This will help you during the time of surge as well as the cool-off period. Few assets that will help in meeting the deadlines without affecting data quality are expertise, flexibility, and time zone. A team of dedicated members is always a boon and shall be treated as the core team, which can be expanded when the need arises. The internal team can assess the employees on standby, and the offshore team should be capable of replacing resources if they don't seem to fit well into the organization.
Tool driven
Select a service partner that is versatile and has experience in using various tools. A team that has years of experience working on data labeling tools will be the one to provide effective results with lesser time and more accuracy. An outsourcing agency that has its indigenously developed tool has an extra edge.
Security
Safety and security of data are the prime concerns for any application, exchange of information, and transactions. Data and its related work applications have to be carried out in a more secure work environment. Identify a service agency that complies with the current regulations. Similarly, documentation is also vital for any network, technology, workforce, and workspaces. Before you share any data with the agency, make sure that the IP and NDA are executed well in advance. This will ensure that your labeled data will not be used for other purposes. Collect all information on how your service partner will secure your data and the measures they take to safeguard their working premises.
Conclusion
This blog tells everything you need to know before selecting an outsourcing partner for your data labeling needs. Make your investment meaningful by choosing the right service partner. A good agency will help your business grow and add credibility to your business. We at Springbord have qualified experts who can meet your needs and demands. Talk to us today to know how we can help you!