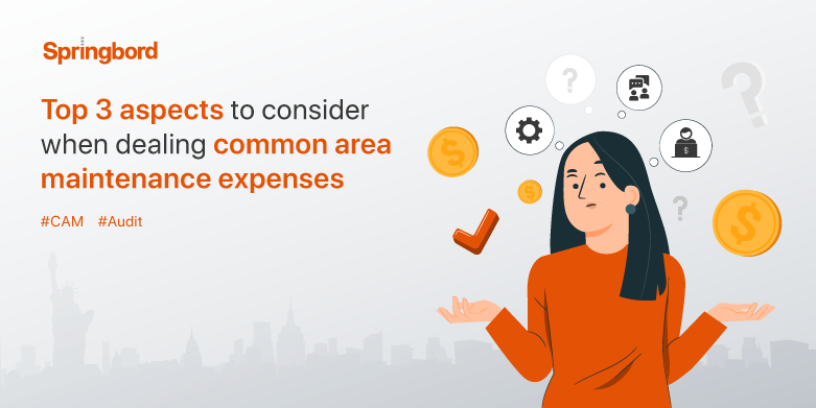 Read time

2

min
Common area maintenance cost (CAM) forms a big part of the commercial occupancy cost. CAM expenses are integral to any commercial leasing contract, and it benefits both tenants and the landlord. That said, tenants tend to have very little control over or visibility into the CAM expenses and it is the landlord who has the majority of control over these expenses.
However, while most of the time tenants often pay in good faith, this lack of control on tenants' part has become an issue, making CAM expenses one of the most contentious aspects of commercial leasing.
But it does not have to be such a source of stress, tenants can focus on certain aspects to gain some control over the CAM expenses. Let's look at what those are.
#1 Understanding what is within your control
It is important at the time of signing the lease to get a complete orientation as to what are the expenses included within your CAM billing. This would not only help you verify the monthly invoice but also enable you to take necessary steps to optimize these costs to some extent, such as having more energy-efficient electrical fittings could save some cost. Knowing what expenses are included also allows you to validate the year-end reconciled invoice that contains actuals incurred over the year.
#2 Keeping the channel of communication open
While your landlord has a great deal of control, it is equally important for landlords to keep a good relationship with their tenants. So, in case you find your invoice unreasonable, always check with your landlord immediately and put that conversation on record. In case of taxes, utility bills, garbage disposal costs or any other such services' costs are escalating, try to discuss it with the landlord. You may be able to help optimize these costs if you raise your concerns early on, or at the very least have a record of such discussion.
#3 Preparing your own budget
Landlords prepare an annual CAM budget based on which they send in the monthly invoices to tenants. in advance. It is a good practice to get a copy of that which would help you plan your own finances better. Also, research how CAM costs have trended in the past for the same building/location which would also help you prepare in case you notice an upward trend. Because after the yearly reconciliation, if the actual cost is less than the budget, then you get refunded. However, if the actual cost is more than the budget, then the difference could sometimes be sizable, making it difficult for you to manage if you are not aware of it.
Using CAM audit services
Despite your efforts, if you still feel you are being overcharged, you can always exercise your right to audit the operating expenses. This would help you verify and validate and understand whether or not what you are being charged is fair and what you are liable for. It is a great option that can help tenants avoid being overcharged and also plug the gaps in the way CAM expenses are billed.
At Springbord our expert consultants have been helping commercial tenants conduct comprehensive CAM audit, resolve every CAM related issue, recover overpayments, and save future costs. To know more about our CAM audit services, connect with us today!