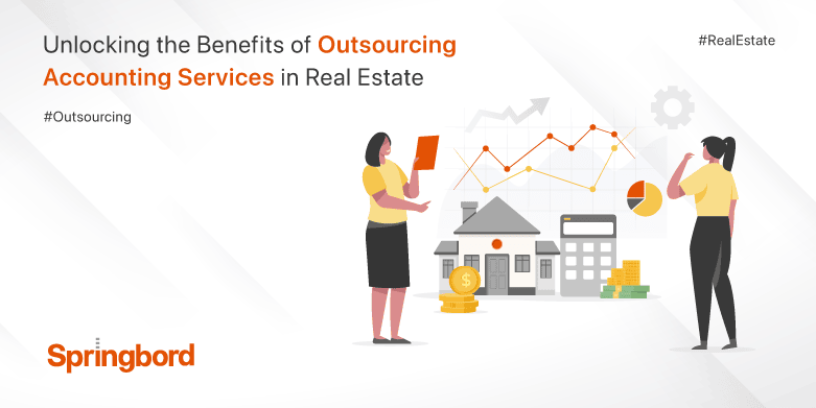 Read time

3

min
The accounting departments of real estate firms are increasingly adopting an outsourced method to improve operational efficiency. When it comes to running and growing their firms, investors, owners, and operators should devote the bulk of their efforts. Finding new investment possibilities, structuring transactions, increasing returns on existing assets, and running a day-to-day business are all ways to achieve this goal.
Real estate companies are outsourcing accounting functions and even whole accounting departments so that they can devote more time and resources to achieving their goals and receive reliable, high-quality financial reporting. Additionally, outsourcing can assist with staffing issues as labor shortages continue to have an impact on the industry.
Outsourcing your accounting services can be a useful strategy for companies in today's fast-moving market, whether they're looking to expand or maintain their current operations.
The real estate sector faces the following difficulties in the area of accounting:
1. Assessment of Costs
To keep accurate financial records, the various types of costs incurred in the real estate business must be properly classified. You can get an idea of your company's financial standing by employing a group of real estate accounting experts.
2. Monitoring paperwork
Establishing a good workflow is essential to avoiding becoming buried under a mountain of paper. Keeping up with the paperwork for each property and client can be exhausting and time-consuming. This can also reduce your efficiency at the office.
3. Difficulties with Compliance
The real estate industry is well-known as a subject of financial regulations from various regulators, making audits mandatory due to the high volume of invoices and money involved. Paper-based bookkeeping and accounting processes not only make auditing difficult but can also be fertile ground for any variations, which can be difficult to clear out.
4. Handling administrative duties
Managing the plethora of administrative details can be a pain. You should reevaluate starting a real estate business if you have recently done so and find yourself with an abundance of free time. To successfully grab more leads in the real estate market, you need to be constantly alert and proactive.
5. Taxes and other deductions have to be calculated.
When estimating a price, many real estate agents either avoid or fail to account for certain taxes and deductions. Problems with trust between the client and the real estate agent arise when the offered price is significantly different from the final cost.
Financial reporting can be improved and overhead costs reduced through outsourcing. Meanwhile, real estate professionals have instantaneous access to financial data, allowing them to devote more time to running the company. Due to the data presented here, business owners and managers can improve the performance of their operations.
Outsourcing at Springbord can help your company in the following ways:
A. Boost income while decreasing costs.
If you can keep an eye on costs, you can increase your company's profits. Checking on numbers and other aspects is a challenging task and demands accuracy and time. It's impossible to ignore all other responsibilities and sit at your desk all day long to tally up the bills. This is where Springbord comes in. Our team will quickly analyze the costs and simplify the calculations.
B. Multiple Accounting Options are Available
There are a wide variety of tasks that we here at Springbord can complete successfully. Payroll administrative services, income tax returns, bank and mortgage reconciliations, statements of cash flows, etc. are all part of the package.
C. Experienced Staff
You'll need a well-thought-out strategy if you want to see any kind of progress in your company's efficiency or expansion. Professional accountants like Springbords, assist with business strategy development, formulation, and implementation.
D. Always keep you informed of the new updates
Knowing the current property tax rates can prevent penalties and financial setbacks. Our bookkeepers will keep track of all your tax payments and help you organize your tax returns.
E. Latest Technology Available
Every member of Springbord's team is highly skilled and the company has access to cutting-edge technology.
Conclusion
Those in the real estate industry, including HOAs, construction companies, agencies, and trust administrators, can all benefit from the expertise of a real estate accountant. Maintaining your books may seem economical, but it's not.
This process is demanding, time-consuming, and costly. One solution is to hire a professional accountant to take care of the financial details on your behalf. Several positive outcomes can occur in your business as a result of outsourcing.
Finding the best outsourcing firm is easy if you know what to look for. Springbord is a real estate accounting firm that follows modern best practices and actively seeks to expand your company. Our team of experts can analyze your company's financial and accounting requirements, develop a strategy to meet those needs, and implement that strategy to produce significant results for your company.