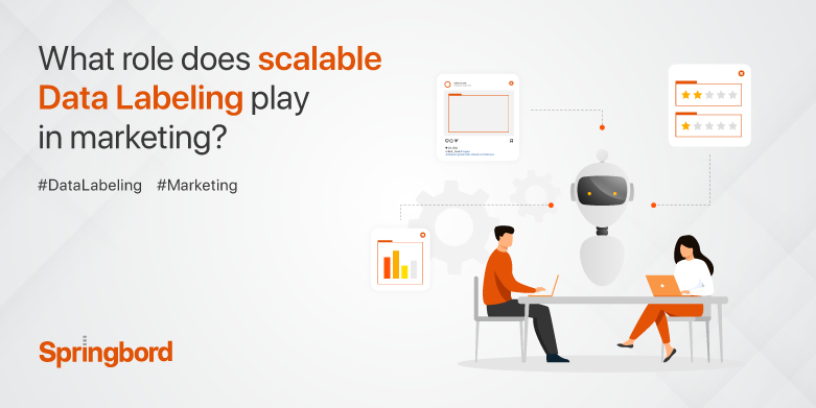 Read time

3

min
Introduction
Businesses highly depend on machine learning systems for making optimal decisions. But for ML algorithms to work properly they highly rely on labeled data.
Raw data can be labeled by providing it with informative tags, this process is referred to as data labeling. This raw data when provided with useful information can be used for marketing optimization. Data labeling is increasingly becoming an integral part of marketing and is commonly used in industries like healthcare, research, automotive, finance, and technology.
Turning raw data into labeled files is a time-consuming and expensive process. However, with the use of the right platform one can improve the efficiency and reduce the overall cost of data labeling. Of course, it is equally important to use the labeled data in the correct manner. In this article, we will talk about some of the benefits of data labeling and why it is an integral part of marketing.
What is Data Labelling?
Data Labelling which is a widely used concept in machine learning is a process of identifying raw data and providing it with informative and meaningful labels. This in turn helps in providing context to the data that can later be used by machine learning software. The raw data can be in the form of images, videos, text files, or audio files.
How data labeling works:
Data labeling requires a synergy between machine algorithms, software, and data annotators. The analysts analyze the raw data and label them based on the context. The context is determined by keeping in mind the needs of the company and industry. This labeled data becomes the foundation for ML models and is used for developing machine learning algorithms.
The initial labeling is performed by data annotators who select variables in datasets, that can be used for future predictions by ML models. Data labeling always starts with "human-in-the-loop (HITL)" participation, where they are asked to make the right judgments on a given piece of unlabelled data.
Basically, we just need a labeled set of data for feeding the model datasets, so that they can learn from it and generate better results. The more context you provide, the better algorithm results will be generated by models.
In machine learning, the data annotators use properly labeled datasets, in which the algorithms are based on the company's and industry's objectives. This is often referred to as the "ground truth". The accuracy of results generated by the model depends upon the accuracy of ground truth, so it is essential to dedicate time and resources to ensure the accuracy of labeled data.
How labelled data is used for marketing?
Let us now understand how we can use labeled data for marketing:
Providing Personalization:
Data labeling is used for giving the users a personalized experience from the beginning to the end. Using personalization, the product/ service can be tailored to suit the requirements of a particular market demographic.
Marketers design the website flow, social posts, and ad copy to give a personalized experience to their target audience.
Helps in Competition Analysis:
With the help of Data labeling, the software can be trained to analyze the competitors' raw data and their creatives used in campaigns and ads. We can learn when our competitors run their campaigns on social media and track their seasonal trends. This will help the businesses in making informed decisions and planning their future campaigns.
Identify Customer Reviews:
With more and more people purchasing products online, online reviews play a major role in influencing the purchase decisions of the customers. Data labeling can help businesses identify customer sentiments when they are making a purchase. It also allows the businesses to track their negative reviews and to immediately get back to these customers and address their concerns.
Fill gaps between demand and supply:
With a trained ML algorithm, businesses can identify the gaps between their offering and availability. This saves their time and increases their profit potential.
Conclusion:
Since businesses are increasingly migrating to digital platforms, data labeling services can help them enhance customer satisfaction and survive the growing competition.
However, the results of data labeling are solely dependent on the accuracy of algorithms and search engines. It is best to rely on industry experts and outsource the data labeling services to save time and resources and enhance the quality of services.Springbord provides you with customized and industry-specific data labeling services. Our industry experts help in reducing your data processing workload by improving the machine learning models with their human excellence. We constantly strive for the value addition of our clients by making their business scalable and reducing their overhead costs. For more information, please feel free to visit our website.