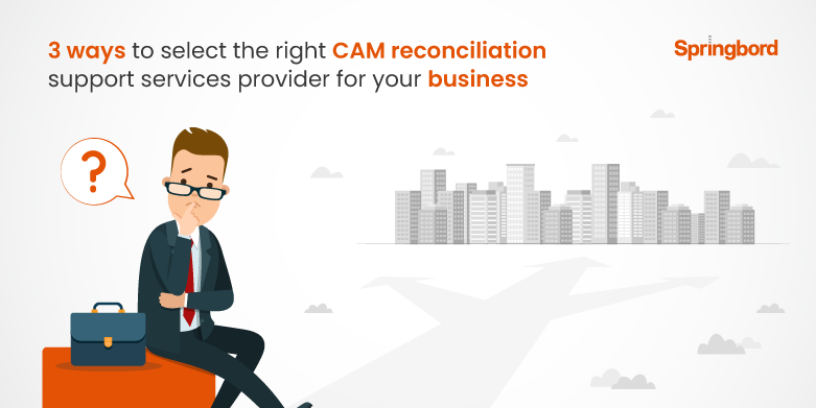 Read time

2

min
Common area maintenance (CAM) reconciliation is a key process in commercial leasing as it helps recover the money used to maintain and operate the property. But CAM reconciliation is a tedious, complex, arduous, and time-consuming task that demands dedicated focus, attention, and skill.
Given the challenging requirements and increasingly growing complex commercial lease portfolios, most real estate companies are seeking to outsource this process to ensure timely, accurate, and efficient reconciliation. While outsourcing can help overcome any capacity and tools limitations and manage reconciliations effectively, it is equally important to choose the right partner as any issues with reconciliation can cumulatively cost tens of thousands of dollars over a period of a single lease term. We have highlighted the top 3 factors to consider when you choose to outsource CAM reconciliation services.
Ability to scale up or down
Scalability and flexibility are the two most important aspects when selecting a vendor. While every other service provider may claim to offer both, real estate players need to closely scrutinize their capability and business models to ascertain that. Usually, a proven track record is the quickest way to evaluate how well the service provider can adapt and meet the client's scalability requirements. Flexibility, not only allows to you to meet dynamic business requirements, respond to change in volume but also drive greater ROI through effective cost management.
Should offer competitive engagement model
Most vendors may have pre-determined price models which may not be suitable for every business. When looking for a CAM reconciliation services vendor pay attention to pricing/engagement models. It should ideally be flexible and as per the business-specific requirements and should have mutually beneficial liability clause/penalties to ensure vendor's accountability.
Not one-size-fits-all but point CAM reconciliation services
CAM reconciliation may sound like a standard task that any specialized service provider should be able to offer. Wring, requires a point solution. You need to ensure that the service provider is capable of offering custom services that are primed to handle your transaction and lease portfolio-specific requirements within the required timeline and as per the related financial regulations and control.
At Springbord we have been helping real estate clients from across the globe manage CAM reconciliations effortlessly, while maximizing recovery and ensuring compliance. To know more about our CAM reconciliation services, connect with us today!