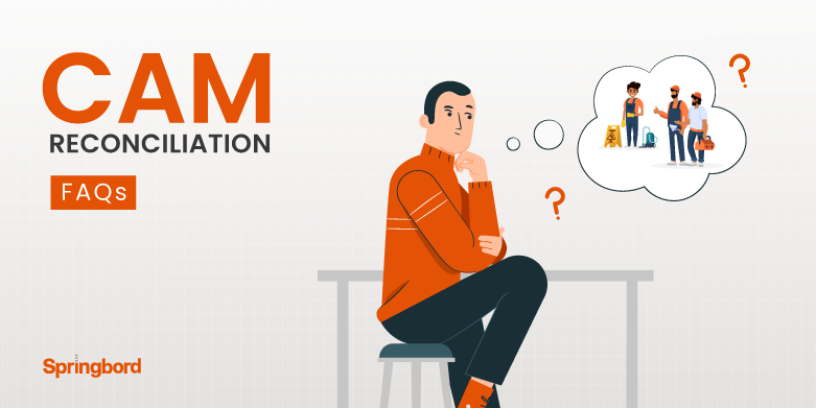 Read time

2

min
This our second and last blog post of the series CAM reconciliation FAQs. In this post we will walk you through some of the key aspects of CAM reconciliation that can help you streamline the task.
How to calculate CPI within CAM reconciliations?
According to the Bureau of Labor Statistics (BLS) website Consumer Price Index (CPI) "is a measure of the average change over time in the prices paid by urban consumers for a market basket of consumer goods and services." These are indexes of average price data published by BLS for various locations across the United States.
But you may wonder how it applies to CAM reconciliation. Well CPI is used to determine fair rent calculation within commercial real estate to ensure it is at par with the regional/national inflation rate. However, it is worth noting that lease terms differ, some may include:
CAM floor (lower limit) and CAM cap (upper limit) that allow landlords to account and adjust CAM cost for the inflation only up to a limit mentioned with in the lease.
Fixed percentage of increase like (2% or 5% a year) in which case you will not need to adjust for CPI.
But leases where CPI adjustment is required, all you need is to refer the local index and follow this formula to derive at the percentage of inflation that needs to be applied to CAM calculations.
Base index – previous year
Current index – current year (when the adjustment needs to be made)
Current index – Base index/ Base index X 100 = Inflation percentage for CPI adjustment.
How to best prepare for CAM reconciliation?
There is a blog post we did on best practices, you can read about it here. Having a standard and methodical process in place is a good place to start. More often than not property managers follow siloed and manual processes that lead to slippages and errors. Establishing a structured process help streamline reconciliation and allow enough time for focusing on each step to ensure timely and efficient outcomes. From the documentation, general ledger view, timely invoicing to accounting for every capital expenditure and other operating expenses as drafted in the lease contract – every step requires a systematic approach so that there are no cascading issues throughout the workflow.
How can you improve CAM reconciliation efficiency?
It is no surprise that CAM reconciliation is a tedious process due to expansive commercial real estate portfolios, complex lease structures, changes in tenancy, and other variable factors that influence CAM charges. Plus, today property managers are tasked with myriad of responsibilities which often leaves them overburdened and they barely have enough time to complete the reconciliation process within the deadline. All these factors make the process highly error-prone and often lead to delays.
Outsourcing CAM reconciliation has therefore emerged to be a go-to strategy within the commercial real estate sector as it offers tangible benefits. Professional service provider brings in expertise, right tools, and industry best practices that enable you to ensure that the CAM reconciliation process is accurate, timely, and streamlined.
Springbord has been offering CAM reconciliation services to several global real estate players for years. Talk to us to find out how we can help improve CAM reconciliation efficiency while allowing you to focus on more pressing issues and strategic initiatives.