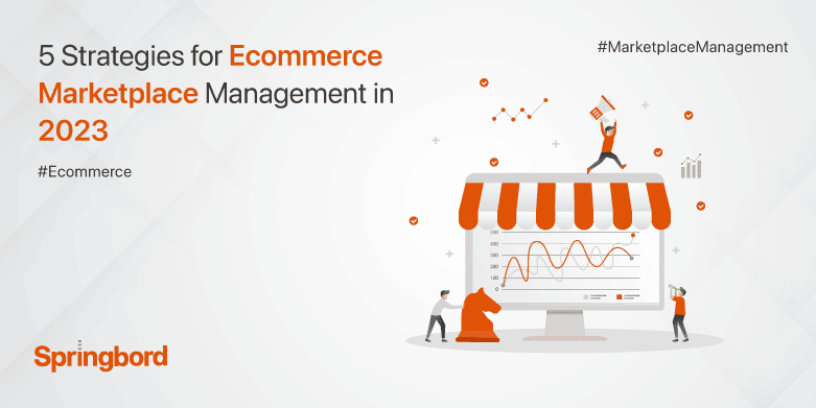 Read time

6

min
As we head into 2023, the world of e-commerce continues to evolve and adapt to new trends and consumer demands. The pandemic has accelerated the shift toward online shopping, and retailers must stay ahead of the curve to remain competitive. Effective e-commerce marketplace management is key to success in this space, but it can take time to keep up with the latest strategies and techniques.
---
In this blog, we'll explore 5 strategies for e-commerce marketplace management that are essential for success in 2023. Whether you're a small business just starting or a large retailer looking to stay on top, these strategies will help you maximize your e-commerce potential and drive growth in the future.
Considerations for Implementing E-Commerce Strategies
Before implementing any e-commerce strategies, small businesses need to consider some essential elements. By doing so, they can increase the relevance and effectiveness of their e-commerce marketing campaigns.
A. Ideal buyers
Knowing your target customers helps to analyze their behaviors, challenges, and pain points. You can make your marketing materials and strategies more compelling by building e-commerce marketing and website strategies around their needs.
B. Customer needs
Considering the needs of your customers is crucial when choosing your e-commerce strategies. It ensures that your products and marketing plans cater to your customer's needs, leading to increased sales.
C. Channels or interaction points
Learning where your target audiences interact with your brand helps to ensure consistency in customer experience, pricing, product description, and branding across multiple channels. By refining your strategies, you can provide a seamless customer experience, whether your audience is browsing through your products on social media or your e-commerce website.
So, implementing the right e-commerce strategies can help small businesses increase their sales and profits. Small businesses can create a compelling e-commerce marketing campaign that caters to their target audience's needs by considering the ideal buyers, customer needs, and channels.
Top 5 E-commerce Strategies to Increase Small Business Sales
To beat your competitors, retain customers, and boost sales, it's important to have the right e-commerce strategies. Here are seven practical strategies to get started:
Incorporate Advanced Product Filtering
Showcase New Products Effectively
Diversify Payment Options
Offer Attractive Discounts to Encourage Purchases
Leverage Social Proof to Build Trust with Customers
Strategy 1: Incorporate Advanced Product Filtering
One of the keys to successful e-commerce marketplace management is providing your customers with a seamless shopping experience. Advanced product filtering can help achieve this by making it easy for customers to find what they're looking for quickly and efficiently.
To incorporate advanced product filtering, consider the following:
Make sure your website's search bar is prominent and easy to use.
Use categories and subcategories to help customers narrow down their search.
Allow customers to filter products by price, color, size, and other relevant attributes.
Use customer data to recommend products based on their browsing and purchase history.
Consider implementing a "sort by" feature that allows customers to sort products by popularity, price, and other relevant factors.
By incorporating advanced product filtering, you can enhance the user experience on your website, which can lead to increased sales and customer satisfaction. It can also help you better understand your customers' needs and preferences, informing your future product offerings and marketing strategies.
Strategy 2: Showcase New Products Effectively
One of the challenges of e-commerce marketplace management is introducing new products to your customers. Effective product showcasing can help you generate excitement around new offerings and encourage customers to make a purchase.
To showcase new products effectively, consider the following:
Create a dedicated section on your website for new products.
Use high-quality images and videos to showcase the product in action.
Provide detailed product descriptions and specifications.
Offer promotions and discounts to incentivize customers to try the new product.
Leverage social media to promote the new product and generate buzz.
By effectively showcasing new products, you can generate excitement and encourage customers to make a purchase. Additionally, it can help you differentiate your brand from competitors and establish yourself as an innovator in your industry.
Strategy 3: Diversify Payment Options
Providing your customers with various payment options can help increase sales and improve the customer experience. By diversifying payment options, you can cater to different customer preferences and make it easy for customers to make a purchase.
To diversify payment options, consider the following:
Accept major credit cards and debit cards.
Offer alternative payment options like PayPal, Venmo, and Apple Pay.
Consider offering financing options for high-ticket items.
Implement a secure checkout process to protect customers' financial information.
By diversifying payment options, you can make it easy for customers to make a purchase and increase sales. Additionally, it can help you establish trust with customers and build a reputation for being a customer-centric brand.
Strategy 4: Offer Attractive Discounts to Encourage Purchases
One of the most effective ways to encourage purchases and boost sales is by offering attractive discounts and promotions. You can increase customers' likelihood of purchasing by providing them with a deal or incentive.
To offer attractive discounts, consider the following:
Use promotional codes to provide customers with discounts on specific products or categories.
Offer free shipping for orders over a certain dollar amount.
Provide discounts for first-time customers or for customers who refer a friend.
Use limited-time offers to create a sense of urgency.
Use upselling and cross-selling techniques to encourage customers to purchase additional items.
By offering attractive discounts, you can incentivize customers to make a purchase and increase sales. Additionally, it can help you establish brand loyalty and encourage repeat purchases.
Strategy 5: Leverage Social Proof to Build Trust with Customers
Building trust with customers is essential for successful e-commerce marketplace management. One effective way to establish trust is by leveraging social proof, which is the idea that people are more likely to trust and make a purchase
if they see that others have had a positive experience with your brand.
To leverage social proof, consider the following:
Encourage customers to leave reviews and ratings on your website or on third-party review sites.
Highlight positive reviews and ratings on your website and social media channels.
Use customer testimonials and case studies to showcase how your products have helped others.
Incorporate trust badges, such as security seals or logos from trusted payment providers, to assure customers that their information is safe.
Use social media influencers to promote your brand and products.
By leveraging social proof, you can build customer trust and establish a positive reputation for your brand. Additionally, it can help you attract new customers and increase sales.
Overall, successful e-commerce marketplace management requires a combination of strategies that enhance the customer experience, promote new products, incentivize purchases, and establish trust with customers. By incorporating these five strategies, you can improve your e-commerce operations and stay ahead of the competition.
The Importance of Implementing Effective E-commerce Strategies for Small Business Growth
In this digital era, e-commerce has become crucial to business growth and development. Small businesses, in particular, need to implement the right e-commerce strategies to improve sales and increase revenue. Here are some reasons why it is essential to follow the right e-commerce business strategies:
1. Reach a Wider Audience:
E-commerce strategies allow small businesses to reach a larger audience, including potential customers outside their local area. By leveraging the power of the internet, companies can tap into new markets and expand their customer base.
2. Increase Visibility:
Implementing the right e-commerce strategies can improve a small business's visibility online. Search engine optimization (SEO), social media marketing, and content marketing are some tactics that can help companies to rank higher in search engine results and attract more traffic to their website.
3. Improve Customer Experience:
Effective e-commerce strategies can enhance the overall customer experience. Features such as user-friendly website design, personalized recommendations, and seamless checkout processes can make the buying experience more enjoyable and increase the likelihood of repeat customers.
4. Analyze and Optimize:
E-commerce strategies provide valuable data and insights into customer behavior, preferences, and buying patterns. This information can help small businesses optimize their operations and improve their offerings to meet their customer's needs and preferences better.
So, implementing the right e-commerce strategies is crucial for small businesses looking to improve sales, increase revenue, and grow their customer base. By leveraging the power of digital marketing and e-commerce tactics, small businesses can compete with larger companies and establish a strong online presence.
Wrap Up
At Springbord, we understand the challenges of managing an e-commerce business in today's rapidly evolving marketplace. That's why we're excited to serve e-commerce businesses with our services for the betterment of the business.
As mentioned in this blog, we implement the best business strategies by following the latest market trends that e-commerce businesses should implement in 2023 to maximize sales and stay ahead in the market. From leveraging the latest technologies to optimizing your website for mobile devices, we cover everything you need to know to succeed in today's e-commerce landscape.
As a leading e-commerce services provider, Springbord is committed to helping our clients achieve their goals and thrive in the digital age. With our proven expertise and innovative solutions, we can help you grow your e-commerce business effortlessly. So don't wait any longer; reach us now and drive your e-commerce success in 2023 and beyond!