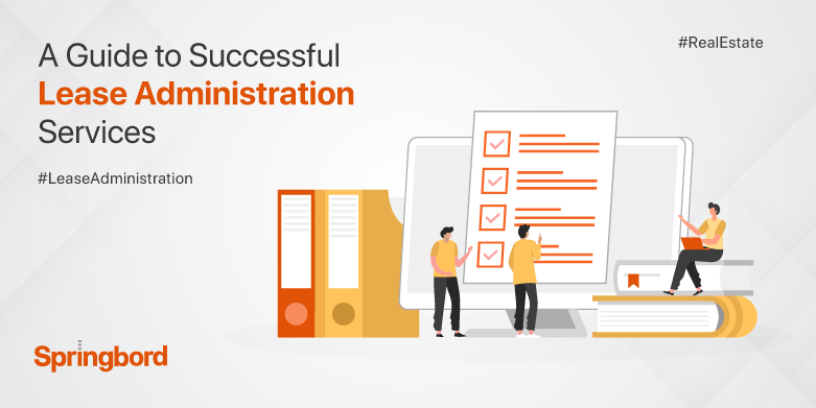 Read time

3

min
A lease administration is ensuring that the terms of the lease are well maintained. Lease management/administration services generally include reporting, document management, coordinating with the stakeholders, and performing a number of other administrative tasks. These services can range from fulfilling repair requirements and serving notices to paying rent and maintaining communal areas. Despite being simple to maintain, the lease administration often becomes too complex to use in today's collaborative organizations.
What makes a successful lease administration?
Due to frequent changes in regulations, leases today are subjected to more scrutiny than ever before. It is important to fully understand and improve the lease management strategies constantly. Effective lease administration is a result of the successful implementation of reliable processes and the automation of operations. It is important to automate every stage of the lease lifecycle. Automation will allow the information to flow seamlessly from one stage to the next.
The following factors can help companies with effective lease administration:
Outcome-based lease abstraction
In order to decide what data they want to extract, the majority of teams these days are using lease system implementation with an abstract template. A lease summary report is included with the abstract template to display the same data in printed form. Ironically, the lease summary report and abstract template are the main causes of problems. It is difficult to keep data complete and up-to-date since leases are overly abstracted, resulting in excessive initial and ongoing work.
Instead of simply abstracting the clauses of a lease for reporting purposes, lease abstract material should take specific consequences into account. Simply said, don't abstract those clauses if judgments aren't being made based on them. The necessary insight into what information has to be abstracted will be provided by including essential representatives from real estate, accounting, construction, and store operations. Going directly to the lease is where you can find data requests beyond outcome-based abstraction, which is what most users already do.
Producing lease audits and reports:
Lease administrators possess the required expertise and skills for real estate accounting, which helps them conduct their audit duties. The lease administrators conduct lease audits and accounting services and produce timely reports( lease abstractions) of all lease data. They ensure that these abstractions are up to date and well maintained.
Lease administration services teams were formerly restricted to the information contained in the lease agreements or the legal documents received from landlords, and there was little information flow to and from other team members across the organization. Over time, this has changed, and information sharing now enables a productive lease administration division. Lease administration services must support user-centric collaborations in a simple-to-use manner that enables easy accessibility of information by all parties in order to accommodate this transformation. For this conversation, relying solely on email is not acceptable; a targeted system functionality must be a component of the solution.
At a never-before-seen rate, mobility is revolutionizing every part of our professional and personal lives. While many business applications have considered mobile apps as an addition, they haven't fully accepted them as potential alternatives for their current designs. Mobile lease management services will make it easier to access and collect all types of lease information.
Conclusion
Lease administration is one of the core processes of any real estate company. It is important to ensure the utmost accuracy and precision in lease management services. We understand that lease management can be challenging, so it is in the best interests of the business to outsource it. Outsourcing this service can offer you multiple benefits, like reduced cost and access to the latest technology and expertise.
At Springbord, our team of experts possesses immense experience in providing lease administration solutions. We not only address your day-to-day operational issues but we also administer your lease portfolio and accounting for leases. We streamline your processes of data entry, thereby making lease administration easy and effective. For more information, please feel free to get in touch with us.