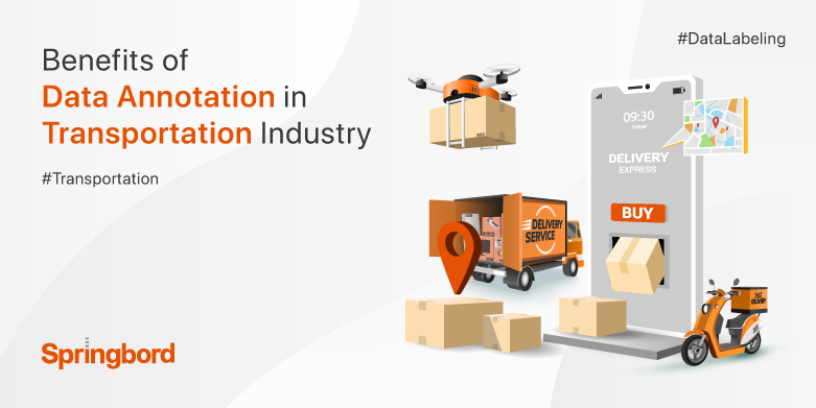 Read time

3

min
Labeling data for use in machine learning is called "data annotation," and it is essential to have high-quality data sets for Machine learning.
There is no doubt that the data labeling services and Data Annotation industry is growing rapidly around the world, as it is needed by numerous sectors, including the automotive, manufacturing, e-commerce, retail, healthcare, financial, agriculture, transportation and logistics, cybersecurity, research and development in medicine, education, and real estate industries. Data Labeling Companies employ trained professionals to annotate and label data for their clients.
The cutting-edge method uses Artificial intelligence technology and data annotation and labeling to cut costs and win over new customers. AI is also facilitating rapid expansion in the transportation industry.
The transportation industry, for instance, can benefit from data annotation and labeling services because they aid machines in developing a more accurate understanding of the world as it exists. Labeling data entails recognizing and assigning tags to unstructured data to create structured datasets that can be used with Machine Learning and Artificial intelligence. For machine learning, this step is crucial. As a result, Machine learning algorithms for important sectors like healthcare, e-commerce, finance, entertainment, and transportation rely on data labeling services.
When it comes to artificial intelligence (AI) based projects, especially those involving autonomous vehicles, data labeling services and data annotation, including image annotation, are invaluable. Therefore, the quality of training data is enhanced by the use of Labeled Data provided by a data labeling company.
How Annotation Benefits the Transportation Industry?
Transportation organizations can benefit greatly from Artificial intelligence technology, data annotation, and data labeling services. Helpful applications of data labeling and annotation in the transportation industry include:
Autonomous Vehicles
Traffic control
Drones with Artificial Intelligence
Transportation Industry Chatbots
Soon, smart cars will become as extremely common as they are today. Self-driving cars equipped with artificial intelligence chatbots will notify customers of their arrival, answer any questions they may have, and collect payment after providing the promised service.
The use of Data Annotation & Data Labeling services following Artificial intelligence and machine learning has allowed for the management of a crucial system, the traffic management system. There are many ways in which artificial intelligence-powered traffic systems are useful.
Reduced wait times at intersections and improved traffic flow are two benefits of an AI-powered traffic management system. Successful applications of AI with data labeling include the conversion of traffic sensors into 'intelligent' agents using cameras to predict and detect accidents and conditions, thereby improving traffic problems and situations with the Traffic management system.
Drones are made more intelligent and dependable through the use of AI technology and data labeling services. With the aid of machine learning, it facilitates the delivery of food from any restaurant to any location.
Drone technology powered by artificial intelligence has been a boon to the transportation industry. Drones equipped with artificial intelligence are increasingly being used for everything from aerial surveillance to direct product delivery. Drones with artificial intelligence are increasingly valuable now that they can deliver packages accurately and be used for a wide variety of security tasks without the need for human intervention.
Transportation Industry Chatbots
As autonomous vehicles pave the way to a "Smart" future, chatbots play an increasingly important role in the transportation industry. Self-driving cars of today also come equipped with chatbots that can answer specific questions from customers and verify the correctness of their payment methods after a service has been rendered.
As a result, AI technology, along with Data Annotation and Data Labeling services, and Machine Learning, provides unquestionable support for the transportation sector via AI-based chatbots, autonomous vehicles, etc. It will be simple for Machine learning and data labeling services to strengthen, modernize, and ensure the safety of the Transportation Industry in the years to come.
Our expert team of data annotators is fine-tuned to meet your every need with precision, scalability, and individualization. When a company or product owner uses Springbord, they can add context to content assets that can later be used as data models. Our services can be useful for a wide variety of sectors, including the real estate, transportation, construction, e-commerce, travel agency, retail, and advertising industries.