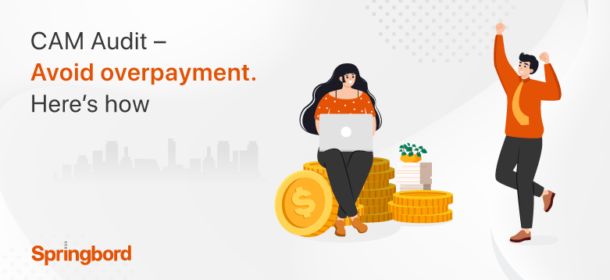 Read time

2

min
Common area maintenance cost (CAM) remains a constant worry when it comes to retail/commercial real estate leasing. With landlords now passing the operating expenses based on estimate which is then reconciled at the end of the year to tally with the amount paid by the tenant has become increasingly challenging process to comprehend and navigate.
While most of the tenant do have a fundamental understanding of how CAM expenses work, what items are included, and how they are calculated, they often find themselves wondering if the amount billed is accurate. More often than not commercial tenants face the issue of overpayment and struggle to recover or get it refunded from the landlord. In this post let's look at some of the aspects to consider and easier ways to avoid overpayment.
Negotiate and define CAM items right at the start
A blanket clause that is standard for every tenant is what landlords, more often than not, add to your lease. This can create ambiguity and leave a lot of room for interpretation which can be contentious later on and difficult to prove in case of conflict. Plus, your requirements could be different as a tenant, covering operating costs under a blanket clause is never a good idea. It is therefore highly recommended that you negotiate more favorable and relevant terms, that should define and entail exclusions whereby you are not liable to pay CAM costs incurred under those circumstances. These exclusions could be – repairs done for specific tenants, refinancing, et al. your lease language is being followed. Once you negotiate and agree mutually ensure your lease contract reflects the terms agreed upon.
Ensure pro rate share is calculated and recorded correctly
Tenant's pro-rata share is evaluated as per the usable space of leasable area of the building. In other words, the total square feet area of a building is divided by the square footage area leased by a tenant. For instance, if a tenant leases 3,000 square feet area out of 100,000 square feet building, the pro rata share as per the shared usable space is 3%. As a tenant, you should pay close attention to this calculation, and have it recorded in the lease contract for this is the percentage you would be liable to pay towards the building maintenance expense.
Research the market and ensure fair pricing
Negotiation and monitoring the calculation and numbers are certainly helpful, however once you sign the lease and move in, any conflict arising thereafter would only be a challenge to resolve. It is therefore important to get a quick audit done before you sign the lease. Comparative study of the similar buildings in the area their rent and CAM rates, checking the history of CAM expenses of the said building and deterring the market rate can go a long way in helping you negotiate a fair price.
Lastly, do exercise your CAM audit rights to conclusively ensure that what you paying is what you are liable to pay and not a penny more.
At Springbord our expert consultants have been helping commercial tenants conduct comprehensive CAM audit, resolve every CAM related issue, recover overpayments, and save future costs. To know more about our CAM audit services, connect with us today!