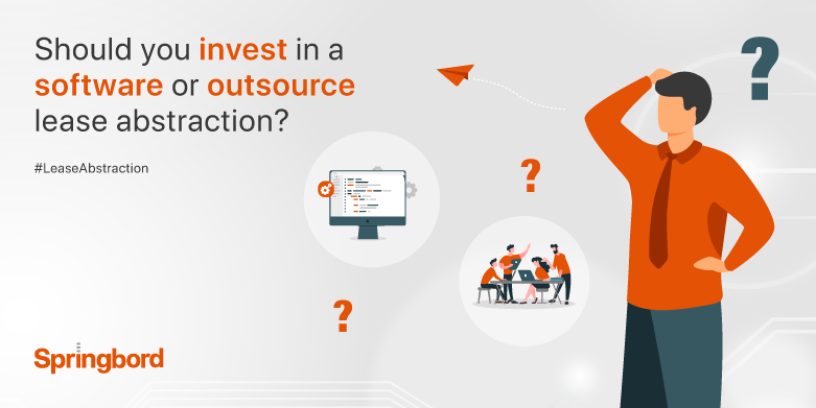 Read time

2

min
Lease abstraction has emerged to be a critical process in managing lease portfolios efficiently. The summary of important and critical lease terms and clauses and relevant lease data allows property managers and landlords to access lease data quickly. This makes executing lease terms and making informed decisions easy and seamless.
With the growing demand for accurate lease, abstraction players are now turning towards implementing lease abstraction software to streamline the process and reap benefits. However, lease abstraction still remains a tedious process to manage that often demands an in-depth document review and understanding of lease contracts. Plus, with the new regulations afoot, the complexity of managing lease portfolios has escalated further.
This is why industry players are grappling with the decision of whether they should invest in software or outsource lease abstraction services.
The range of software solutions available is baffling
While knowing which software would best fit your business requirements and having the money to invest in that right solution is the best way to go, it is hardly ever that simple. With such a range of solutions available with overlapping features, it can be quite overwhelming to identify and implement the right-fit solution. This has actually been a major hurdle besides the cost challenge, wrong selection of software can make it even more challenging to streamline the process making it even more complex.
Knowing how to operate the software
Another huge issue faced by the players is the ability to realize the potential of the software to its fullest. It is important to train in-house staff so that they are adept at handling these software platforms skillfully. Without proper knowledge and experience in managing such software solutions, it is very difficult to achieve operational and business objectives.
Outsourcing is a viable option that is cost-effective
Outsourcing right away delivers several advantages including faster turnaround, efficient and proven processes, and access to skilled and trained resources. Sure, over time you can train your team so that they are capable of delivering with the help of the right software but that is a long drawn process, that demands significant investment in terms of both time and money.
Plus, if you are racing against time and fighting deadlines to manage your lease portfolio and ensure timely compliance, outsourcing lease abstraction is the way to go. This can help you optimize resource utilization, facilitate efficient lease management, contain cost, and above all ensure compliance
At Springbord we have been helping companies manage their lease portfolio efficiently, minimize risk, ensure compliance, integrate data with other platforms, and improve overall lease data management through timely and accurate lease abstraction services. To know more about our Lease abstraction services, connect with us today!