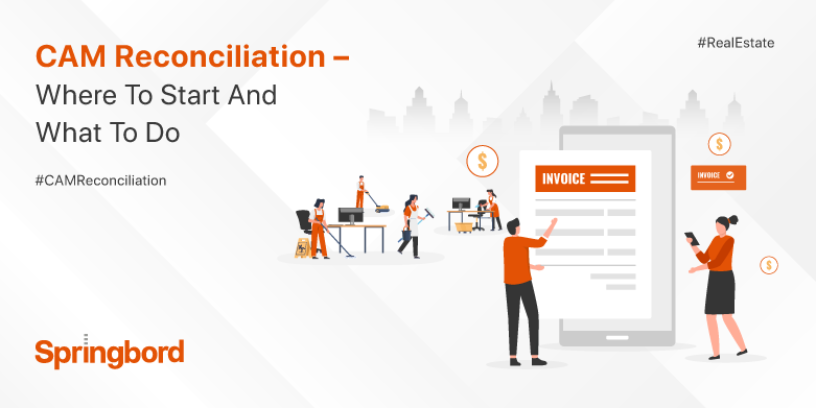 Read time

5

min
Are you a landlord or a tenant involved in a commercial property lease?
If so, you must be familiar with Common Area Maintenance (CAM) charges. CAM charges are essential for maintaining shared spaces and facilities within commercial properties, but they can also be a source of confusion and disputes.
To ensure fairness and transparency, annual CAM reconciliations are crucial.
---
In this comprehensive guide by Springbord, we will walk you through the CAM reconciliation process, explaining how to do CAM reconciliations and why they are vital in the real estate industry.
Understanding CAM Charges and Reconciliation
CAM Charges Explained: Common Area Maintenance (CAM) charges are fees paid by tenants in commercial properties to cover the expenses of maintaining shared areas. These expenses can include cleaning, landscaping, security, utilities, and more.
Importance of CAM Reconciliation: CAM reconciliations are conducted annually to compare the estimated CAM charges paid by tenants throughout the year with the actual expenses incurred by the landlord. This process ensures that tenants pay their fair share and landlords do not overcharge or undercharge them.
How To Do CAM Reconciliations: A Step-by-Step Guide
Step 1: Review the Lease Agreement
The lease agreement serves as the foundation for CAM reconciliation, and it's crucial to thoroughly understand its provisions. Scrutinize the lease agreement to gain insight into how CAM charges are calculated and what specific expenses are included in these charges.
Additionally, take note of the frequency at which CAM reconciliations are conducted. Having a comprehensive grasp of the lease agreement ensures that you start the reconciliation process with clarity and accuracy.
Step 2: Gather CAM Expense Records
To ensure a successful CAM reconciliation, meticulous record-keeping is essential. Landlords or property managers must diligently collect all relevant records of CAM expenses incurred during the fiscal year. These records encompass a wide range of items, such as invoices, receipts, and other supporting documents.
A comprehensive collection of expense records is vital for conducting accurate calculations and facilitating transparent communication with tenants..
Step 3: Calculate Estimated vs. Actual CAM Expenses
With the lease agreement as your reference, it's time to dive into the calculations. Begin by determining the estimated CAM expenses that were initially included in tenants' charges. This estimation should align with the provisions outlined in the lease agreement.
After establishing the estimated expenses, conduct a thorough comparison with the actual expenses incurred throughout the year. Contrasting the two figures will allow you to identify any discrepancies and provide valuable insights into the financial dynamics of the property.
Step 4: Prepare Reconciliation Statements
Once the calculations are complete, the next step is to translate the findings into clear and comprehensive reconciliation statements.
These statements are critical for providing transparency to tenants and helping them understand how their CAM charges were determined.
The reconciliation statements should break down the expenses, calculations, and any adjustments made to ensure clarity and build trust between landlords and tenants.
Step 5: Communicate with Tenants
Transparent communication is the cornerstone of successful CAM reconciliations. After preparing the reconciliation statements, landlords should proactively communicate the results to their tenants. Providing a transparent breakdown of the calculations and the rationale behind any adjustments is crucial for tenant understanding and acceptance.
Furthermore, landlords should be receptive to tenants' questions and concerns, fostering a cooperative and trust-based relationship throughout the reconciliation process.
Open communication can lead to a smoother resolution of any issues that arise and facilitate a positive experience for all parties involved.
The Significance of CAM Reconciliation in Real Estate
CAM reconciliation plays a vital role in the real estate industry for several reasons:
1. Fairness and Transparency: Reconciling CAM charges ensures that each tenant pays their fair share of the common area expenses, promoting transparency in financial dealings.
2. Building Tenant-Landlord Trust: Transparent communication and accurate reconciliations build trust between landlords and tenants, fostering a positive and long-lasting relationship.
3. Budget Planning: For tenants, knowing the actual CAM expenses helps with budget planning and financial forecasting.
4. Avoiding Disputes: CAM reconciliations help identify and address discrepancies, reducing the likelihood of disputes over charges.
5. Property Performance Evaluation: For landlords, CAM reconciliations provide insights into the performance of their property and the effectiveness of cost management.
Challenges and How to Address Them
CAM reconciliations can present various challenges in the real estate industry. Here are some common challenges and tips to address them:
1. Discrepancies in Records:
Challenges may arise when there are discrepancies between the landlord's and tenant's records of CAM expenses. To address this, both parties should proactively work together to identify and resolve any inconsistencies.
Regular communication and collaboration can help ensure that all records are accurately represented and discrepancies are minimized.
Collaborate for Consistency
Minimize Data Discrepancies
Accurate Records, Smooth Reconciliation
2. Capital Expenditures:
Deciding whether certain expenses should be classified as operating expenses or capital expenditures can be complex and have a significant impact on CAM charges. To tackle this challenge, it is crucial to have a clear understanding and agreement on how to handle such expenses.
Landlords and tenants should work together to establish clear guidelines or definitions in the lease agreement to avoid confusion.
Define Expense Classification Clearly
Impact on CAM Charges
Work Together for Expense Clarity
3. Dispute Resolution:
Despite best efforts, disputes may still arise during the CAM reconciliation process. To address this challenge, it is essential to have a well-defined and transparent dispute resolution mechanism in the lease agreement.
This mechanism should outline the steps to be taken when disagreements occur and provide a fair and efficient way to resolve conflicts.
Transparent Conflict Resolution
Fair and Efficient Mechanism
Addressing Disagreements Proactively
4. Regular Communication:
Maintaining open and regular communication between landlords and tenants is vital throughout the CAM reconciliation process. Regular updates on the progress of the reconciliation, as well as addressing any concerns promptly, can prevent misunderstandings and foster a positive working relationship.
Transparent communication helps build trust and ensures that both parties are aware of any adjustments or changes made during the reconciliation.
Open Dialogue for Success
Prevent Misunderstandings
Foster Positive Relationships
---
By being proactive, transparent, and maintaining a collaborative approach, landlords and tenants can effectively navigate the challenges that may arise during the CAM reconciliation process and work together towards a successful outcome that benefits both parties.
Conclusion
CAM reconciliations are essential for maintaining fairness and transparency in commercial property leasing. By understanding the process, gathering accurate records, and communicating effectively, landlords and tenants can navigate the complexities of CAM reconciliations successfully.
The process provides valuable insights into property performance, helps with budget planning, and builds trust between all parties involved.
Remember, addressing challenges proactively can lead to smoother and more successful CAM reconciliations in the real estate industry.
---
Visit Springbord for expert insights and check out our CAM Reconciliation service!
FAQ
1. What is CAM reconciliation?
CAM reconciliation ensures fairness in sharing common area expenses among commercial property tenants.
2. How often should CAM reconciliations be done?
CAM reconciliations are typically conducted annually at the end of each fiscal year.
3. What should landlords include in reconciliation statements?
Reconciliation statements should provide a breakdown of expenses, calculations, and any adjustments made for transparency.
4. How can landlords handle capital expenditures in CAM charges?
Agree on guidelines in the lease agreement to classify capital expenditures separately from operating expenses.
5. How can disputes during CAM reconciliation be resolved?
A well-defined dispute resolution mechanism in the lease agreement helps address conflicts efficiently and fairly.