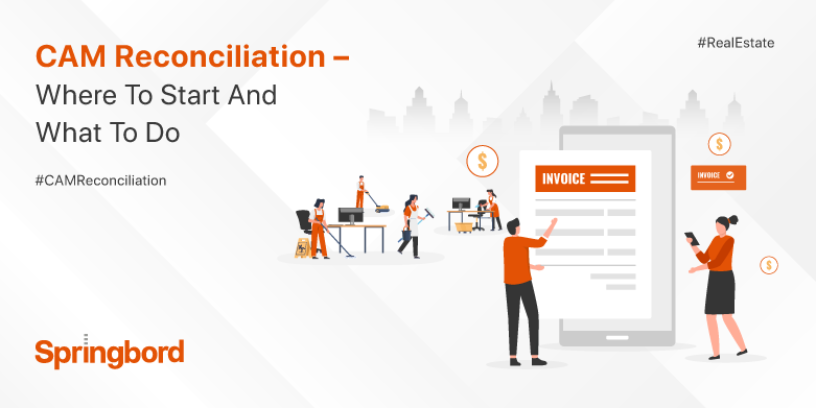 Read time

4

min
The Checklist Approach to CAM Reconciliation
There are different requirements for an annual reconciliation, but they all require the same thing – a thorough understanding of accounting.
An annual reconciliation is a process that takes place at the end of each year. It gives an accurate account of how your company's financial situation has changed throughout the year. You must complete this yearly reconciliation to comply with local and international laws.
Different methods can be followed to conduct this process, but you should know precisely what you're doing because it will impact your business significantly in the long term.
Getting Reconciliation Process Off The Ground
Preparing a budget, which includes an estimate of the costs that must be recouped, is the first step in the process. This information is used as the foundation for the tenant's portion of the expected monthly CAM charges that are billed to them. At this stage, it is essential to be aware that every lease is unique and varies in how operating expenses are billed and recovered. Being aware of this fact is critical. Understanding your lease portfolio, including its variations and provisions, is of the utmost importance. There is no single solution that works in all situations. You need to be familiar with the lease terms to reconcile the expenses and recover the correct amount accurately. This includes everything from accounting for interest charges to the amortization of capital expenditures.
Second, you need to have the capacity to understand and correctly interpret every phrase and provision of a leasing contract that is relevant to recoverable operational expenditures. These may include parking, landscaping management, plumbing, janitorial services, housekeeping, heating, ventilation, and air conditioning (HVAC), elevators, pest control, repairs, property taxes, insurance, and any other associated costs, such as security, or utilities, etc. It is essential to save data relating to these expenses, distribution ratios, and others if you wish to ease the reconciliation process at the end of the year.
Aspects To Take Into Account Concerning The Costs Of CAM
Tenants are expected to make a financial contribution toward the cost of making repairs and providing upkeep to areas of the commercial property designated as "common areas" and to which all tenants have access and to which they are entitled to enjoy the benefits. For instance, invoices and charges will be calculated and added to CAM costs if the area outside the building is manicured, and a crew is brought in to collect debris after a storm or a paved parking lot. Commercial property managers can provide renters with notice of charges and ensure they are allocated appropriately once all pertinent information has been obtained. When it comes to charges for CAM, the following are some important considerations to bear in mind:
Obtain all documentation and costs that are pertinent
The gathering of all relevant invoices and charges that are included in the scope of common area maintenance is the starting point for the development of an accurate CAM cost calculation. Property managers must maintain correct records of all relevant maintenance costs to calculate common area maintenance (CAM) accurately. Property managers must have an apparent and specific notion of what expenses belong to common area upkeep to carry this out successfully. The maintenance or repair work that is conducted on a commercial property should, as a general rule of thumb, be of the type that is beneficial to all of the building's tenants. By way of illustration, the replacement or repair of damaged flooring in a shared foyer would be regarded as advantageous to all tenants, whereas the addition of an amenity that was only requested by a handful of residents and would only be used by them would not fit under this kind of improvement.
Calculate tenant charges
The most accurate method for determining how much each tenant should pay for CAM is to look back at the total amount spent on the upkeep of common areas in prior years and then use the highest of those figures as a prediction for how much each tenant should pay for CAM in the current year. By allocating a larger total to CAM costs, you can ensure that tenants will be able to budget that amount. If the overall costs are less than the estimate, you need to refund the difference to the tenants. By setting a larger overall cap, you can ensure tenants can afford CAM expenses. Giving a tenant credit is far more accessible and pleasant than collecting additional costs that were not originally planned.
Observe the deadlines and continue to follow up
Despite the fact that it appears to be quite easy, this idea is frequently disregarded. To guarantee that a tenant is provided with adequate notice of costs, it is imperative that the dates that have been established for the submission of CAM reconciliations be adhered to. In addition, commercial property managers need to follow up with tenants regularly to guarantee that all charges are conveyed to the tenants and that any issues are resolved.
Conclusion
When an annual CAM reconciliation is due, the first step towards smoothing out your process is to get your head around the data that will come into play. Check out this checklist to guide you through the process. Springbord can help you with handling all of these tasks – including reconciliations – so your team can focus on what they do best.