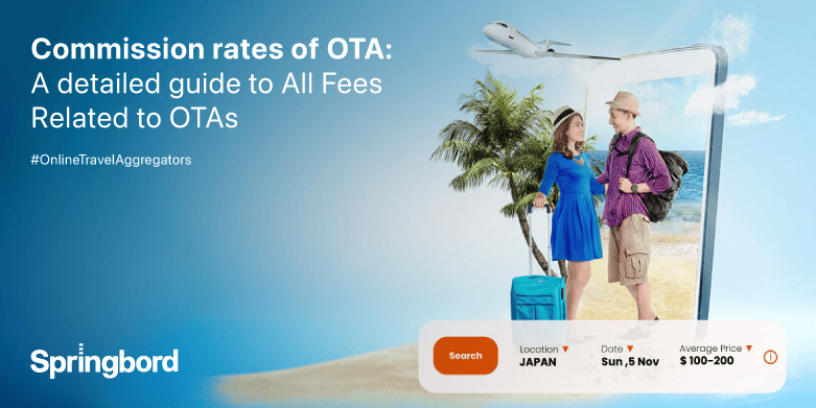 Read time

4

min
Nowadays, the hospitality sector expands at a rate never seen before. Many hotels with low sales or income rely on OTA as a lifeline to survive in this market. Successful data management is essential for OTAs seeking to increase traffic and sales.
Plus, hotel aggregation service providers are there to assist them at every turn. Springbord is a team of creative thinkers always on the lookout for new methods to improve your company's operations, and they have years of expertise serving the hospitality industry. Find out more about our hotel aggregation service by contacting us today.
Dealing with OTAs requires more than just signing up and crossing your fingers. One must take a systematic approach to online distribution to make the most of the benefits and minimize the risks.
Adopting the appropriate OTAs as part of your distribution plan can assist promote direct reservations through the "billboard effect," but only if done properly. The best way to reach your audience and maintain a continuous flow of bookings is to construct a well-rounded channel mix that includes several online travel agencies.
What exactly is an OTA (online travel agency)?
The term "online travel agency" (or "OTA") refers to a website that provides search engine functionality to book travel arrangements. They facilitate trip preparation by establishing connections between service providers within the travel sector. Many online travel agencies provide all-inclusive packages that include hotel stays, plane tickets, boat trips, rental cars, and much more.
In recent years, OTAs have developed into highly developed marketing channels for lodging establishments of all sizes and sorts. Consumers have not ever had such a plethora of travel options at their fingertips, nor been able to readily evaluate them side-by-side in terms of pricing, flight schedule, and locations.
How does an OTA make profits?
To book a hotel room, check availability, and compare rates, customers can use the services of an online travel agency, often known as an OTA. Hotels on the list are often family-run operations. They are responsible for providing the lodging and the service.
To provide their rooms for booking on their website, OTAs enter into agreements with each hotel and B&B they include.
What are online travel agency (OTA) commissions?
The commission rates charged by OTAs for promoting a property on their website might be either a flat fee or a percentage of each sale. Due to the increased traffic on OTA services, hoteliers pay a commission to receive more exposure and bookings for their hotels. Achieving the same outcomes through direct channels by itself is a time-consuming and expensive endeavour.
The commission rates that OTAs charge today are typically between 15% and 30% of the total cost of the reservation. These costs can increase even more if the lodging provider is not VAT registered under EU VAT regulations.
On top of that, OTAs let hotels compete for prime real estate on their listing sites by paying a premium. In most cases, agreeing to a larger commission charge in this method will get your ad displayed higher on the landing page's default view.
In addition to the commission rates, OTAs may sometimes impose other fees, therefore it is important to carefully study your contract.
The most typical fees levied by OTAs are detailed below.
Upsell commission
Booking sites may charge a fee for extras offered to guests at the time of bookings, such as complimentary breakfast, towels, parking, and more.
Instead of paying even more money to OTAs, you should push upsells and add-ons on your website to encourage more direct bookings. If you are required by your OTA contract to maintain rate parity with the OTA, offering offers or discounted upsells may be another strategy to attract more direct bookings.
VAT/GST.
You may have to pay taxes on top of your commission payment if you live in a state or municipality that has a higher tax rate.
To find out what the reporting requirements are if tax is not included, you should contact your local tax authorities.
Commissions and fees for channel managers.
If you plan on employing a channel manager to link your PMS to OTAs (and you should! ), choose one that doesn't impose any hidden fees or commissions.
It's important to keep in mind that some channel managers charge you a fee for every OTA connection or transaction made.
Rates of cancellation.
Higher cancellation rates often accompany OTA listings, which can have a knock-on effect on your bottom line. Many OTAs advertise "free cancellation" as an incentive for customers to book, but the property ultimately bears the cost when customers cancel because they find a cheaper rate elsewhere.
When comparing the cancellation rates of direct bookings (18.2%) and online travel agencies (OTAs) (50%). This is a difficulty for hoteliers worldwide when trying to predict guest arrivals and departures.
Significantly increased profile.
Hotel owners can boost their visibility in OTA search results by paying larger commission fees to OTAs. This investment may be worthwhile if it results in more direct bookings for your hotel, depending on its marketing plan.
Fees for the services provided to the owners are built into the commission that online travel agencies start charging for each reservation. Owners whose primary booking source is an OTA may end up paying a hefty service fee over time.
That's why it's smart to use these sites alongside a traditional booking website. The company's website should perceive an OTA as a means to attract new customers.
Conclusion
OTA's data management needs to improve if the company wants to see an uptick in visitors and sales. Providers of hotel listing management services can help in every way possible.
Springbord has been providing its services to the hotel industry for quite some time, and its staff is full of resourceful individuals who are always looking for new methods to help your business thrive.