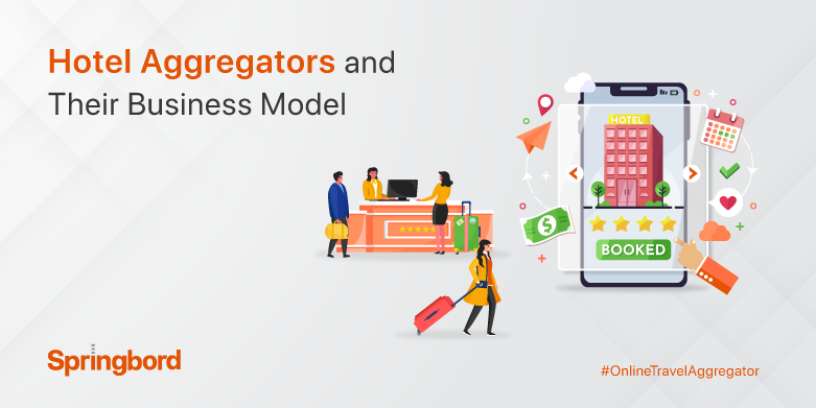 Read time

3

min
The hospitality industry is growing at an unprecedented pace these days. Though hit by the pandemic in the last couple of months, hotels have started to bounce back much stronger. To further uplift this industry, Online Travel Aggregators (OTA) act as a backbone to many of the hotels that see poor revenue or income. Thinking of what an OTA is and how do they impact the hospitality industry? Let us discuss them in detail.
Online Travel Aggregator (OTA)
Online Travel Aggregator (OTA) or simply a hotel aggregator is a business that leases your entire hotel property or a specific number of rooms and takes charge of business management and other operational duties to help you see a good profit. The hotel aggregators pick properties that don't get a good number of bookings and generate good revenue. They then meet the hotel owner for a deal. If the deal goes well the owner rents the property on lease and signs an agreement. Now, the aggregator brings certain modifications to the property as per the Standard Operating Procedures (SOP) to generate profit.
The aggregators are responsible for the marketing and reputation of the hotel. To attain this, they rebrand your hotel and also try to enhance the look and feel of the property. In addition to this, they look for ways to grab customers' attention and ensure you get a high number of footfall to your website. This can be done by using their own portal or updating it on various other travel platforms. This way your customers get to see only accurate and relevant information that will aid them in planning their trip properly.
There are multiple benefits to leasing your property to an aggregator. Let us discuss them below:
Gain brand reputation
Brand reputation and marketing are the two prime things any hotelier would consider when in the hospitality industry. To ease your the stress, aggregators take charge of marketing your property, which in turn results in a high number of footfall and bookings. They also focus on retaining or enhancing the credibility of your business, which will help get loyal customers.
Increased revenue
As said earlier, aggregators focus on both reputation and marketing. When they start marketing on their own portal or any other travel platform, customers will get to know about your property while they travel. This attracts many customers to your website, which simply means increased profit. On the other hand, reputation and credibility go hand in hand, which can be met easily with the help of hotel aggregators.
Upskill hotel staff
Staffs in budget hotels (especially in remote areas) lack knowledge and experience when it comes to hospitality. Treating them in the right way is one of the ways to succeed in the growing market. When aggregators take control of your property they train the staff members in such a way that they make your guests' stay at the hotel even more memorable and pleasant. A strict and proper management structure will be implemented including wearing a uniform while at work, usage of protective gear, etc. This will not only help in enhancing the customer's stay experience but also helps the staff members learn and grow within the working environment. Upskilling hotel staff will let them enjoy a better lifestyle and definitely live with better salaries.
Enhanced user experience
When the staffs are well-trained it is easy for any hotel to achieve the highest customer satisfaction. When a customer who just visits your website or stays at your property is highly satisfied you are sure to take a great lead in the competition. The upskilling staff alone cannot help your business grow. There are other factors that influence your business. The location of the property, price, number of rooms, look and feel of the hotel and other amenities are the major things a customer sees before booking a hotel. An aggregator will renovate your hotel as per the need and trend and will help boost your profit.
Conclusion
Hotel aggregators will aid you in surviving in this hospitality industry for years together by providing services as per the initial agreement between you and the aggregator. Nevertheless, there are many pros and cons to every business, which must be checked before the deal. To mention one, aggregators may rebrand your hotel and gain popularity which will make you lose your originality. Take all the pros and cons into account before you lease your property to an aggregator. Renting your property on lease is undoubtedly the best option when your brand's reputation is kept intact and you keep getting a fixed annual revenue.