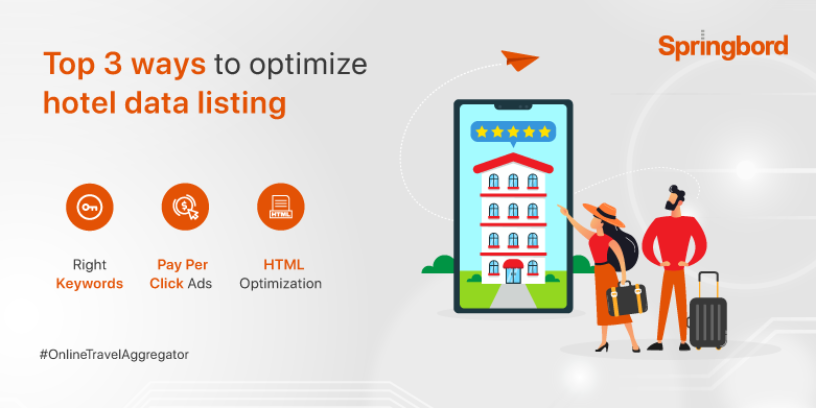 Read time

2

min
According to the latest statistics, by 2023 approximately 700 million people would be booking hotel rooms online. It also says that 70% of travelers worldwide use their smartphones to look for or research travel related information, while 83% of adults in the US prefer to book hotel/travel online.
While you may not be aware of the exact statistics, but it is a known fact that almost everyone today research online for travel and use the internet to book hotels, air tickets, tours, and other activities. As a hotelier, it is almost mandatory to maximize your presence online to survive and thrive in this industry landscape. Staying ahead of the competition starts with how well you manage your online hotel data listing and how strong is your digital footprint. Even though more and more hotels are engaging data management companies to handle optimization of hotel listing, we thought we would share few basic search engine optimization strategies, to help you get the ball rolling.
The key role of the right keywords
The first step naturally should be about maximizing your organic search ranking to improve visibility. Keywords play a critical role in optimizing your listing/website. Research for the keywords and terms that your target audience would be using to search for hotels in your area. Having an exhaustive list of relevant and most searched keywords and integrating them the right way can give your listing the boost it needs. In addition to this, do not forget to optimize meta description and title tags as they play a crucial role in how Google ranks your page/content. This helps improve your discoverability and prominence in search results for various search strings, ultimately optimizing your listing to drive traffic and generate bookings.
The growing importance of pay per click (PPC) ads
It may be a bit tricky to handle and requires a bit of consistent effort, but PPC done efficiently and correctly can yield profitable results. It can help you reach potential travelers in almost real time. In fact, PPC/Adwords account for 97% of Google's revenue. PPC offers potential opportunity to massively improve visibility over the competitors who are still relying on organic ranking as PPC has been gained priority over organic results.
The importance of HTML optimization
A you know Google is continually experimenting and modifying their search engine algorithms to ensure they offer excellent user and search experience and go the extra mile to provide relevant information and then some. As a result, Google now has rich snippets/rich results that shows additional content along with the search result. This additional information is pulled from your HTML data. So, you need to now make sure that you optimize HTML as well to be more specific and attract your target guests.
These are but a few tips to optimize your hotel data listing. However, if you find this to be a lot, well there is always an option of outsourcing hotel data listing to a professional service provider.
At Springbord we have been helping hoteliers and online travel aggregators realize the potential of data to their advantage. Talk to us today to know more about how we can help you make your data work for you, maximize revenue, and offer distinct and differentiated experience.